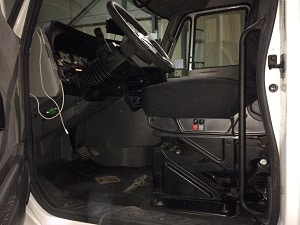 Cleaning the interior of your semi truck should be at the top of your list of things to do almost every day. Keeping the interior clean is a must for any truck driver, especially OTR drivers that live in their trucks for long periods of time.
Waiting until you have the time to get the interior detailed professionally means that you could be living in filth for a long time.
It doesn't have to be that way.
With a little daily maintenance and knowing a few proven tricks to avoid getting your trucks interior dirty in the first place you will be on your way to a much better driving experience.


Having a clean interior makes you feel better and boosts morale. When you crawl into your bed and look around your cabin and see a mess it can be a downer. Take pride in your living space, treat it well and keep it clean. A clean truck is a happy truck!
Here are 20 tips to help you keep your semi trucks interior clean as a whistle. Okay, maybe not clean that clean but at least more clean than it is now.
Try a few of these tips and I guarantee you'll have a cleaner interior and will feel better yourself. For some more free trucker tips be sure to check all of these out before heading back onto the road:
14 Ways To Make Your Truck Seat More Comfortable
3 Bed Mattress Options For Truckers To Sleep (much) Better
41 Tools All Truck Drivers Need In Their Tool Kit

1. Get A Milk Crate For Organization
One of the easiest things you can do to straighten up your trucks interior is to get a milk crate to store things in and keep them organized. You can use the crate for storing windshield washer fluid, Windex, engine oil, coolant, air line antifreeze, and just about anything else you want to. Having all these fluids in one spot is going to to free up space in your cabin and you will know exactly where they are when you need them.
2. Sweep With A Small Dust Broom
At least once a week, or even daily, you should sweep out the floor with a small dust broom that you can store in the drivers door pocket. How often you do this will depend on where you drive, the weather, and how often you are entering and exiting the truck. This is an easy way to keep your truck clean that doesn't take a lot of time at all.
3. Keep Your Work Shoes By Your Pedals
When ever you go into your bunk to get anything you should take off your work shoes so that you aren't spreading dirt around your cabin. This way you are keeping the dirt, rocks, snow, and salt away from where you sleep. Also, try to have separate shoes for driving and different shoes for non-driving. Driving shoes are for work and non-driving shoes are for non-driving time that you spend in your cabin doing everything else.

4. Use A Small Garbage Can Or Bag
Whether you use a small garbage can or a bag to put you garbage in make sure you are throwing away any garbage at a rest area/truck stop on a daily basis. If you can't do it daily then try every other day. If you are cooking in your truck a lot then you probably should throw it out everyday to avoid some nasty smells from the uneaten food.
5. Clean Your Windows From The Inside Too
Your windows should get a quick cleaning from the inside too, use some Windex and paper towels to get the job done. While you are at it be sure to wipe down the dashboard and controls as well. The smell of Windex will also make it feel like it is cleaner in your truck.
6. Get A Small Wet/Dry Vacuum
Having a small 12 volt wet/dry vacuum like this 1 gallon one on Amazon can make a huge difference. Just plug it into you 12 volt outlet and vacuum up all the dust and dirt that you can find. I like this one because it also comes with some attachments so you can reach some difficult to get to spots like corners and the dashboard/controls and it is bagless.
This little vacuum work great at keeping truck interiors clean because you can vacuum your cab in a matter of minutes. It comes with a 1 gallon container, flexible hose, crevice nozzle, utility nozzle, a foam and cloth filter, the clamp ring, and a 9 ft. power cord.
Make sure that you keep the filters clean on these so that you get good suction, the filters are reusable. This one is strong enough to vacuum small rocks, leaves, hair, and dirt. The great thing is that it can also be used to pickup small spills too since it is a wet/dry vacuum.
If your truck has an inverter then you can get the 1.5 gallon AC version. It essentially does the same thing as the 12 volt version and comes with the same parts. One difference it that this one (click here to see the price today on Amazon)  has a 1.5 gallon container. Other than that the only other difference is it has a 6 ft. power cord. Not sure why but it has a shorter power cord than the other one.
Whichever one you get it will help you keep your semi truck interior cleaner.
7. Get Floor Mats And Keep Them Clean
Getting a high quality set of floor mats like WeatherTech mats is necessary in order to keep your interior clean. Click here to go to the WeatherTech website. Once on their site you can put in the make, model, and year of your truck to find the floor mats your need. These are some of the best mats you will find because they are made to fit your vehicle exactly.
Once you get them be sure to keep them clean by blowing them clean with an air nozzle (#8 on the list) and rinsing them off with soap and water. Take good care of them and there is no reason for them to not last you many years.
8. Blower Nozzle On Seat Air Line
Connecting a blower nozzle is a trick that experienced truck drivers have been doing for years. Essentially you connect a blower nozzle like this one to the air system of your seat. It's a little difficult to explain in words so I have instead given you a simple to follow video (below) showing the complete installation. Your trucks air line might be a little different than the one in the video but it will give you a good idea how to install it. It only takes a matter of minutes using compression fittings from a hardware store. Once it's installed you can use it daily to blow out rocks, dirt, grass, leaves, snow and just about anything else from your mats. You can even use it to blow out the door panels and tight spots around the pedals and dashboard.

9. Get Cheap Bathroom Rugs For Floor Mats In Your Sleeper Space
Your sleeper space should be kept separate from your work space (driver seat). Don't track dirt and rocks into your sleeper space. Make sure that anytime you are in your trucks sleeper space you have a different pair of shoes on or slippers of some kind. Also, get some cheap bathroom rugs from Walmart and use them as floor mats back there. When the floor mats get dirty just wash them with your laundry and keep reusing them. These mats will feel nice on your feet too.
10. Wipe Down The Floor With Soap And Water
After using your vacuum to clean up the floor you should use some soap and water to clean the floor. You don't have to use a lot, put some in a spray bottle and use an old rag to wipe it down. Don't use a cleaner or a product that is going to leave it greasy though. A slippery floor is not what you want.
11. Wipe Down The Headliner
The headliner is something that a lot of truckers forget to clean. Get some soap and water in a bottle and spray the headliner a little bit and then just wipe it down. If you don't want to use soap and water there are interior cleaners that you can buy like this one on Amazon. Headliners can get dirty and need some attention too.
I like this cleaner because it's not going to leave behind a greasy finish and it has a pleasant pineapple scent to it. You can spray it on anything in the interior really, not just the headliner.
12. Get A Pair Of Over Shoes To Slip Over Your Driving Shoes
Put a pair of over shoes like these here in front of your passenger seat so that you can slip them over your work boots when it's especially muddy or messy outside. When you get back into your truck be sure to take them off right away until you need to use them again. Rinse them off at the next stop and you are good to go! This way you are not dirtying up your driving shoes.
13. Make Cleaning Part Of Your Routine
Try to make cleaning your trucks interior a part of your daily routine. It could become part of your post trip routine. The small things that you do daily will make a difference. You won't have an accumulation of garbage and filth that is overwhelming. There is no excuse to let your trucks interior get dirty, you know you have the time for it. You just have to do it.
Take car of your truck, a clean truck is a happy truck!
14. Use Interior Cleaner And Protector
The interior cleaner I like to use is this one that I found on Amazon because it cleans really well and won't leave your interior all greasy. It's easy to use, just spray it into a rag and clean away! Use this stuff to keep all of your interior looking brand new.
15. Use Wet Wipes
Clorox wet wipes or even the cheaper Walmart brand ones are priceless for truck drivers to use for cleaning the interior. These are great for wiping down just about anything. If you use the antibacterial ones they can help kills germs and viruses that can make you sick.
16. Get Yourself An Air Purifier
Air purifiers like this one (Amazon link) work great at getting rid of bad smells without spraying chemicals all over the place. I prefer using one of these over Febreeze any day. This air purifier can simply be plugged into your 12 volt outlet and it will remove dust, pollen, smoke and bad odors in no time. Use one of these for just a short period of time and you will quickly see a difference in the air quality of your interior and there will be less dust.
17. Clean Up After Your Self
This is simple to do, just clean up after your self. After you eat, sleep, finish delivering a load, check your load, or shopping for food it's a good idea to clean up and organize right away. The longer you wait the more dirty and unorganized things will be.
Don't let garbage and dirty clothes pile up, throw away what you don't need, and wash your clothes when you get the chance to. Go to 18.
18. Wash Your Clothes
Your work clothes (socks included) can begin to smell if you haven't changed them in several days. Don't make the mistake of just throwing the dirty clothes in a corner somewhere. At the very least get a laundry bag to put your dirty clothes into so that you are ready to wash the next time you are able to.
Get a nylon laundry bag, like this one on Amazon, that is made of nylon and has a drawstring so that you can close it and carry it with ease. This laundry bag is great because it doesn't take up any space and is tear resistant.
19. Replace The Cabin Air Filter Often
The cabin air filter also needs to be changed often so that you have less dust circulating in your trucks interior. If you are trucking with a dog you definitely need to change it more often than drivers that don't have any pets with them.
20. Clean Your Curtains
If you have curtains they also need to be cleaned. Make it a habit to clean them at least once a month so that they don't smell and pick up a lot of dust.