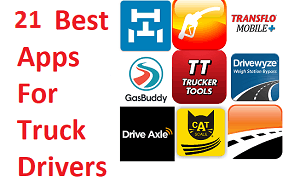 Are you looking for the best apps for truck drivers that are free? Look no further. Stop wasting time and patience downloading trucker apps that are useless and/or unreliable. Unfortunately, you won't realize how useless an app is until you have already downloaded it to your phone or tablet.  Then you have to go back and erase the app to free up memory space and then start the process all over again until you find the right app. It can take several attempts before you find a trucker app that works well, there are a lot of bad ones out there.

Truck drivers want apps that are straight forward, free, and get the job done as promised. My list of the 21 best apps for truckers and these tools will help you with a variety of things that will enhance your career as a professional truck diver. You will find apps for driving (GPS), diet, weather,  finding entertainment, managing HOS, finding a truck wash, bypassing weigh scales, logbooks, managing documents, and more.
If you are hesitant about using a free app as your GPS I have written about the best GPS devices for truckers; the Garmin 770. You can find my review of the Garmin 770 by clicking here.
Why do you truck drivers need apps? Finding the right app can save you the two most important things to truck drivers; time and money.
In this article I will tell you what the features are of the 21 best apps for truck drivers that are free.
Ready? Let's get started with the apps!
Updated 12/18/2017: I added ONE20 to the list, it is #21. One20 is a free trucker GPS app that you are able to use offline. If you are in an area that has no signal you are still able to use their apps. The only downside is that you will have to download the maps which can take up a significant amount of space on your tablet or phone.
1. Trucker Path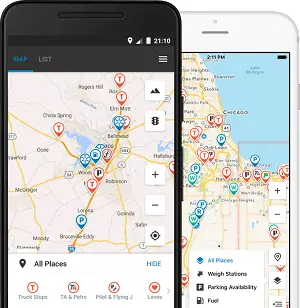 When it comes to trucker apps Trucker Path is the standard. It is by far the most downloaded free app for truck drivers and it has really good reviews from truck drivers. This app has been downloaded over a million times and on a rating scale of 1 to 5 it is near 4.8 stars. Impressive!
Talk to any truck driver that uses apps and they will tell you that Trucker Path is a must download for your smartphone and/or tablet.
Whether you are looking for truck stops, parking availability, fuel prices, or weigh station status, this app has got you covered. It does it all
and has a strong reputation for being reliable.
Trucker Path Features
Truck Stops: Use it to help navigate thousands of truck stops across the United States and find out which services and amenities they offer.
Truck Parking: Find the right parking spot for your truck and do it in real-time.
Walmart Truck Parking: Use the app to find Walmart truck parking across America. Their database has over 3,800 Walmart locations, including ones
that allow truck parking. For an explanation on how to do it you can go here.
Weigh Stations: Check if the upcoming weigh station is open or closed and do it in real-time.
Fuel Prices: Helps you find places to stop for fuel and allows you to compare diesel prices.
Truck Wash: The Trucker Path app has over 400 truck wash locations, including independent wash stations and trailer washout locations.
Navigation: Use the app to plan your trip and find points of interest too.
Price: Free
2.GasBuddy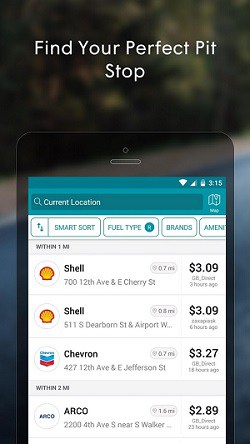 GasBuddy is an app that truck drivers have been using for years. It is one of the best free apps for finding low gas prices, including diesel prices. If you are looking to save money fueling up your semi truck truck for long distances I suggest you give the GasBuddy app a try.
GasBuddy has had over 10 million downloads and has a great average user rating of 4.7 out of 5 stars.
GasBuddy Features
Find The Perfect Stop: Locate gas stations with the lowest priced gas based on your location. You can also also filter by price, location, brand, and amenities that the station offers.
Price Hike Alerts: Get an alert when prices are expected to go up so that you can fill up at the lower price.
Trip Cost Calculator: Calculate how much it will cost you in fuel to complete a trip.
Price: Free
3. FatSecret Calorie Counter
FatSecret is fast becoming a weight control favorite among truck drivers. It is a free calorie counter app that truckers can use while on the road or at home. Use this app the next time you eat at a restaurant or pickup food somewhere else. Driving a truck can take a toll on your health because of all the sitting you do, make sure you are not taking into you body more calories than you are burning by using this app.
FatSecret has had over 10 million downloads and has an average user rating of 4.4 stars on a 5 star scale.
FatSecret Features
Fast and Easy: The fastest and easiest calorie counting app you will find.
Food Diary: Helps you keep track of what you are eating and what you have eaten.
Nutritional Information: Find out nutritional information for all foods, brands, and even restaurants.
Exercise Diary: Record all the calories you burn.
Weight Chart: A place to record you weight and track your weight loss progress.
Price: Free
4. Trucker Tools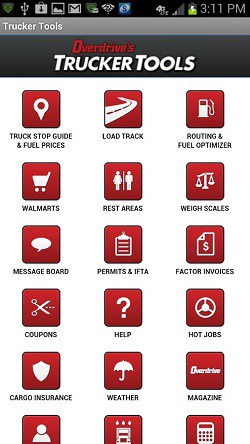 The Trucker Tools app is similar to the Trucker Path app I listed as number one. This app is also used by truckers to find the nearest truck stop, get real time diesel prices, and the fastest truck route to deliver a load. I would say it isn't as good as the Trucker Path app but it's still pretty good.
It has been downloaded over 100 thousand times and has an average rating of 3.9 stars on a 5 star scale.
Trucker Tools Features:
Truck Stops: Provides an accurate list of truck stops along your specific route. You can search truck stops within a 50-mile radius, by city, or exit number.
Diesel Prices: Helps you find the lowest diesel prices and truck stops.
Traffic Information: Get real time traffic information.
Weather: Find live weather conditions.
Coupons and Sales: Find deals that are offered by truck stops to help you choose which stop to go to.
Weigh Scales: Get help finding weigh stations and rest areas. You will also be able to find out if a weigh station are open or not
Truck Wash: Find places to wash your truck.
Trucking Jobs: There is a place to look for trucking jobs.
Message Board: A free message board to stay in contact with other truck drivers or to make new friends.
Price: Free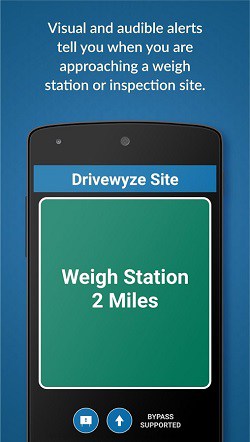 5. Drivewyze Weight Station PreClear
Drivewyze is a free trucker app that lets you bypass weigh stations at over 700 sites. This app save truckers time and money. Depending on your carrier safety score you can be allowed to bypass scales in states throughout the United States.
For a list of supported states and sites you should visit this page.
It has been downloaded over 100 thousand times and has an average user rating of 4.4 stars on a 5 star rating scale.
Drivewyze Features:
Bypass Weigh Scales: Depending on your carrier safety score you can be allowed to bypass weigh scales.
Heads Up Alert: Even if you don't get the bypass service you can receive a heads up alert for over 1,200 weigh stations in the United States. The alert will notify you when you are 2 miles away from the station or mobile inspection site.
Endorsed: The Drivewyze app is endorsed by many state trucking associations and the American Trucking Associations.
Updates Regularly: Adds new states and site location updates often.
Optimization: Low data usage and won't drain your battery.
Price: Free
6. Weigh My Truck CAT Scale
The Weigh My Truck app for truck drivers allows truckers to weigh their truck, pay for the transaction via PayPal, EFS, Comdata, ACH, or credit card and get the weight displayed on their phone. All you have to do is download the app, confirm the CAT scale number, and confirm your truck information.
The app has been downloaded over 100 thousand times and has a 3.8 rating on a 5 star rating system.
Weigh My Truck Features:
PDF: The app will also email a PDF copy scale ticket or weight information to five email addresses the driver specifies.
Create An Account: Professional truck drivers are able to create an account that will store truck information and email preferences.
Price: Free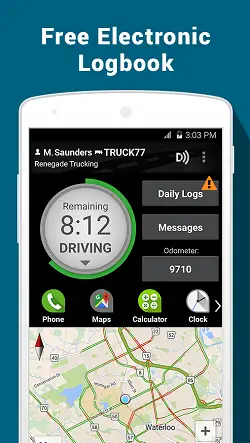 7. BigRoad Trucking Logbook
The BigRoad Trucking app easily track hours of service with this app made especially for truckers. Overall it is easy to use and reliable. The ratings for it are good, on a 5 star rating it has a 4.6.
Truckers have downloaded it over 100 thousand times. A lot of truckers love this app and how practical it is.
BigRoad Trucking Logbook Features:
Track HOS: Easy and editable eLOGS. BigRoad calculates how much drive time you have left.
Avoid Errors: Makes sure you are not violating any HOS rules by eliminating guessing and estimating.
Send Reports: Send your fleet manager your logs and inspection reports. You can capture and send documents withing the app for free.
Easy Inspections: Inspectors are able to read the clean elogs.
Support: Supports US FMCSA, DOT, and Canadian HOS rules, property and passenger carrying routes, short-haul, oil field, and state rules for Alaska, California, and Texas.
Price: Free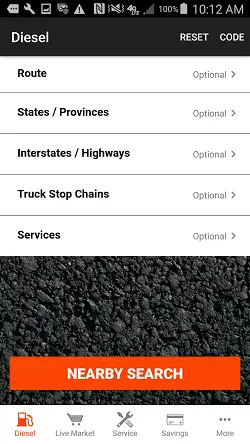 8. Fuelbook
Fuelbook is another option for truckers to find low fuel prices. This app also prides itself on helping fleets save money on fuel with a custom fuel code. It searches over 7,000 truck stops nationwide to help you save on fuel.
Fuelbook has been downloaded over 100 thousand times and has an average rating of 3.9 stars out of 5.
Fuelbook Features:
Updated: The diesel prices are updated 6 times daily.
Truck Stops: Get information about truck stop services and open parking across the United States and Canada.
Alerts: Get live news and alerts.
Price: Free
9. Lose It! Calorie Counter
The LoseIt! app is a great option for truck drivers trying to control their weight and stay in shape. This app lets you set a goal and then track what you are eating and how much you are exercising in order to reach your goal. Try this app and you will be on your way to your very own weight loss plan.
This app has had over 5 million downloads and has a rating of 4.4 stars on a 5 star scale.
Lose It! Features:
Goal Setting: You are matched with a personalized daily calorie budget and weight loss plan.
Track Food and Exercise: You will be able to track meals and exercises.
Community: There is a weight lose community you can be a part of for extra support.
Food Database: The food database has over 7 million foods, restaurant foods, and brands from all around the world so you can find out the nutritional information for just about any food
Barcode Scanner: The barcode scanner uses your camera to scan food labels for nutritional information.
Picture Tracking: Track the foods you eat by taking a picture of it.
Price: Free
10. Audiobooks From Audible
Audiobooks from Audible has a ton on audio books that you can listen to while driving that we keep your mind sharp and help you stay awake and alert. They have the largest selection of audiobooks that you will find anywhere.
This app has over 50 million downloads and has a 4.5 star rating on a 5 star scale.
Audiobooks Features:
Genres: Explore just about any genre you prefer, they have something for everyone.
Anywhere: Listen to your audiobooks anywhere and anytime you want.
Download: You are able to download your books so that you can listen to them offline.
Narration Speed: You are able to adjust the narration speed so that it goes as fast or slow as you want.
Price: Free 30 day trial. After 30 days you have to pay.
11. Allstay Hotel Search
The Allstay hotel search app compares over 700,000 deals from hotel booking sites to find you the lowest prices and immediate availability. A lot of truck drivers recommend this app for those times you are looking for a last minute hotel room.
This app has been downloaded over 100 thousand times and has a 4.7 star rating on a 5 star scale.
Allstay Features
Compare Hotels: More than 700,000 hotels are compared including private accommodations.
Last Minute Deals: Find last minute deals for tonight.
Reviews: Live hotel reviews based on 5 million travelers all over the world.
Price: Free
12. iExit Interstate Exit Guide
iExit is a good tool for anyone that does a lot of highway driving. This app tells you what the upcoming exits are and what you will find at each exit regarding hotels, fuel, restaurants, etc… It displays upcoming exits in real time. You will never miss another exit again while driving your truck all around the country.
The iExit app has over 100 thousand downloads and has a 3.8 star rating on the 5 star scale.
iExit Features
Simple: This app is really simple to use.
Find Businesses: You can search the next 100 exits for businesses, campgrounds, amenities, rest stops, and hotel deals.
Price: Free
13. Weather Channel
No doubt that weather is something that every truck driver needs to plan ahead for. By adding this app to your phone or tablet you will never again be caught off guard by a storm or dangerous driving conditions. The Weather Channel is a trusted source for weather updates and all weather related news.
This app has been downloaded over 50 million times and has an average rating of 4.4 stars out of 5 stars.
Weather Channel Features:
Real Time Home Screen: Home screen changes based on your current location, weather, and time of day.
Monitor Storms: Monitor tropical storms and hurricanes.
Local and National Forecasts: Hourly, 15-day and weekend forecasts for the US and Canada.
Current Weather: You will be able to find out the current temperature, humidity, sunrise, sunset, wind speed, and snow cover.
Weather Maps: Fast loading maps that show past and future radar.
Alerts: Get severe weather alerts, breaking weather news alerts, lighting alerts, rain alerts, and pollen alerts.
Price: Free
14. Waze GPS
Waze is a GPS app that works wonders for truck drivers. The layout of this app might be a little too cute for truck drivers but don't let that stop you from using it. The quality of this free app is outstanding though.
On a 5 star scale it has an average rating of 4.6 stars. Really impressive for a free GPS app.
Waze Features
Alerts: Find out about traffic, police, road hazards, and more as you drive.
Rerouting: Instant rerouting to avoid traffic.
Live ETA: Your ETA is based on live traffic data.
Find Cheap Gas: Find the cheapest gas along your route.
Price: Free
15. NOAA Weather Radar
NOAA Weather Radar is another weather app that truckers will tell you is very dependable. Very similar to the Weather Channel app but some truckers say they like the ease of use of this one more. Shows you just about everything you need to know about the weather.
The NOAA Weather Radar has been downloaded over 5 million times and has a rating of 4.4 stars on a 5 star scale.
NOAA Weather Radar Features
Forecasts: You can get short-term (24-hour) and long-term (7-day) forecasts for any location.
Radar Images: Gives you real time animated weather radar images on an interactive map.
Real-Time: App uses real-time weather conditions.
Information: Find out temperature, precipitation predictions, humidity levels, wind speed and direction, and visibility.
Alerts: Get alerts for tornadoes, flood warnings, snow, and more.
Price: Free
16. TRANSFLO Mobile+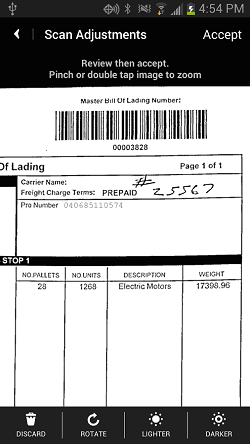 TRANSFLO Mobile+ is an app that works wonders for truck drivers. With this app you can receive and manage loads, scan and send documents, track hours of service, get electronic signatures, access settlement statements, communicate with dispatch, and more.
This app has been downloaded over 100 thousand times and has a 3.9 star rating on a 5 star scale.
TRANSFLO Mobile+ Features
Load Status Updates: With a simple swipe you provide fleet managers, carriers, and brokers with real-time load status updates from anywhere.
Load Information: You will have the ability to accept of decline right on you mobile device.
Document Management: You can scan and send trip documents. The images can then be routed straight into carrier workflows so you get paid faster.
Hours Of Service: You can track hours of service.
Note: Your fleet or broker must be authorized to use this app for you to access these features. You can get a Fleet ID from your driver manager or office personnel.
Price: Free
17. AroundMe
AroundMe is a simple app that lets you find out what is around you. Based on your location it tells you where the nearest restaurants, banks, gas stations, hotels, entertainment options and more. This is a great app for truck driver to use wherever you are at. There is no reason to have to stop and ask for advice ever again, with this app you can find everything yourself.
The AroundMe app has been downloaded over a million times and has a rating of 4.1 stars on the 5 star scale.
AroundMe Features
Find Things: Use this app to find banks, bars, gas stations, hospitals, hotels, movie theaters, restaurants, and supermarkets.
Price: Free
18. White Noise
White Noise is a free app that features relaxing sounds that any truck driver will appreciate when trying to fall asleep.  Getting enough quality sleep can be a challenge for truck drivers that drive long distances, why not try this app the next time you go to sleep? It will block out background noises for you so that you can get some well deserved sleep.
White Noise Features
Manage Stress: Reduces stress and helps you relax.
Many Sounds: Comes with over 40 soothing sounds. Sounds include color sounds, bedroom fan, light and heavy rain, beach and ocean sounds, water flowing, and more.
No Streaming: No streaming is required for playback.
Digital Clock: Full screen digital clock can be used as a nightstand clock.
Alarm: It has an advanced alarm and timer system to help wake you up.
Price: Free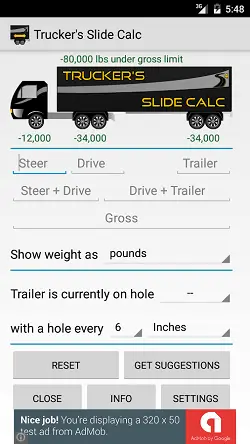 19. Trucker's Slide Calculator
Enter your axle weights and the Trucker's Slide app calculates how much each axle is over or under, including gross. This app is especially handy for new truck drivers that need some reassurance.
This app for truckers has been downloaded over 10 thousand times and has a 4.4 star rating on the 5 star rating scale.
Trucker's Slide Calculator Features
Steer Weights: This app now estimates and shoes steer weights.
How It Works: Uses a computer algorithm to simulate your axle weights at each hole. It them picks the best axle-weights at each hole. It picks the best hole for the situation.
Price: Free
20. Drive Axle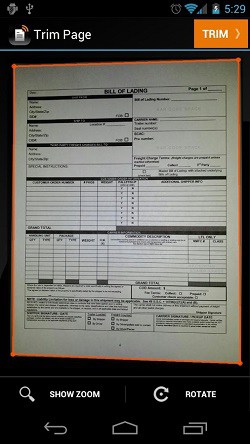 Drive Axle is a very handy app for truck drivers because it lets you scan and send documents without a fax or copy machine. You can do it all from your cell phone or tablet!
Drive Axle Features
High Quality Images: Can create crisp images that are as good or better than fax machines, truck stop scanners, or an in cab scanner.
Get Paid Faster: Scan before you leave the delivery location or at a later time. Take a picture and send it to any email address.
Scan All Types Of Documents: Documents that you can scan include proof of delivery, bill of lading, fuel receipts, scale receipts and certifications, vehicle inspection report, and more.
No Training: This app is easy to use, you don't need any special training or skills.
Price: Free
21. ONE20
The ONE20 trucker GPS does one thing that a lot of other free trucker GPS apps don't. They allow you to work offline. If you are somewhere with no signal you can still use their GPS app as long as you downloaded the maps for it.
ONE20 Features
Works Without A Signal: This is the best feature of ONE20. If you are stuck somewhere and can't get a signal or lose a signal this app will still work. Truckers are quickly falling in love with this app!
Good For Large Trucks: This app helps you avoid low bridges, load limits, weight limits,
dangerous turns, and truck prohibited roads.
Trip Planning: Plan your next trip with information on truck stops, scales, rest areas, and other amenities.