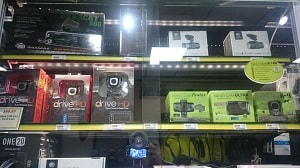 No truck driver should drive without a dash cam. Not anymore. They are now relatively cheap (less than $100.00) and provide piece of mind in a variety of unfortunate events.
Unfortunately there is currently no company that makes a dash cam specifically for truckers. Why? Because there is no need to. All dash cams are essentially the same. It doesn't matter if you are driving a tractor trailer, box truck, bus, car, or pickup truck, dash cams all do the same thing; they record while you are driving.

In this article I'm going to let you know what the 4 best dash cams are for truckers that are less than $100.00. That's right, less than $100.00. These days you can buy a really good dash cam without spending a lot of money.
1. Old Shark 1080p Dash Cam (everything a truck driver needs at a low price)
In terms of features this dash cam by Old Shark (link to Amazon) isn't that much different than the next two dash cams on this list. This one also has a 170 degree that will capture the entire road in front of your truck. It also has a sensor that will lock the camera during accidents which is great for truck drivers so that you don't have to worry about pausing your dash cam if an accident does occur. It does it for you. The video is sharp HD as well.
It also has the parking feature that truck drivers look for in a good dash cam. It turns on automatically when a vibration is recorded and the tractor trailer is not moving. You'll like this so that you are protected while sleeping in your tractor. You can sleep well knowing that if something does happen it will be recorded.
What separates this dash cam from the other 3 on this list? What I really like about this dash cam is that it comes with a 32GB micro SD card. Once you get it you are ready to go. Just insert the SD card and start recording. Most dash cams don't come with an SD card and if they do it is a small 8GB one.
What about the cons? The one bad thing about the Old Shark 1080p dash cam is that the suction cup mount is not built very well. Don't expect the mount to last a long time. Other than that this is a great dash cam for less than $100.00. Click here to see the what the price is on Amazon today.
2. FalconZero F170HD (just as good as the Old Shark but comes with a smaller SD card)
Awesome dash cam. This dash cam (link to it on Amazon) is very similar to the Old Shark dash cam in that it has a 170 degree viewing angle and records in full HD video. This dash cam is good for day driving and night driving too.
There are two things that truckers really like about this dash cam.. The first thing is that like the Old Shark dash cam it has motion detecting recording when parked. When your truck is parked the dash cam will begin recording once it senses motion. This is good if another truck driver whacks your tractor trailer in the middle of the night while you are sleeping. Now you have the whole incident on tape and don't have to worry about someone believing you. The evidence is in the video.
Another thing that is a bonus with the FalconZero dash cam is that it comes with a memory card.
The con? The micro SD card that it comes with is only 8GB. Not a deal breaker but it would be smarter to go with the Old Shark that comes with a 32GB one.
3. Rexing V1 Dash Cam (good dash cam but a little more expensive than the top 2)
This dash cam (Amazon link) by Rexing is also great for truck drivers. It comes with a 2.4 inch LCD screen, HD recording, wide angle lens, collision sensing, and auto on/off.
The HD video that this dash cam creates is beautiful during both day and night driving. Nice HD videos along with a 170 degree ultra wide viewing angle and you will have piece of mind that anything that happens while you are driving your truck is going to be recorded.
Something else I like about the Rexing V1 (Amazon link) is that you are able to record in 3, 5, or 10 minute segments. Once your storage limit is met the dash cam will automatically begin recording over the oldest videos.
Truck drivers will appreciate the accident auto-detection ability of this dash cam. It has a built in sensor that detects a collision which locks the video for retrieval. The camera stops recording so that you are sure to have video of the incident. The accident video is protected from being overwritten.
The last thing truck drivers will appreciate is how discreet it is. Is has a low profile and doesn't take up a lot of space on your windshield so that you can see the road better.
The cons? There are a few things that I don't like about it too. The first thing is that it doesn't come with a micro SD card. Not a big deal but it will cost you another another $20.00 to $40.00 for an SD card. This dash cam also doesn't come with a parking mode that you would expect to have as a truck driver. Good dash cam that would be better if it had the parking mode.
4.  Pruveeo F5 Dash Cam (good dash cam if you are on a really tight budget)
Don't think that a dash cam priced this low is worthless. This Pruveeo F5 is a solid dash cam for truckers at a very reasonable price. To see what the price is today on Amazon click here.
First of all I want to be clear that though this is a good dash cam it does lack some things that the first three dash cams come standard with. It doesn't come with a micro SD card, you will have to buy one. It also doesn't have parking mode which a lot of truckers prefer. Parking mode means the dash cam will turn on automatically when it senses motion and the truck is not moving. Great to have while your truck is parked.
Some of the things that truck drivers like about this Pruveeo dash cam other than the price is it's sleek design. It won't take up a lot of space on your windshield. This camera is also built rather well, it feels sturdy when you pick it up. If you are on a tight budget and are looking for a good dash cam at a reasonable price this is the one for you.
The cons? One thing I don't like about the Pruveeo is that it doesn't record HD video and only has a 140 degree viewing angle. The other three on this list of best dash cams for truck drivers have a 170 degree angle.
Honestly, any of the four are really good dash cams for less than $100.00. The biggest difference between them is that the Falcon Zero and Old Shark come with the parking feature and with the Old Shark you get a nice 32GB micro SD card. If you really want to have a dash cam that turns on while your truck is parked and you are sleeping you can't go wrong with the Falcon Zero or Old Shark.
What Is A Dash Cam?
A dash cam is a camera that constantly records the road in front of you while your truck is moving and it has the ability to loop record. This means that a dash cam is able to automatically overwrite old video data as new video data is recorded. Most dash cams will automatically start recording when you start driving so there is no need to worry about turning it on and off.
Dash cams are really not very complicated pieces of technology, but the benefits of having one if you are a truck driver are endless.
Why Does A Truck Driver Need A Dash Cam?
In case s@#t happens. Eventually s@#t will happen, it happens to all of us. If you are a truck driver you shouldn't be driving without a dash cam. Having a dash cam is a safeguard that you should invest in today. There are no hidden fees if you get the right one which means they are really low maintenance.
Depending on the dash cam you get you might need to buy a micro SD memory card too but some dash cams do come with one already. Often though the micro SD card is only 8GB, you should have a 32GB at least. The ideal one is a 64GB one like this one on Amazon.  Other than that you don't have to pay any additional fees after getting your dash cam.
Evidence In Case Of An Accident
Truck drivers spend a lot of time on the road which increases your chances of getting in an accident. Often the accident isn't your fault. Having a dash cam recording what is going on in front of you gives you added evidence that is indisputable. The dash cam records the facts. Having an incident on tape will save you money, time, your reputation, and maybe even your trucking job. If you drive a truck there is no excuse for not having a dash cam.
Recording Parking Lot Accidents
Sometimes your truck isn't even moving when it gets into an accident. You know how it is trying to find a good parking spot and then having a new driver try to back in next to you. You can probably tell if it's a new driver and are praying that he/she doesn't hit you. Maybe you have had the experience of being awoken during the night by someone tapping your tractor a little.
Having a dash cam could save you some trouble because now you will have evidence of what happened. Most dash cams have a parking mode and will be activated when motion is detected even though your truck is not moving.
Record Your Adventures
Headed somewhere that you have never been to before? Going into the mountains for the first time? Driving during a severe snow storm? Having a dash cam in your truck gives you a safe way to record what you see. Now you have something you can take back with you to show other drivers, your friends, and your family. Give them some insight into your driving and let them into the world of the trucker.
The good news is that a really good dash cam can be had for less than $100.00. These 4 dash cams are great options for truckers and none of them will drain your savings account.