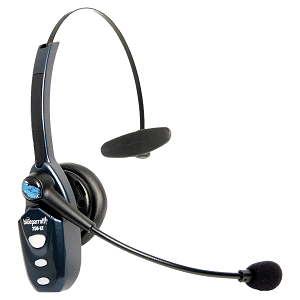 The best Bluetooth headset for truckers is the BlueParrot B250-XT. There is really no competition. This headset is legendary among professional truck drivers. Its often called the "road warrior" because some of its biggest fans are long-haul truckers.
If you're tired of dealing with garbage headsets or tiny ear buds that have poor call quality and don't eliminate background noise then you are in for some needed relief.

BlueParrot headsets (there are 4 of them for truckers) are the preferred Bluetooth headset for truck drivers around the world. For good reason too. Bluetooth headsets by BlueParrot do many things better than every other headset you will come across. Among them is their ability to work well in noisy environments, like the cab of a truck. Of all the reviews you will find on BlueParrot headset models for truckers it is their ability to eliminate background noise that truck drivers rave about the most.
BlueParrot Bluetooth headsets and truck drivers are a perfect fit. They are high quality, comfortable, and have an unmatched ability to eliminate noises from your truck and the road. Regardless of how loud it gets inside and outside you can be sure that it won't really matter as long as you have one of these headsets.
Keep in mind that there are actually four Bluetooth headset models made by BlueParrot. All of them are outstanding, but the BlueParrot B250-XT is their best headset when it comes to price, comfort, and noise eliminating capability. If you want to learn more about the other, more expensive, BlueParrot headsets for truck drivers skip the review of
the base model and go straight to the bottom of this article for the higher end models.
Click here to see the BlueParrot B250-XTS on Amazon. To make the deal even sweeter Amazon usually has free shipping that can have it at your door in a matter of days so that you can get back to driving your truck. Now we can take a look at the features that set it apart from any other headset for truckers.
In this article you will find out everything you need to know about the BlueParrot B250-XT but I will also talk about the other three headset models they make at the end of this article.
Noise Canceling And Sound Quality: The Best
The BlueParrot B250-XT features 85% noise cancelling. That's really good and relatively unmatched by many other Bluetooth headsets. As a truck driver you know that few things are more annoying than using a cheap headset that does nothing to cancel outside noises. With a cheap headset you can hear every bit of background noise. With the BlueParrot B250-XT you won't hear a thing, nor will the person you are calling.
A number of people that reviewed the headset (link to Amazon) said that it works great in very noisy environments. There are numerous truck drivers that say it's best feature is its ability to block out driving noises at highway speeds with the windows down. That's right, with the windows down! Yeah, you could find a headset for a cheaper price but you will be sacrificing a lot. With the BlueParrot B250-XT the person you call will have no idea you are driving a truck across the country because they won't hear a thing in the background!
This headset does a really good job of cancelling out sounds around you so that the person you are talking will only hear your voice and no background noises. The headset also noise cancels outside noise so that the only thing you hear is the person on the other end of the phone call. Of all the positive reviews on Amazon the most common positive thing truckers say is how well it noise cancels.
16 Hour Talk Time
The headset gives you 16 hours of talk time and can be recharged via micro USB, 12 volt outlet, or wall outlet. Let's say you use the headset for 2 hours a day it should last you 8 days before needing a recharge.
Talk time of 16 hours is more than enough for any truck driver. This is enough for you to talk hands free without any interruptions. Most truck drivers will tell you that you can easily get several days out of a full charge assuming you are not talking on your cell phone non stop.
Don't worry, when it does come time to charge it you can keep using it while it is charging. You just plug it in and a small light on the headset will be red while it is charging and turns green when it's fully charged.
It's Comfortable To Wear
Cheaper headsets are uncomfortable to wear and ear buds are just annoying. If you are like me you can't stand putting those things in your ears. I just can't get used to them.
The BlueParrot headset for truckers is comfortable to wear. The ear cushion is actually sheepskin, which is much softer than leather. Truckers will like that you can wear the headset on either ear and move the mic from side to side. The mic is also flexible so you can bend it so that it is in perfect position for your head. There is a small button on the side of it that you can use to answer your phone calls.
Good Build Quality
Hold it in your hand and it's obvious the build quality of the headset is really good. People that have already purchased the headset commend BlueParrot for building a headset that is made to last and won't break easily. There is no reason why you can't get several years of use from this headset.
I do suggest you order some extra windscreens to go over the mic though, it's not uncommon to have to replace these if you use your headset often.  A good idea is to get the replacement windscreens ahead of time.  Here are 8 of them on Amazon.
Bluetooth Range Is Great
Getting out of your truck to check a load while your phone? No problem. This headset has a Bluetooth range of 66 ft. You can check the load of your truck without having to end your phone call.  If you don't think that 66 ft. if enough for you then you will probably want to get their high end headset model that has a Bluetooth range of up to 300 ft.  You can find information and a link to it on Amazon at the end of this article.
Charge It With A Car Charger Or Wall Charger
The BlueParrot headset for semi truck drivers comes with a car charger that plugs into a 12 volt outlet and it comes with a wall charger too. You can charge it directly into your 12 volt outlet or plug it into your inverter. The charger can also connect to a power source via USB.
No matter where you are you will always have charging options and never have to worry about where or how to charge it. It does have a talk time of 16 hours so you really won't have to constantly charge it.
Hands Free Is The Only Way To Drive A Truck
Being hands free is safer for truck drivers and will save you money by avoiding fines by keeping your hands on the steering wheel. Get yourself this headset and you don't have to worry about a thing. I've even heard about some drivers losing their jobs for cell phone violations while driving.
You can talk to your wife, kids, friends, parents, and even dispatcher hands free. No more holding your phone up to your ear while looking around for state police looking to hand out fines. Crazy stuff, don't risk your career and livelihood over a phone call.
What's Not To Like About The Headset? (2 things actually)
As good as the BlueParrot headset I was able to find a few things that drivers didn't like about them. Nothing major, I just wanted to make sure you know that there are a few things about the wireless headset that some truck drivers might find annoying.
You Won't Look Cool, But Who Cares!
A common complaint is that the headset makes you look a little dorky. Some would even compare them to the headsets people wear at the McDonald's drive thru. Who cares! I don't know about you but I'd rather look like a dork and have really good call quality than look "cool" and have my call quality in the dumpster.
Plus, your riding high in a truck where nobody is going to see you anyway. Nothing wrong with looking a little like an airplane pilot, in some ways you do the same thing except you have wheels instead of wings. If you are looking for style over substance this is not the wireless Bluetooth headset for you.
The BlueParrot B250-XT Lacks HD Voice
One thing that this model does not have is HD voice. It really doesn't matter though, the truckers that have reviewed the headset on Amazon have not had any complaints. HD voice is an option that you can do without. There is a model made by BlueParrot that does come with HD voice, here is the link to it on Amazon.
Other BlueParrot Bluetooth Headset Options For Truck Drivers
Like I said earlier you do have other BlueParrot models to choose from. All (4) of them are great headsets for truck drivers that offer the best noise cancelling ability of any headset you will find anywhere. There are some slight differences between them though, here they are:
The BlueParrot B250-XT is considered the base model (the one I reviewed in this article too) and is the headset most often purchases by truck drivers. I recommend it because it's a really good wireless headset for truck drivers that won't break your bank account.  Honestly, you don't need to look any further than this model. Unless you have money to spare the B250-XT is a perfect fit for most truck drivers.
The next model is the BlueParrot B250-XTS. This model (also on Amazon) has a few more features that the base model does not: HD voice, 20 hour talk time, and 95% noise cancelling ability. If you have your heart set on HD voice and a little better noise cancelling ability this is a good one to get.
Next is the BlueParrot B350-XT. This headset has HD voice, a 24 hour talk time, and 96% noise cancelling ability. This one is really similar to the 250-XTS except it has 1% more noise cancelling ability  and 4 more hours of talk time.
The top of the line model for truckers that BlueParrot has is the B450-XT. The biggest difference between this one and the B350-XT is that it has a Bluetooth range of up to 300 ft. This is the highest range of all the models.  It also has a 24 hour talk time, 96% noise cancelling ability, and HD voice. If you need a far Bluetooth range then this is the one to get. No surprise that it is the most expensive model though.
When it comes to Bluetooth headsets for truck drivers BlueParrot has got it all. There is a model for everyone, though I strongly recommend you don't make the mistake of passing on the B250-XT just because it is their base model.
It has everything that a trucker needs to drive and talk worry free with no background noise. Take a look at all the Amazon reviews for yourself and see what real truck drivers are saying about them.