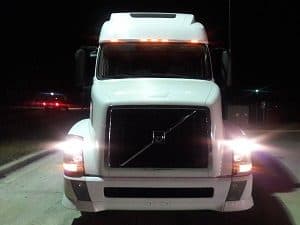 Having a CDL endorsement means that you have additional certifications to drive specific commercial vehicles or vehicles with special components.
For example, if you plan on driving a tanker commercial vehicle you will need to pass a written test (multiple choice) in order to have the tanker endorsement on your CDL. Without the tanker endorsement you are not legally allowed to drive a tanker. Get ready to learn everything you would ever need to know about CDL endorsements.
The written exam for an endorsement is usually 20 to 30 questions in length but it may vary based on the state you are in.
In general all fifty states have the same endorsements and testing requirements but there may be some differences from state to state.

Why You Need  CDL Endorsements
Having endorsements allows you to have more career flexibility. When you get all your endorsements be sure to check out my free truck driver job board for driver jobs where you live.
Having more endorsement means you will be able to apply for a variety of driving jobs.
You might think you don't need an endorsement now but life changes and you may wish that you had some later on when you start job hunting again.
My advice: Don't limit your career now, allow yourself as many career options as possible by getting an endorsement now. Aside from advancing your career some commercial vehicle drivers are required to have specific endorsements on their CDL, take a look at the types of CDL endorsements you could pursue. After all, getting an endorsement is not difficult to do as long as you study and pass a short multiple choice test at the DMV.





What Is Required To Take A CDL Endorsement Test
The requirements for taking an endorsement test are generally the same in every state but be sure to check your states CDL manual here for specific information.
There is a fee for each test you take. The fee is small, usually no more than $20.00 for any given test. and you must have an acceptable driving record.
CDL Endorsement Cost
The cost for getting a CDL endorsement is normally not very expensive, the CDL endorsement costs ranges from $20.00 to $50.00 depending on the state you are in . The CDL endorsement cost that is highest is for the hazardous material endorsement because of the required TSA (Transportation Security Administration) background check or threat assessment. For information about the background check take a look at this article.
When Should You Take The Endorsement Test?
Depending on the endorsement you are trying to get you can take the endorsement test at any time you are ready. Once you have prepared yourself for the test you have to go to your local DMV to take the written test.
I recommend to all drivers that they get as many endorsements as possible.

How Long Until You Receive The Endorsement?
The endorsement is not a document, the endorsement will be marked on your commercial driver's license.
There is no document that you need to carry with you as long as you are carrying your CDL.
In most cases you will get your endorsement on your drivers license right after you pass the test or your updated drivers license will be mailed to you in a few days.
Studying For An Endorsement Test
The best way to prepare for an endorsement test is to use your states CDL manual. To find your states manual please go here. Another way to prepare yourself for the test is by completing some CDL endorsement practice tests like the ones we have for free here.
CDL Endorsement List
Generally speaking all states offer the same CDL endorsements but some may differ slightly.
Certain states may have a few more endorsements than the ones, not all states have the same exact endorsement, see the CDL endorsement list below. (source)
Check out your states CDL manual here for more information.
1. Double and Triple Trailer Endorsement: Only Class A CDL holders are able to get this endorsement. It is needed if you are going to be driving 2 or 3 trailers.
2. Passenger Endorsement: The passenger endorsement is needed if you are going to be driving a vehicle that usually transports 16 passengers or more.
This endorsement requires you to pass a written test and a road driving test. This endorsement is for passenger buses and vehicles but does not include school buses however most states require you to receive the passenger endorsement before getting the school bus endorsement.
3. Tanker Vehicle Endorsement: This endorsement is necessary if you are going to be carrying large amounts of liquids.
Some states require you get the tanker endorsement before getting the hazardous materials endorsement. You will be required to pass a written exam only.
4. Hazardous Materials Endorsement: This endorsement is required for drivers who will be transporting hazardous materials. Hazardous materials includes explosives, gases, and flammable or combustible liquids. Because of this the Transportation Security Administration (TSA) has to create a threat assessment for anybody in the United States applying for this endorsement.
A threat assessment is basically a thorough background check. For more information you can visit this article where I explain everything about it.
In order to get this endorsement you will need to pass a written test at your local DMV.
5. Air Brake Endorsement: The air brake endorsement is required if you are going to be driving any vehicle with an air brake system.
To receive the air brake endorsement you will have to pass a written test and a driving test.
To prepare for the written portion of the air brake endorsement test you should use your states CDL manual. You can access your state manual for free here.
During your CDL training you will be trained how to drive a vehicle that has air brakes which will be prepare you for the driving portion of the endorsement test.
If you are taking your initial CDL skills test for a Class A, B, or C CDL this will be a part of your driving test. Make sure that the vehicle you are going to be testing with has air brakes so that you can earn the endorsement.
One more thing, I create some tips for passing the basic skills driving test with diagrams included that is one of my most popular articles. You can find the complete article right here.
Also, if you fail the air brakes written or skills test you will have a restriction placed on you drivers license that restricts you from driving a vehicle with air brakes.
If this happens you will have to go back another day and retake the air brake endorsement written and skills test.
6. School Bus Endorsement: The school bus endorsement is what you would need to get in order to become a school bus driver. In order to get this endorsement you will first need to get your passenger endorsement. Once you have passed the passenger endorsement test you are able to apply for the school bus endorsement.
A person transporting children needs to have special training. This endorsement does require you to pass a written and driving test. Most states require a criminal background check as well as alcohol and drug testing.
Renewing A CDL Endorsement
Most states will notify you by mail when it is time to renew your CDL and CDL endorsements.
You will get a letter from the Department of Motor Vehicles notifying you that your CDL and/or CDL endorsements are soon expiring and that you need to renew them.
Don't make the mistake of waiting for the letter to arrive in the mail because there is a possibility that you might not get it if you are driving.
What you should do is be aware of your CDL and CDL endorsements and when each of their expiration dates are.
This is your career and your responsibility. Depending on the state you are in you will have some options for renewal, some states require you to visit a DMV in person while other states you are able to complete the renewal online.
If you are given both options you should save yourself some time and complete it online.
It is a good idea to gather the necessary documents ahead of time so that you are not searching for everything last minute.
Some documents you may need to have for renewal include a medical exam by a DOT approved doctor, a recent eye test report, a CDL renewal application, and of course payment for the renewal fee.
What To Do With Your New CDL Endorsement
The obvious answer here is you can start looking for a new job and start putting that endorsement to use. Another option is to do nothing with it.
That's right, nothing. You might not need the endorsement now but it might be useful in several months or years when a new career opportunity comes along.
It is a wise decision to get as many CDL endorsements as possible as soon as possible.
The only exception would be if you know that you will absolutely never use it.
For example, if you know that becoming a school bus driver is something you never want to do it isn't worth the time and money to invest in getting a school bus endorsement.
Transferring An Endorsement To Another State
If you transfer your CDL to another state your endorsements will normally transfer with the CDL with no problems.
You usually don't have to retake any written or driving tests in order for your endorsements to transfer.
I do recommend that you check with the state you are moving to make sure the transfer is smooth and so that you know exactly what you need to to transfer your CDl and endorsements.
If you are transferring your CDL to another state you will need these documents at least:
1. Your CDL from the previous state you lived in.
2. Proof of residency in your new state.
3. You will need your social security number or card.
4. A birth certificate or another document to prove legal residency.
5. Medical Exam certificate from your previous state if needed.