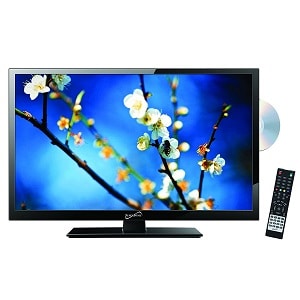 The best 12 volt TV DVD combo for truck drivers is the SuperSonic LED. This little gem will help you keep your sanity while waiting for your next load. Just like at home you have your moments when you just want to sit back and enjoy some television, watch a DVD, or play video games.
A problem with truck driving is you don't have room for your flat screen television from home and your collection of DVD's with you while driving. Well, it doesn't have to be like that. A great option is to get yourself a 12 volt television with a built-in DVD player that you can plug into a 12 volt outlet and watch away.

This SuperSonic LED Widescreen TV/DVD has all the best features, best reviews, and a reasonable price. To see what the price is today on Amazon click here.
In this article I will focus on the SuperSonic television as well as three other 12 volt televisions with built in DVD players for truckers as well as 12 volt extension cords that you might need so that you can place your new television anywhere you like. All of these televisions can be plugged into a 12 volt outlet inside your vehicle.
SuperSonic LED Widescreen HDTV With DVD Player (recommended)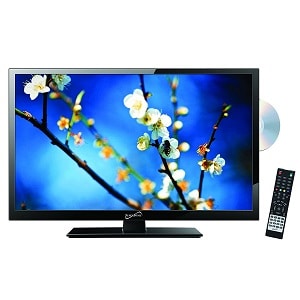 Features include: This is the best television for truckers (Amazon link) that has all the wanted features. HDMI inputs which will reduce noise interference while you are watching. Another useful feature of this television is that you can plug in an SD card to look at pictures and listen to music. If you don't use an SD card you can also plug in via the USB input too. This SuperSonic television with built in DVD player is available in many sizes including 13.3 inch, 15.6 inch, 22 inch, and 24 inch screen.
Pros:
– The price, depending on the size you want, is reasonable. The lowest priced one is the 13.3 inch screen model and the highest priced is the 24 inch model.
– Television has an ATSC tuner, this means it can receive a digital TV signal for free
– Television has HDMI inputs
– The television has mounting holes on the back for adding a bracket
– Works with an antenna
– Comes with a power cord for plugging into wall outlets as well as 12 volt outlet
– You can add external speakers for better sound
– Comes with a remote control
– 5ft power cord for 12 volt
– Has over 2,000 customer reviews on Amazon. This is good so that you can read some of the reviews to see what some of the more specific pros and cons are.
– Usually comes with free shipping
– Built in DVD player
Cons:
– Sound is not terrific
– Quality of picture decreases if you are not directly in front of television
– Remote control functions can be difficult to navigate
AXESS TV 22 Inch LED HDTV With DVD Player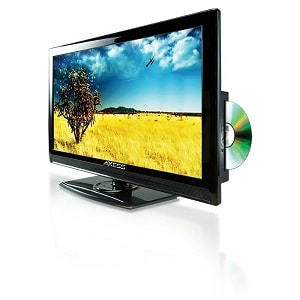 Features of the 12 volt television and DVD combo include: A built in analog and digital tuner and it has a sleek design. Includes a built in cable/antenna jack, RGB jack, USB input, HDMI port, and earphone audio jack. This television comes with a full function remote control as well. The available sizes for this television are 13 inch, 15 inch, 22 inch, 24 inch,  and 32 inches. Keep in mind that the price will increase as the size increases.  Lets take a look at some of the pros and cons of the Axess television.
Pros:
– Ability to scan and save over the air channels
– Lightweight, it's only 10.2 lbs
– Comes with the 12 volt adapter so you can use it in your tractor, car, or RV
– Comes with mounting holes but a mounting bracket is not included
– You are able to play games on it using a gaming console
– Comes with a remote control
– Television has sleep timer option
– Can be connected to a tablet or laptop computer
Cons:
– Sound is not terrific. You may need to attach external speakers for better sound quality.
– Antenna quality is not so good.
– Remote control has a lot of features which could be confusing for some.
Sceptre Portable 16 Inch LED HDTV With DVD Player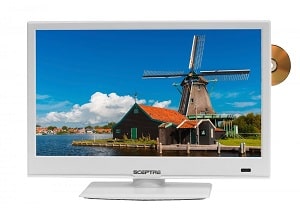 Features of the Spectre Television: The best feature of this television DVD combo is the price. It comes with a 12 volt adapter, ports for HDMI, VGA, and USB, and composite inputs. One of the biggest negatives of this Spectre television is that it has no reviews yet on Amazon. If you are a person that likes to get the opinions of other buyers before making a purchase this one might not be the one for you. The lack of reviews is one of the reason you should consider skipping this model.
Pros:
– A blend of old and new, this television is compatible with newer technology and has composite inputs for older DVD and video recorders
– Lightweight, it's only 3.5 lbs
– Competitively priced
Cons:
– No Amazon reviews yet
– Only offered in the 16 inch screen size
Skyworth LED TV/DVD Combo
Features of the Skyworth television: This television includes an analog and digital tuner and surge protection circuitry. Also includes 2 HDMI inputs, USB input, and antenna input. Honestly, this is not a good television. You are better off getting any of the other three instead of this one.
Pros:
– DVD entrance on the right side of the television. Not much of a pro since all the other televisions also have the DVD entrance on the right side
– Comes with a remote control and batteries
Cons:
– High price
– Only a few Amazon reviews of this television DVD combo. Not enough user reviews of this television compared to the SuperSonic television which has nearly 2,000 reviews.
Which 12 Volt Television Should You Get?
Choosing which television to purchase really comes down to money and quality. Our suggestion is to get a television that is not too high priced but will offer decent screen quality. The SuperSonic television is a great choice that is neither very expensive and has good screen quality.
Keep in mind that 12 volt televisions are constructed to withstand vibrations and temperature changes that a normal television isn't.  Don't expect the same video quality as you would find on your television at home.
12 Volt Extension Cords
A common problem that you might encounter after you have purchased your new 12 volt television is the short power cords they sometimes come with. Most truckers need a 12 volt power cord that is more than 5ft.
Don't worry, there are extension cords that you can purchase to get to where you need the television to be mounted or standing. Here are a few 12 volt extension cords that I have hand picked for you so you don't have to waste time looking around Amazon.
Besteek Pack of Two 12 Volt Cigarette Lighter Extension Cords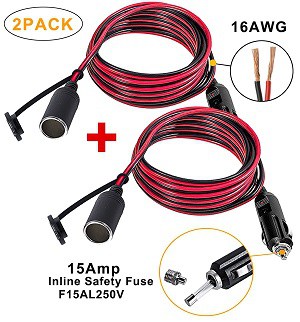 I like these 2 extension cords because  they are each 12 ft long. By getting 2 you can always have one on reserve in case something happens to the first one.  They plug directly into a cigarette lighter.
Nilight Cigarette Lighter Extension Cord
The Nilight 12 volt extension cord is a great deal too.  Its made with heavy duty wire and has good bending performance too. The maximum wattage that this one can hold is 200 watts.
Victor 12 Volt Extension Cord 10 Ft.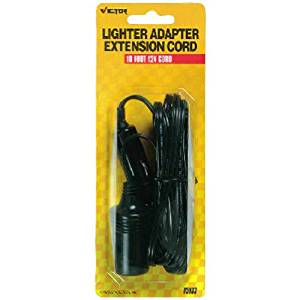 The Victor 10 foot extension cord  is another 12 volt extension cord is really good Amazon customer reviews. If you are looking for a quality 12 volt extension cord at a low price this is probably the one for you. The only drawback to this one is that it is 2 feet shorter than the other ones.
How To Use A 12 Volt Extension Cord
You can use your 12 volt extension cord just as you would use any other extension cord. It is safe to plug in the television cord into the female end of the extension cord and the male end of the extension cord into the 12 volt outlet. It's that easy! With a little setup (and patience) you are ready to sit back and enjoy your favorite shows and
movies on your new television.