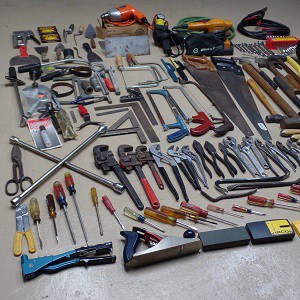 OTR truck drivers need to carry a lot of accessories with them at all times. Your office is your truck. The rest of the world has a lot of luxuries at work that truck drivers don't.
If you are new to OTR (Over The Road) driving you are probably wondering what supplies you should pack for the road.
Don't worry, I guarantee that even experienced truck drivers are forgetting some of the must have items from the list below.

Being prepared for just about anything is an important part of driving a truck long distances. You often will not have access to a store or rest stop or you risk losing money by stopping to buy something. Plus, prices at truck stops are hiked up because you are paying for convenience. Don't waste money at truck stops, take a look at the list below and pack what you need ahead of time.
Go through this list of 29 things OTR truck drivers need and start putting together your must have items. If you are looking for tools that every truck driver should have you recommend you read this list here.
1. High Visibility Reflective Safety Vest
A safety vest can be worn anytime you want to be seen, they are good for increasing visibility during the day and night. Anytime you get out of your truck for any reason it is a good idea to put on your vest. This reflective vest is good because it has a zipper front and it has reflective strips on the front, back, and shoulders. You won't have to worry about whether or not other drivers will be able to see you long as you are wearing a reflective vest.
2. High Quality Leather Work Gloves
A good pair of leather work gloves are always handy. They will keep your hands clean and safe from cuts and abrasions. Get a nice pair of Wells Lamont leather gloves on Amazon and have piece of mind that they will last you several years.  The gloves are all purpose work gloves that can be used for just about anything.
3. Backup Sunglasses Just In Case
We all misplace or break our sunglasses at some point. Make sure you have a backup pair in your backpack so that you are prepared in case something happens to them. Having the sun beating your eyes for several hours is not fun, nor is it healthy.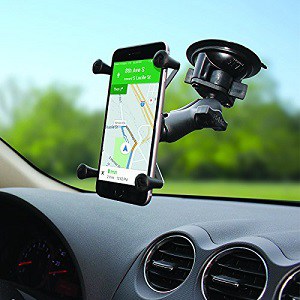 4. A Good Windshield Mount For Your Cell Phone
A good windshield mount like this one on Amazon is essential for keeping your hands on the wheel and your eyes on the road.  It uses socket technology that allows you to adjust it in any way you need and the cell phone holder is spring loaded so you know it has a firm grip of your cell phone. These are the highest rated cell phone windshield mounts around and are highly recommended for truck drivers too.
5. Bluetooth Speaker To Listen To Your Music With
If you have a phone with a lot of music on it then you need to have a Bluetooth speaker to play them on.  This one (link to Amazon) is a  great one that comes with a USB charger and the speaker has a 66 foot Bluetooth range.  It even has a built in mic so that you can use it with your phone as a hands free device. Nice!




6. Extra USB Cell Phone Charging Cable
Just in case your cell phone charging cable is chewed up by your trucking dog or it stops working you should always have an extra one with you.
If you rely on your cell phone for GPS you especially need to have an extra charging cable. I recommend you get a bunch of them so you always have a few reserve cables available.
7. Get A 12 volt USB Charger Outlet
You can find a 12 volt charger outlet like this one that allows you do charge several devices at once. It even comes with a built-in fuse. I like this one most because it has 2 outlets for 12 volt accessories and it has 2 USB charging ports.  It can be used to charge your cell phone, GPS, or cell phone while still allowing you to run a 12 volt cooler.
8. Noise Cancelling Bluetooth Headset
A cheap head set is going to have weak sound and they won't cancel outside noises. Truck drivers need to have a headset that is good at noise cancelling and comfortable.
BlueParrot makes the premier headset for truckers that does a great job of noise cancelling and it has just the right amount of padding to make it really comfortable. This headset is practically made for truckers to cancel truck noise and road noise so that your conversations are much more clear. As a matter of fact it is often called "roadwarrior" because it has become the preferred Bluetooth headset for truckers in the United States and beyond.
9. Zipties. A lot of them.
These are great for just about any quick fix. Make sure you have a variety of sizes with you.
10. A Good Box Cutter
You will have to cut through paper, plastic, tape, and a bunch of other things. Make sure you have a good box cutter with you at all times. This one will get the job done and it comes with 11 free blades as well as a lifetime warranty.
11. Get A Good Multi-Tool
Don't get anything cheap. Invest in a good Leatherman like this one I found on Amazon. I like this one because it comes with a case, lockable blade, and a 25 year warranty.   The tool has 14 tools on it and isn't bulky at all. Easy to carry and store in your truck.
12. Clipboard
Having a clipboard makes filling our paperwork or writing notes and lists so much easier to do. Go to your local Walmart and pick one up for a few dollars and leave it in your truck.

13. Backup Power Bank For Charging Phones, Tablets, and Laptops
A power bank holds reserve power for your cell phone, GPS, tablet or just about anything else. In case your truck completely breaks down it's a good thing to have so you can continue charging your electronics.
You can plug just about any cell phone or tablet into one of these if you have absolutely no power outlets available to you. All you do is plug the power bank into an outlet to charge it  up and then it holds the charge for when you need to plug your phone, tablet, or laptop into it. Believe me, these things can literally be a life saver.
14. Extra Pens and Pencils
Make sure you always have plenty of pens and pencils. You will lose them, I guarantee it.
15. Mylar Blanket
Mylar blankets is the name of those shiny emergency blankets. They are good for keeping warm if you have a breakdown in the winter and it is freezing cold in your truck. Click here to see what they look like. I always wondered if these blankets actually do. Apparently they work really well at insulating body heat so that your body temperature doesn't drop.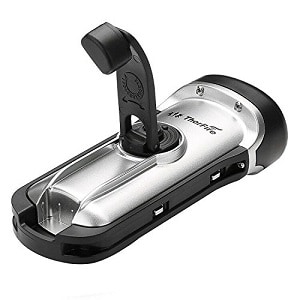 16. Get a Cheap Backup Flashlight
This doesn't have to be anything expensive. It's good to get one that is a cranking flashlight so you also don't have to worry about having batteries too. Get one like this one, one minute of cranking will get you about an hour of bright light from it. Not bad!
17. Baby Wipes
Get baby wipes to wipe off your hands and controls in your truck. Keeping your hands and controls will minimize your chances of getting sick too.
18. Backup Contact Lenses, Solution And Glasses
If you depend on contact lenses or glasses to see make sure you have backups. Don't forget solution for the contacts too.
19. Small First Aid Kit
Having a small first aid kit is a must for OTR drivers. These kits have everything you need in case you cut or scrape yourself while driving or repairing something.  This kit have 299 pieces in it which includes bandages, dressings, medications, treatments, and tools/supplies. If you need it for an emergency this kit will have it.
20. Get A Notepad
Having a notepad is good for just about anything that you need to remember. There is no replacement for good old paper and pen. You don't have to worry about the battery not being charged and it won't crash on you like your phone, tablet, and laptop will.
21. Thermos For Your Drinks
Get a nice sized Thermos like this one and fill it up with hot coffee or tea for the road. Buying coffee everyday is expensive, make your own and save yourself money. If you don't want to make your own you can get an extra large coffee and pour it into this thermos to keep it warm while you drive.
22. Soft Insulated Lunch Bag
One of the best ways to save money while driving a truck is to make your own food. Buying from rest stops and restaurants is expensive. Get yourself a good insulated lunch bag to store your food until you are ready to eat it. Mier has been making good ones for several years and they are not very expensive. I like this one most because you are able to separate hot and cold foods all in one lunch bag. How about that? You can keep your cold foods cold and the hot foods hot. Truckers love these things.
23. Extra Keys
You never know, you might lose your keys somewhere and then you really have problems because you can't get back into your truck. Bring a spare key with you just in case and leave it in your wallet.
24. Caffeine Pills To Help You Stay Awake
Sometimes you have to resort to your last option. Caffeine pills. When everything else is not working these things can save the day. Be careful though, taking them might give you a hard time falling asleep during your off duty time.  Click here to see the price today.
25. Extra Tissue Paper
You will need to blow your nose into something. A soft tissue paper is much better than an old rag or piece of paper.
26. Advil Or Tylenol
Make sure you have extra Advil or Tylenol with you to help manage a headache or muscle pain.
27. Hand Sanitizer Works Wonders When You Don't Have Soap And Water
If you are getting ready to eat something with your hands and you don't have any water you need to have some hand sanitizer to kill any germs and viruses before eating.
28. Bring Backup Clothing
You should have extra clothing with you at all times. Make sure you have socks, shirts, pants, and underwear in your truck just in case.
29. Get Some Free Trucker Apps That Work
There are a bunch of trucker apps that you should have on your phone or tablet and they are usually free to use. Here is a list of the best free apps for truck drivers.
30. For Safety: CB Radio
In this digital age, it may seem redundant for truckers to still carry mobile CB radio systems when they can just rely on their smartphones for communication. But these remain essential, as they enable short-range, bidirectional voice exchanges where phone signals are weak or nonexistent. With these portable two-way radios, truck drives can keep each other apprised of the road situation at all times.
I'm sure there are a ton of things that OTR drivers would say are must haves. Let me know if there is anything that you absolutely think needs to be added.