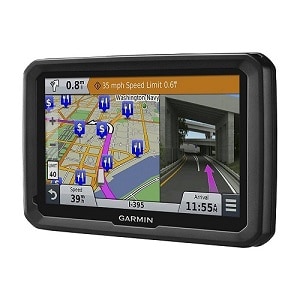 The Best GPS for truck drivers is the Garmin dezl 770 LMTHD. This Garmin GPS (Amazon link) for truckers has all the features that you will need as you navigate the United States. It is the standard as far as being the best GPS in the trucking industry because it has all the features that a truck driver needs in a good GPS. Those features include lifetime maps of North America, accurate traffic information, help managing hours of service, state and border notifications, route shaping, and adjustable volume to name a few.

The second best GPS for truck drivers is another Garmin, the dezl 570 LMT. It is essentially the same as the Garmin 770 model but has a few minor differences and is much cheaper.
One of the differences is that the 570 model does not have an HD screen. Another difference is that the 570 model has a 5 inch screen. Not a big deal for a lot of truck drivers though. This is essentially a smaller version of the Garmin 770 that is a little cheaper.
What Is A GPS?
A GPS or Global Positioning System is a satellite based navigation system. The GPS works off of satellites that are moving around earth at all times and communicating with one another and GPS receivers in our cars and trucks. The United States Department of Defense made these satellites available to the public and businesses to use in the 1980's for commercial purposes. Source: Garmin
How Does GPS Work?
Satellites that are circling the Earth transmit unique signals to a GPS receiver in your truck. By doing this the GPS receiver in your truck can determine exactly where you are at relative to everything else around you.
The GPS receiver displays that information to you so that you can use it to plan your trip or track your miles. Once your position has been locked the receiver can calculate all kinds of other things for you too. It can calculate miles driven, speed, trip distance, hours of service time, and more.
How Accurate is GPS?
GPS these days are known to be very accurate. Most GPS receivers are usually accurate to within 10 meters.
The GPS Satellite System
Right now (2017) there are 31 satellites that make up the GPS satellite system and they are orbiting above us at nearly 12,000 miles. They are moving at around 7,000 miles per hour and are in constant motion. The first GPS satellite was launched way back in 1978. They run off of solar energy from the sun but they do also have backup batteries to run them in the event of a solar eclipse.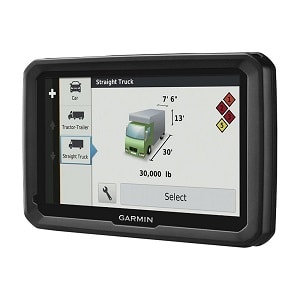 What To Look For When Buying A GPS For Truckers
When buying a GPS for trucking there are a lot of options that are available to you. In this article I will outline the most important ones so that you can be sure that you are buying the best GPS available at the most reasonable price. Remember, you are investing in your career when buying a GPS so make sure you know exactly what you are getting before you buy one.
Price
The price of the GPS is probably going to be the most important factor when buying a GPS. My suggestion is to choose a price range that is reasonable to you and then look for a GPS that has the most options within your price range.
Honestly, you shouldn't have to spend more than $400.00 for a GPS that you are going to use
while driving a truck. There are plenty of options that you can find for less than $400.00.
The one I suggest is this one by Garmin that is available on Amazon. It also has all the GPS options that I will describe below.
You might be able to find a GPS that is cheaper than this one but I guarantee you won't find one that has all the features this one has. For the $50.00 or $60.00 you might save by getting a different GPS it's really not worth it because of the features it will be lacking.
Lifetime Maps Of North America
If you are a truck driver you must make sure that the GPS you are getting will have lifetime map updates. Your career  as a truck drivers depends on good, updated maps to help you navigate the United States.
Don't get a GPS unit if it doesn't come with lifetime map updates for free. Some companies will sell you a GPS for a cheap price but won't include free lifetime map updates. This means you will have to pay for them to update your maps and the price is usually $15 to $20 per year. It may not sound like a lot of money but after 5 years you are going to spend $100.00 just to update the GPS maps. You are better off paying $100.00 more for a GPS that has free lifetime map updates.
Manage Hours Of Service
A quality GPS will also allow you to track your hours of service.  Truck drivers know how important it is to follow the hours of service laws and your GPS should be able to help you out.
Accurate Traffic Information
As a professional truck drivers you need to keep their truck moving so you can make more money. Having accurate and real time traffic updates is priceless.  If the GPS you looking at buying doesn't include free traffic information or require you to pay for it you should keep looking for another GPS.
State and Border Notifications
A good GPS for someone driving a commercial vehicle will also have alerts that let you know several miles ahead of time that you will be crossing into another state or country. This is one of those minor features that you will appreciate if you drive through many states.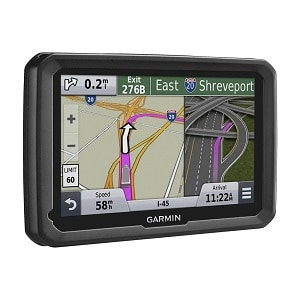 Custom Truck Routing For Weight and Size
A good GPS for truckers will also have custom routing for trucks based on weight and size. Avoid problems with the law and inspections by knowing which routes are OK to drive based on your trucks weight and size. A good GPS will also alert you to high wind areas, sharp curves, and other restrictions.
Truck Maintenance
A GPS should also be able to help you out by keeping track of routine semi truck maintenance like tire pressure, tire changes, tire mileage, and oil changes. Let the GPS do this for you so you don't have to. It's just one more thing that is taken off your plate.
Points of Interest and Services
This should also be free. You shouldn't have to pay a fee to update your maps or services. A good trucking GPS will give you lifetime access and updates so you can search and filter truck stops, hotels, restaurants, and parking.
Route Shaping
You will learn specific routes that you want to take and should be able to shape the route however you want. A good GPS for truckers should allow you to alter any route you want so that you can go to specific cities or destinations. Route flexibility is important.
Easy Navigation
The GPS screen should not be cluttered. Make sure you can easily read the directions and maps that are on it. Some really cheap GPS devices are too hard to read that you will find it annoying. Another bonus is to get a GPS that has an HD screen.
The Garmin 770 I mentioned at the start of this article has an HD screen but the Garmin 550 does not. If you are OK with not having an HD screen then the 550 might be the better option for you because it is over $100.00 cheaper.
Volume
You should be able to easily hear the directions from the GPS. Make sure to read the reviews regarding volume control and even email the manufacturer so that you know what to expect before you purchase a GPS. The voice commands should be loud enough to hear over road noise too.
IFTA
For truck drivers it is important that the GPS they use is able to help them track fuel usage and miles driven. A good GPS will allow you to transfer that information to your computer and use it to fill logbooks, forms, and IFTA documents.
Bluetooth Headset Compatible
The GPS you buy for truck driving should also be Bluetooth compatible so that you can keep your hands free and on the steering wheel as much as possible. This is more or less a safety feature that you should have if you are driving a commercial vehicle.
Should I Get One With A Built In Dash Cam?
Having a built in dash cam is an awesome feature. Unfortunately, you are going to have to pay extra for it though. Most GPS units for truck driving don't come with a built in dash cam. The ones that do come with a dash cam usually aren't really good.
I recommend buying a separate dash cam instead of a GPS with the dash cam. If you really want a GPS for your truck that has a dash cam built in here is the one I recommend.
Extras
Don't settle for just the GPS unit. If you look around on Amazon a little you will find bundles that offer the same GPS units with some extra equipment at the same price.
You should be able to find bundles that include things like a dash cam stand, cases, or screen cleaning cloth. This Garmin 770 GPS comes with a case, cloth, and dashboard stand for around $390.00. A good GPS unit at a really good price.  Do your research and you will find that this Garmin dezl 770 GPS really is the GPS of choice for professional truck drivers for good reason.