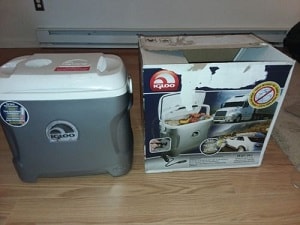 The best 12 volt cooler for truckers is the Igloo 12 Volt 28 Quart Cooler.  It has all the features that you need in a 12 volt cooler and the price is the most reasonable.
In this article I will tell you everything you need to know about the Igloo 12 Volt Cooler and 12 volt coolers in general so that you know how to buy the right one. 

12 Volt Coolers For Truckers
A 12 volt cooler is great for truckers that are driving long distances and want to keep their food and drinks cold.  Actually, they are great for anyone that travels distances in their automobile too. As long as there is access to a 12 volt outlet where you can plug it into a 12 volt cooler will work great.
Now you are able to take your favorite drink and foods with you on the road and not have to worry about them spoiling. Making your own food for when you are on the road is a smart way to save money. Also, by preparing your own meals you can have more control of what you are putting in your body. The health benefits of investing in a 12 volt cooler cannot be understated.
The Igloo 12 volt cooler (click here to see the price on Amazon) is a small investment with huge returns later on. You will be able to avoid expensive restaurant food and stay on the road making more money. More about the Igloo cooler later, first I want to tell you a little more about 12 volt coolers.
Igloo 12v Cooler: The Best One For Truck Drivers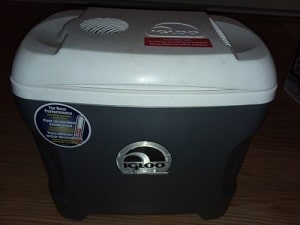 This Igloo 12 volt Cooler is the best cooler for truckers.  It has all the features that a truck driver needs. Why is the Igloo cooler the best? Let me explain.
Handles- It has a handle for easy transportation and has 2 side handles that allows you to easily lift it.
Cooling Ability- The Igloo 12 volt cooler will cool to 36 degrees Fahrenheit lower than the temperature of the room where the cooler is placed. For example, if it is 70 degrees in your truck this cooler will cool down to about 34 degrees.
Noise Level- This is a quiet unit that won't keep you up all night. You know how important sleep is to you and this unit won't keep you up all night.
Interior Space: The Igloo cooler can hold 32 12 ounce cans. That is a good amount of space for a truck cooler.  It's also not too big, most truck driver say it is a perfect fit in front of the passenger side seat.
How Does A 12 volt cooler work?
A 12 volt  cooler operates differently than a refrigerator that you have in your home. The 12 volt compact coolers cool by utilizing the thermoelectric effect. They function the same way as a wine cooler you might have in your home.
What is the thermoelectric effect? Good question, let me explain.
Thermoelectric coolers work based on a phenomenon called the Peltier effect. Two metals that are different are attached together and then an electric current is run between the two metals. Heat is drawn out of one of the metals into the other metal. What you end up with is one metal/side is cooler than the other metal/side. The cooler side is put inside the refrigerator while the hot side is outside of it where the heat disperses into the air.
How Cold Do 12 Volt Coolers Get?
Don't expect your 12 volt refrigerator to get as cold as the refrigerator that you have in your home. It won't. 12 volt refrigerators are usually able to cool nearly 40 degrees lower than the temperature of the room that it is in.
For example, if the temperature inside your truck is 70 degrees (Fahrenheit) the temperature in the cooler will get a temperature down to about 30 degrees (Fahrenheit).
There are pros and cons to using a 12 volt refrigerator. Let's take a look at some of them.
Pros Of Using A 12 Volt Cooler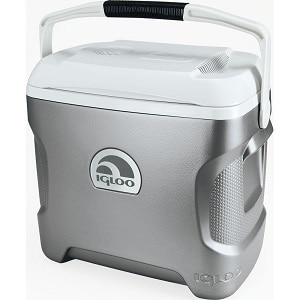 1. Inexpensive: A traditional portable refrigerator can cost you a lot of money and take up a lot of space in your truck. A 12 volt cooler can be yours for a lot less and work just as well. If you are planning on using the cooler for short trips or for a few days at a time then the 12 volt cooler is the one for you. When you empty it our just fill it back up.
2. Reliable: 12 volt coolers typically have less moving parts than other refrigerators which means there are less chances that something will break or stop working while you are driving.
3. Usually Last A Long Time: 12 volt coolers are known to last a long time assuming that is being cared for correctly. It's a relatively small investment for an appliance that will be saving you money for many years. If you are a truck driver and don't have a 12 volt cooler you need to get one.
4. 12 volt: Just being able to run this of a 12 volt outlet or cigarette lighter in your car or truck is a pro. You don't need a power inverter to run one and they don't use a lot of energy.
Cons Of Using A 12 Volt Cooler
1. No Temperature Control: 12 volt coolers don't give you a temperature setting option, they will keep your food cool but don't allow you to adjust how cool.
The most common complaint truck drivers have of these coolers is that they sometimes keep food too cool or not cool enough. Remember, they typically cool 40 degrees less than the temperature of the room they are in.
2. No Freezer: You won't have a freezer option on a 12 volt cooler. Don't plan on keeping any ice cream frozen. The coldest that the refrigerator will get is usually 40 degrees (F) cooler than the temperature of the room the refrigerator is in.
3. Limited Space: 12 volt coolers are small. You won't be able to fill it up for food that will last you for more than 3-4 days. You will need to restock it for extended trips.
Features To Look For In 12 Volt Cooler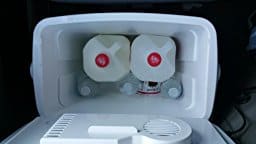 1. Interior Size: 12 volt coolers can come really small (mini) or compact. The mini coolers are for storing a few drinks and the compact ones can store several drinks and has room for food. Be sure you know how much space you need before you buy one.
2. Dimensions: Make sure that you know where you plan on putting the 12 volt cooler the most. If you have limited space in your truck you really need to look at the exterior dimensions of the cooler to make sure that it will fit where you need to put it.
3. Noise Level: If you drive a truck and plan on sleeping near the refrigerator you should try to find one that isn't going to be too loud. Noise level really isn't a big deal but it might be for some people. I recommend you find one that is around 40 decibels while it is plugged in and running.
4. Handles: Handles are important, you will find this out when the time comes to move your cooler from one place to another. Having a handle on top of the refrigerator is going to make things much easier if/when you have to move it a few feet. Trust me.
5. Cooling ability: The cooling ability of the 12 volt cooler is important but it is important to note that almost all brands will be able to cool about 40 degrees less than the temperature of the room the refrigerator is in.
Caring For Your Cooler
Caring for your 12 volt cooler is important to extend the longevity of it as well as keeping it safe and sanitary. These are some simple tips to cleaning your 12 volt cooler so that you can enjoy it for several years and it wont stink.
1. Don't submerge it in water! Wipe it down with a damp cloth but never submerge it in water.
2. Before you clean the inside of it make sure it is unplugged. You can wipe down the inside and outside of it
with a damp cloth with some detergent on it but make sure the cloth is not dripping wet.
3. Keep the fan (usually at the rear of the unit) clean by vacuuming it or by using computer keyboard cleaner Get off all of the dust and grime so that it call cool efficiently.
4. Before you plug it back in make sure everything is dry. If in doubt you should allow it to air dry for several hours rather than risking something going wrong by plugging it in while wet.