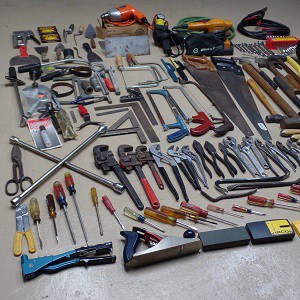 Are you a truck driver trying to figure out what tools you need in your truck tool kit? Maybe you are wondering what kind of gift to buy that special truck driver in your life?
You came to the right place. This is a list of 41 tools that every truck driver should have with them at all times.
This list of tools is for truckers and was inspired by real truck drivers. Most everything is practical and not expensive.




I think the list of 41 tools is relatively complete but the one thing that you need to consider at some point is not a tool, a company.
Is the company you are driving for any good? How do they compare to some of the new trucking jobs out there?
You can find out by taking a look at the thousands of jobs posted on my free job board. Right here is the link to it.
I hope that this list helps out some truck drivers by making your driving more safe and a little easier.
1. Small Hand Tool Kit
No truck driver should be without a hand took kit. It is an absolute must. Make sure that there are standard and metric wrenches and sockets in the set so that you have every size covered. A good tool kit should also have an assortment of pliers and screwdrivers.




You don't have to spend a lot of money on a tool set but you don't want to get something that is low quality just because it is cheap. I like this one, it has 201 pieces and comes in a nice tri-fold case to keep everything organized. It has screwdrivers, pliers, a tape measure, metric and standard sockets, hex keys, and a utility knife.
2. Get A Portable Toilet (not a bag or bucket)
I know what you are thinking, "Taking a dump in my truck!" "Are you crazy!"
I'm not suggesting you use it regularly, only when you are out of options. The best one that I have found is this one here. I like it because it's easy to maintain and it won't take up a lot of space.
As long as you know what you are doing these things can be a life saver when it's 5 am and you don't want to walk across a lot covered in 6 inches of snow and the temperature is a crisp 20 degrees.
If you want to see my full review of the portable toilet as well as some tips you have to read this.
3. Windshield Washer Fluid
Windshield washer fluid should be a part of your tool kit as well. Get yourself a few bottles of it so that you don't have to buy it while driving and waste time. This is especially true during the winter months when windshields and wiper blades take a real beating. Don't forget to clean the blades themselves too one in a while. Keep those windows clean!
4. Engine Oil
This is an obvious one that you better already have. Some extra engine oil is also a must to have with you at all times.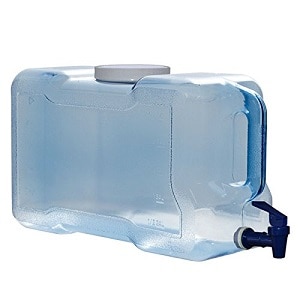 5. Large Water Jug With Dispenser For Drinking Water Storage
Large water jugs with a dispenser like this one I found on Amazon are great for drinking and cooking. Many long distance truck drivers will tell you that they are an absolute must. You can fill this one up with 3 gallons of water and travel worry free that you will have enough water all the time. I like this one too because it is BPA free.
When it comes time to get a drink or use some water for cooking a meal in your truck you got it covered!
No more reasons to carry a hundred of those little water bottles around with one of these water containers.
6. Cranking Flashlight
When it is an emergency and you need light right away you should have a cranking flashlight like this one on Amazon. This way you don't have to worry about batteries and whether or not they are charged. Just crank away and you are guaranteed light. Crank this flashlight for a minute and you will get an hour of light out of it. That's impressive! I use one of these in my home too when the power goes out and it's been very reliable and produces a lot of light!
7. Tire Thumper Stick
Get yourself a tire thumper like this one that is at least 18 inches long.  It is solid wood and comes with a nylon cord so you can hang it up when not using it. Note: these things are usually used as a self defense tool.
8. Rags
Just like your garage at home there are never enough rags to help clean up a spill or dirty hands. Make sure that your truck tool kit has enough of these.
9. Good Gloves
Don't go cheap on gloves either. Gardening gloves won't cut it. Get some high quality mechanic gloves that are visible at night too. You can use these anytime you need to protect your hands. I like these because they are high visibility too. Doesn't hurt to wear gloves that will help you be seen by other drivers.
Most truck drivers will tell you that it's well worth it to buy 2 or 3 pairs of these gloves so that you always have some on stand by.
10. Extendable Snow Brush With Ice Scraper And Squeegee
When the snow and ice comes you needs a snow scraper that is better than what you find at your local Walmart. No truck driver tool kit is complete without an extendable snow scraper that has an ice scraper and squeegee on it. Hopkins makes one of the highest rated snow scraper by truck drivers, check it out here. It's a pretty impressive snow brush that can extend 52 inches, has separate blades for frost and ice, and easy to hold foam grips.
11. DOT Reflective Triangles
You are required to have DOT reflective triangles with you at all times while driving. For more information about a good set of triangles and how to correctly arrange them you can read this.
12. Extra Gladhand Seals
Having a set of Gladhand seals like these is important to have with you in your tool kit at all times.  It comes with 5 red and 5 blue seals.
13. A High Capacity Tow Rope
A tow rope is great for getting you out of a difficult situation. It is something you might not need often but it sure is handy to have one in your truck when you need it. The best tow straps have at least a 30,000 lb. capacity like the one I found here.
14. Booster Cables
No semi truck tool kit is complete during the winter without a good set of booster cables. Make sure they are long enough, they should be more than 25 feet in length. I recommend this set by Energizer that are 1 gauge and 25 feet in length.  They also stay tangle free in cold weather and have PVC coated insulated clamps.
15. Laser Pointed Infrared Temperature Gun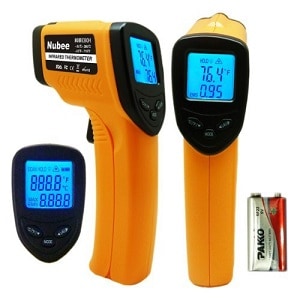 A laser infrared temperature gun is an easy way to regularly check wheel bearing temperatures. Use one for checking the temperature of just about anything so that you know if it is running hot. You can also use it to check the temperature or foods you are cooking. Heck, I even use it to check the temperature of my pool!
I like this one because it's proven to be accurate and gives you instantaneous readings on an LED screen that is easy to read during the day and night.
16. Multimeter
A simple multimeter like this one here is a great tool for truck driver to have with them at all times. I like this one because it reads voltage, currant, resistance, diode, and continuity. It great for troubleshooting basic electrical systems.
17. Rechargeable Headlamp So You Work With Both Hands
Stop going out into the dark to try to fix something while holding a flashlight. No trucker tool kit is complete without a good rechargeable headlamp. This headlamp allows you to work with both hands in the dark. It creates a super bright LED light beam to get the light exactly where you need it. It also has 3 modes to choose from; low, high, and strobe. The rechargeable battery is included as well as a wall charger, USB cable for charging, and a 12 volt car charger. These rechargeable headlamps are great, I even use it when doing repairs around my house so that my hands are free.
18. Tire Air Gauge
A truck driver always has to have an air gauge on him/her. Before you buy one make sure that it goes up to at least 160 psi like this air gauge does. It's built from solid steel and it doesn't rely on batteries. Stay away from air gauges that need batteries because if you run out of batteries to check air pressure you could be in trouble during an inspection.
19. Bungee Cords
Another tool that trucker depend on are bungee cords. Get some good bungee cords with S hooks that you know will last you a long time because they are 100% latex. They come with a case too.
20. Toilet Paper And Baby Wipes
You never know when you might need it. When nature calls you might not be near a place where you can stop. Make sure your truck has extra toiliet paper and baby wipes to keep yourself clean.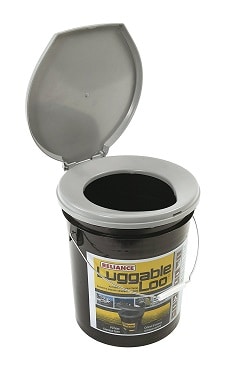 21. Portable Toilet Bucket
Like I said, when nature calls and you have to go there is sometimes no waiting. Get yourself a portable toilet bucket like this one here and leave it in your cab just in case. Trust me, it is money well spent.
Don't laugh, using this bucket beats walking through a snow storm to the truck stop at 6 am. I'm not saying this would be your main method of using the bathroom, it would just be used in extreme situations.
22. Strong Cable Ties
Don't get the cheap little cable ties used for garbage bags. You need super strength ties like this that are bigger and stronger than anything you will find at Walmart. They come in a package of 150 of them.
23. Silicon Hose Tape For Hoses
Silicon hose tape will at least allow you to fix a hose until you can get to a stop to change it. No truck driver should be driving without a role of this tape. This tape works wonders for fixing hoses temporarily until you are able to get the hose replaced.
24. Hammer
A hammer is a great universal tool for fixing things. It's like duct tape. Make sure your truck has this tool on it.
25. A Good Box Knife
Having a good box knife is usually at the top of tools that truckers recommend. Just don't buy a cheap, flimsy one. Get a good one that has a lifetime warranty and some extra blades.
26. Multitool
Having a multitool in your truck or on you is a good idea. They can be used for just about anything. Don't go cheap on this tool either, get one like this that is good quality so that you know it will last you a long time. It comes with a 25 year warranty and it's manufactured in Portland, Oregon.
27. Tire Depth Gauge
Keep yourself safe from inspections. Get a tire depth gauge. This tool should be in your truck at all times too. There are no excuses not to have one. I recommend this one because it's color coded for easy depth reading. It reads in both mm and 32nds. Also, it doesn't rely on batteries.
28. Telescoping Magnet
A telescoping magnet will help you get at those small bolts that you drop somewhere in the engine bay. Find one like this that has at least a 15 lb. pull capacity and it extends 30 inches to help hard to reach nuts and bolts that fall into the engine bay. I like using this one when working on my car too, it's great for grabbing the air filter housing nuts that fall in between the alternator and intake manifold.
29. Extra Medications
If you do have a breakdown or are caught in a storm you may need your medications if you are taking any. Make sure you have extra medications with you as well as extra Advil or Tylenol.
30. Engine Coolant
A reserve of engine coolant is a must for all truck drivers. The next time you are at a rest stop or fuel station make sure you pickup an extra gallon or two for your truck.
31. Extra Belts And Hoses
Truckers need to have replacement belts and hoses with them at all times in case of a breakdown. Waiting for help to come and change a belt or hose will cost you money. Change it yourself if you know how to and get back on the road as soon as possible. If you do tear a hose be sure you have some of the silicon hose tape in #22.
32. 12 Volt Cooler For Your Food And Drinks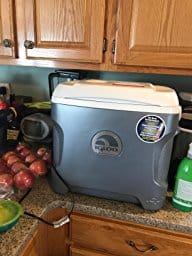 A 12 volt cooler is a tool that will save you money. It is a small investment that will allow you to bring food and drinks from home with you onto the road. A cooler like this can cool 36 degrees below the temperature of the room or truck. If the air temperature in your truck is 70 degrees this one will lower temperatures inside it to 34 degrees. Something else that I like about it is that it won't keep you awake because it doesn't make a lot of noise.
33. 12 volt TV DVD Combo
Having a 12 volt TV DVD combo is something that will help keep your sanity. No driver that is doing long hauls should be without one.
Take a look at my review of the best 12 volt TV DVD combo for truck drivers here.
34. Fire Extinguisher
Having a fire extinguisher is mandatory. Make sure that you have one more in reserve. One like this is not expensive and can help save a life.
35. Ratchet Straps
A trucker must have ratchet straps with them at all times. No weak ones though. I like these because they have a rated break strength of 10,000 lbs. and good enough for you to rely on everyday.
36. Duct Tape
Duct tape works wonders for truck drivers. A lot of truck drivers will tell you that it is an absolute must for any truck tool kit. It's not expensive either, the next time you are at you local hardware store pick up a few rolls.
37. First Aid Kit For Emergencies
A first aid kit is something you should have in your truck with you at all times. You never know when the next cut or scrap will happen. Having a good first aid kit prepares you for the unexpected while on the road. It comes with 299 pieces total and includes bandages, medications, dressings, treatments, and tools. All this stuff comes in a nice little case for easy storage.
38. Extra Blankets
Having a regular blanket is good regardless of the weather outside. Make sure you have at least one reserve blanket as a part of your tool kit, especially during the winter months. For the warmest of all blankets go to #38.
39.  12 volt Heated Blanket
A trucker tool kit for winter is not complete with a 12 volt heated blanket to keep you warm. Thes blankets are great and don't use a lot of energy. You can read about which is the best 12 volt blanket for truckers here.
40. Spare Sunglasses
How many times have you lost or broken your sunglasses? Now you have to drive with that annoying sun glaring into your eyes. We all have. At the next rest stop or fuel station be sure to get yourself a pair of cheap sunglasses for your tool kit in case you need them.
41. Spare Cell Phone
Instead of throwing away an old cell phone you should consider keeping it in case something happens to your primary phone. At the very least you can use you spare phone for texting and calling if there is an emergency. Also, make sure that your reserve cell phone has all the important phone numbers on it in case you can't access the numbers on your primary phone.
42. Air Line Antifreeze
Air brake antifreeze is mandatory in cold parts of the United States. You can buy it in small amounts of in a 1 gallon jug. Get the 1 gallon jug of it for your truck. This stuff is great for preventing your air lines from freezing when the temperature falls below freezing.
Am I  missing any tools that all truck drivers should have? Let me know below.