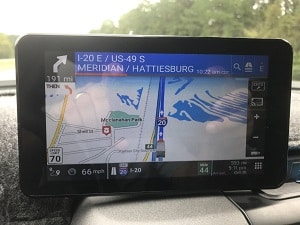 As much as I like (and I like it a lot) the Rand McNally TND 740 GPS for truckers there are some things I found a little annoying. First off, I've used a Garmin in the past but decided to make a change. Why did I switch? Peer pressure and research.
A lot of drivers that I know having been raving about the Rand 740 so after doing a ton of research I decided to get one and try it out.
I haven't been disappointed. But there are some things that I don't like.

If you want to skip my thoughtful review the link to the Rand TND 740 Amazon is right here. If you want to hear about my experiences with it keep reading.




Sure, just like any other GPS there are some things that bug me but overall it's been a solid GPS. In this article I'm going to tell you all about the pros and cons of my Rand 740 so that you know what to expect from one should you decide to buy one.
In trying to keep things fair I do want to say that I have used it for regional driving only, no OTR. I'm driving throughout (at the time I wrote this) the Midwest in the United States.
Also, I don't use it for ELD at all.
Before I start listing the pros and cons  I want to address accuracy.
Accuracy of a GPS is never going to be perfect. No matter which GPS you buy it will never be perfect.
For that reason I'm leaving accuracy off of this list. Just like every other GPS these days the Rand finds restaurants, truck stops, CAT scales, stores, as well as bridge and road restrictions.
Overall it does a good job finding what I ask it to and doing it fairly quickly.
There were times when it was really accurate and other times not so accurate. It's just the nature of using a GPS.
If you are a smart driver you already know that relying on your GPS alone isn't smart. Pairing your GPS with a paper atlas (like this one), Google Maps, and common sense is the best way to navigate.
Let's first start with the positives I have encountered while using the Rand 740 and then the negatives.
Pros Of The Rand McNally 740 GPS
1. Over The Air Updating
First and foremost I love the fact that I don't have to connect it to my computer to get software and map updates. All I have to do is connect to WiFi and the GPS does all the updates on its own. Yes, this includes map updates.
It's nice to know that those things are being done without me having to do anything or worrying about ruining anything.




When it is time for an update you will see an icon in the upper left corner on the notifications bar letting you know that there is something ready to update. As long as you have registered (you should) your GPS it will start the update download.
This over the air updating is one less thing that you have to worry about. I love it!
2. The Screen Is Really Nice
The screen looks great. I'm not exactly sure what the correct technical language to use when describing it but what I can tell you is that it looks really nice.
I'm sure if you wanted to find out all the technical stuff about pixels and resolution you could get it on the Rand McNally website. The link to the 740 GPS on their website is here.
It's clean, bright, and easy to read. I like things simple and uncluttered which is what you get with this screen.
3. Micro SD Port
If you need more storage there is a Micro SD slot to add some more. I can't imagine that you will need to use it though, it comes with 16 GB of internal memory already.
After all of the updates that I have had I have not had the need to get a Micro SD card yet. I'm not sure how many updates my unit has had but it has definitely been quite a few.
It gives me piece of mind knowing that if I need to add more memory space to it I can.
4. Easy To Remove From Mount
Something else that I really like about this GPS is how easy it is to remove from the mount. All you have to do is pull it off and take it with you.
There is no need do unplug a power cord because the power cord is attached to the mount that the unit attaches to.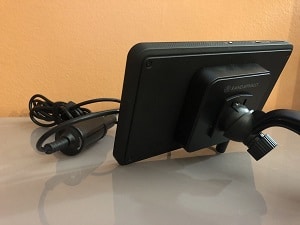 When you are going to be away from your truck or are parked in an area where you have to worry about thieves you can quickly disconnect it.
I actually do this pretty often, if a thief is looking for something to steal they will probably go to the truck that has a shiny new GPS attached to the front window.
5. Loud Speaker
A common complaint that drivers have had about earlier Rand GPS models is that the speaker wasn't loud enough.
Good news! The speaker on this model is plenty loud. It's easy to hear and understand.
If you are thinking about trying to connect it to an external speaker you won't be able to though.
Bluetooth does not work for audio. Honestly though, you won't need to connect to a speaker. The speaker it comes with is plenty loud.
5. Quick Startup
It doesn't take a long time to startup in the morning. No joke, in about 10 seconds it's ready to go (unless it needs to update, then it takes longer).
Found this to be a time saver in the morning. The processor is fast as long as you keep everything updated.
The Cons Of The Rand McNally TND 740
1. Don't Use It As An ELD
For some reason using this Rand GPS for ELD is horrible.
Disclaimer: I have never personally used it for the ELD.
A lot of truck drivers tell me that the screen freezes and have just had horrible experiences using it as an ELD.
If you are not going to use if for an ELD then you don't need to even consider this when buying the unit. Just use it for what it was intended for, to give directions.
If you want to use it as an ELD it does require specific ELD hardware too. Nothing comes with the unit.
2. The Magnet Mount Is Weak
A definite con of this GPS is the the magnetic mount needs to be stronger. There has been a few occasions when the unit fell off of the magnetic mount while driving on bumpy roads.
I do have to say that this has only happened when I was driving on bumpy roads. While driving on the highway or on roads that were relatively smooth it has never fallen off of the mount.
My truck is an older model Petey that has a worn out suspension that does make for driving on bumpy roads a little uncomfortable. But still, the GPS shouldn't fall off the mount.
Other drivers that also have this Rand 740 have told me that they have not had any problems with it falling off the mount. It may just be a bad mount that I have. Definitely something that I'm
going to contact Rand about.
Solution: you may need to mount it close to your dash so that if it does fall off you wont break anything. This is what I am doing until I can get a new bracket for it.
3. Small Buttons
If you have big hands and fingers then you will probably find the buttons a little small.
My hands are average size, not small and not big. I'm talking about hands here, not a reproductive organ 🙂
The small buttons at times made it difficult for me to navigate around the unit.
Also, the buttons are a little jammed together so I sometimes found myself pressing buttons that I never intended to! Now I'm pressing other buttons trying to get back to the previous screen.
Man, if you have big hands then this is going to drive you crazy.
4. Muting Is Not Easy
The speaker can get annoying for some drivers. Past models were really easy to mute if you didn't want to listen to directions anymore.
This model makes it a challenge to mute the speaker. There is a small button along the bottom that brings you to another screen where you can adjust the volume. The only thing you can do is lower the volume all the way. There is no quick mute button on this model. Every time you lower the volume you have to go back into it and raise the volume again.
Sorry for the volume rant but it is a little annoying because it's impossible to do while the truck is moving.




Common Questions About The Rand 740
If you already have the Rand TND 740 there is no doubt you have some questions about it. Below I tried to answer some of the questions I had before buying it and even after buying it. I hope this helps you too.
Can The Rand 740 Be Used As An ELD?
It can but I don't recommend it. Not only do I not recommend it but there are a lot of truckers that also don't recommend using it as an ELD. One of the biggest complaints of this GPS is how useless it is as an ELD.
How Does It charge?
There are two ways to charge it. The first way is to put in on the mount. The mount is plugged into the power source so that the GPS is not directly plugged into the power source.
The other way to charge it is via micro USB. If you buy it there will be a Micro USB cable in the box.
Will It Give Me Route Options?
Yes, it will give you route options and you can also customize your route if you want to. It works great on the highways and smaller neighborhoods for local drivers.
Is The Speaker Loud?
I was worried that it wouldn't be loud enough but I was pleasantly surprised when I started using it.
The speaker works well and is plenty loud. No complaints here.
Will It Show Real Time Traffic?
No, it won't show real time traffic unless you are connected to the internet.
Where Can I Get Another Manual For My Rand 740?
Right here is a link to the factory manual directly from Rand McNally.
Is The Rand TND 740 A Good GPS?
I think so. Sure, it has some things that I'd like to change about it but overall it's a solid GPS for trucking. In my opinion the pros outweigh the cons.
As is true with any GPS that you buy they all have their faults. The Rand 740 is no different but it has worked great for me.