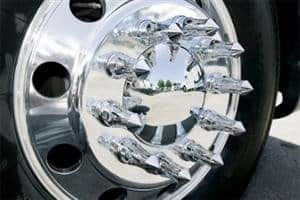 Adding lug nut covers to your semi truck is a great idea. After all, you spend a lot of time driving it and why wouldn't you want it to reflect your character a little. A simple and cheap way to add some character to your semi truck is to cover the lug nuts with some style.
Lug nut covers are simple to put on and come in a variety of shapes. They are usually not priced very high and no skills are needed to install them. In this article I will explain how to install them, what they are made of, shapes they come in, the price of lug nut covers, and how to remove them.

What Are Lug Nut Covers?
Lug nut covers are covers for well, lug nuts. What are lug nuts? If you don't know what lug nuts are they are the nuts that secure the wheel to a vehicle/axle.
You have probably seen lug nut covers like these on Amazon shaped like spikes on semi trucks already. Throughout the United States they are becoming more popular among semi truck drivers because they are cheap, easy to install, and look really cool.
How To Install Lug Nut Covers
Lug nut covers don't require any tools to install them. All you have to do is slide them onto each lug nut. They are supposed to stay on due to friction but the reality of it is they do fall off sometimes. I have heard of people using a glue or silicon caulk (just a little) to hold them in place longer. Just put a little on the inside of the cover and you are all set.
What Are Lug Nut Covers Made Of?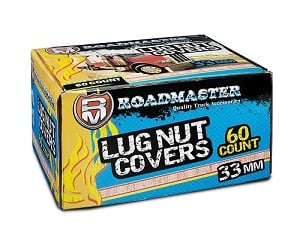 You have a few options regarding the material they are made of. You will typically find stainless steel, chrome steel, black plastic, or chrome plastic. The most common ones that you will come across are the chrome plastic lug nut covers like these ones.
If you really want to customize your semi truck I recommend getting the black plastic ones and painting them the color of your choice. Just get a can of spray paint and paint them before you put them on the lug nuts.
What Shapes Do Lug Nut Covers Come In?
There are all kinds of shapes. The most popular shape that I see on semi trucks are the spikes. Driving down Interstate 80 outside of Chicago every morning I see spike lug nut covers on semi trucks more and more each day.
Aside from spikes the other most popular shapes are bullet, standard, cylinder, and reflector. There is something for everyone, the spikes are not your only option.
How Much Do Lug Nut Covers Cost?
The prices for lug nut covers for you semi truck are usually between $1.60 and $2.50 for each one regardless of material. Buying sets of them is a good way to save money rather than buying single covers. You can find covers in sets of 10, 20, or 60 pieces.
Lug Nut Cover Removal Tool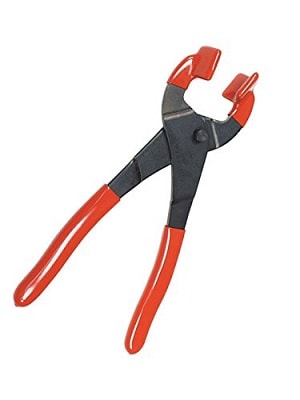 Even thought lug nut covers are cosmetic there is a disadvantage to putting them out your lug nuts. By covering the nuts you wont be able to see if your lug nuts are torqued correctly. Also, since the lug nut torque should be checked you may need to remove the covers from time to time.
If you have had lug nut covers you know that removing them can be difficult. You definitely don't want to be on the road and have several covers stuck to the point where you cannot remove them by hand.
Using a lug nut cover remover like this one on Amazon is a sure way to take off the covers without scratching them. By using the tool you don't have to worry about needing to smash the lug nut covers with a hammer in order to remove them so you can check lug nut torque.
33mm Is The Most Common Lug Nut Cover Size
The most common lug nut cover size for semi trucks is 33mm.
Make sure you know the size of the lug nuts that you are buying the covers for, you don't want to be shipping these things back and forth because you didn't order the correct size.
To see which size lug nuts you have just place a socket over the lug, if it fits snug then you know which size to purchase. Another common size in the United States is the 1.5 inch lug nut. Same thing, get a 1.5 inch socket and see if it fits. If it fits snug then you need 1.5 inch lug nut covers. Buying sets of 20 or more covers is the way to go if you want to save some money. I found this set of 60 1.5 inch lug nut covers by doing just a little bit of research online. Buying these online is much cheaper than getting them at a truck stop.
Lug nut covers are sold by size, not for the type of vehicle you have. Whether you drive a Mack, Kenworth, Peterbilt, Freightliner, International, Volvo, or Western Star you will be able to find the lug nut covers that you need.
What Colors Do They Come In?
Lug nut covers for semi trucks usually have a chrome finish or a black finish.
There is no reason why you couldn't paint them to the color of your choice though. A can of spray paint is all you need to customize the color of the lug nut covers. If you do decide to paint them yourself you should buy black ones though. The painting should be done on a piece of newspaper before you put them on the lug nuts.
Don't forget to apply several coats and to let them dry thoroughly before you put them on your lug nuts.
As you can see there are some options to consider when buying lug nut coves for your semi truck. Adding lug nut covers is an easy, cheap way to make your semi truck look unique and stand out from everyone else s truck.