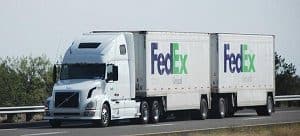 What is LTL trucking? LTL trucking means "Less Than a Truckload" or "Less Than a Load." LTL trucking is when the tractor trailer is carrying freight from more than one client, and usually from several clients. LTL trucking transports goods that doesn't take the entire space of a regular trailer. The shipper pays for the portion of the trailer they are using for their freight. This is usually determined by the amount of wooden pallets that are being used.
What is LTL Trucking?
LTL freight will share the trailer space with several other customers, and each customer will only have to pay for their space and dimensional weight in the trailer.
Customers prefer LTL trucking because it is cost effective, flexible, and environmentally friendly.
The LTL freight is usually one through six pallets, and the weight can range between 100 through 10,000 pounds.
An average pallet is forty inches by forty-eight inches.
If six average pallets are put into the trailer next to one another it would take up twelve feet one both sides of the trailer.
LTL trucking is an excellent choice for small businesses that are working with a tight budget and their shipping is never in large quantities.
It could take longer for products to reach their destinations, because there are numerous clients, which means there will be more stops for the truck.
How Does LTL Trucking Work?
LTL trucking works in a couple different ways.
A large trucking company will use their city drivers and trucks to pick up the all the freight from all of the clients.
The drivers will return back to the company dock and unload all the freight.
Next, the freight will be categorized in locations, then loaded onto one trailer.
Finally, a truck driver will then deliver each of the shipments to the client's destination.
Another way that LTL trucking works is an LTL trucking company specializes in LTL shipping.
The LTL company will usually have a trailer that has roll up doors instead of the regular swing doors that is on a standard trailer, or they will use pup trailers, which allows the driver to connect two trailers within the tandem.
How Is LTL Freight Shipped?
LTL freight can be shipped in several ways, which include standard shipping, expedited shipping, and guaranteed shipping.
LTL trucking can also provide special services such as a residential pickup or delivery, inside pickup and delivery, and reclassification delivery.
Of course, any special requests and services will cost additional fees.
How Many Pallets are Considered LTL?
To be considered an LTL freight, there is one through six pallets.
The weight will usually range from two hundred pounds through five thousand pounds.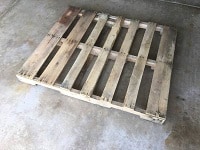 An average pallet (in the United States) is 40 inches x 48 inches. LTL freight normally takes up less space of a twelve-foot trailer.
The pallets (6) are placed side by side, and only would use twelve foot of the space on each side.
How Many Pallets is a Full Truckload?
A full truckload can hold forty-eight standard pallets.
When the freight weighs more than 15,000 pounds or more than ten pallets is needed, it is recommended that it is hauled with a full truckload.
When is it best to go with a full truckload shipping? It is best to use full truckload shipping when:
• The customer has enough freight to fill the truck.
• If the freight is time sensitive.
• If the customer wants one truck to be dedicated to their freight.
• The weight of the freight makes the shipping more affordable.
What is the Difference Between LTL and FTL freight?
What is the difference between LTL and FTL freight?
In the transportation industry the difference could save customers money and time. The two have many differences, pros, and cons.
LTL freight is an affordable option for small businesses. The customer will not be responsible for paying the total freight cost as the customer will only pay for their portion that is in the trailer.
The LTL freight does take longer to reach its destination due to frequent stops, but in the end, it is a great way to ship for small businesses and average people.
• FTL Freight: FTL means Full Truckload. FTL freight means there is enough products to fill the entire trailer, or there is a partial load, and the customer wants their products to have a dedicated truck.
A business that has ten or more pallets that they want shipped will often choose FTL freight.
Usually a business has a shipment of high-risk products will use FTL freight or the business is wanting their products to arrive faster.
FTL freight does cost more money for the customer, but the shipment will arrive faster.
LTL Pros:
• Lower Costs
• Eco-friendly
• Able to Track Shipping
• Indoor Pickup and Delivery
• Liftgates Available
• Added Security
LTL Cons:
• Possible delays
• Increased Product Damages
FTL Pros:
• Arrives Faster
• Products Aren't Transferred Anywhere
• Less Damages
• Reduction Handling of Products
FTL Cons:
• More Expensive
• No Added Special Services
What is an LTL Truck Driver?
An LTL truck driver is truck driver that will be delivering products to many different locations.
An LTL truck driver will have to have a CDL (Commercial Driver's License).
An LTL truck driver isn't just a local driver, as LTL drivers can work regionally and OTR (Over the Road).
Usually, an LTL truck driver will have less than 10,000 pounds of freight.
LTL drivers are on a very tight schedule, so they will need to manager their time appropriately because there are numerous stops that has to be done.
The LTL truck driver will probably have the same route each week, and most of the stops will be local.
LTL truck drivers are often considered a local driver because they have a lot of home time.
The salary that can be expected with this position will first depend on the trucking company or employer.
Some companies will pay their LTL drivers per mile while some pay their drivers hourly.
LTL Trucking Companies: Which Are the Best Ones?
LTL trucking companies are becoming more popular for shipping freight today than it has in the past.
What are the best LTL trucking companies?
The Top 7 LTL Trucking Companies:
1. FedEx Freight: FedEx Freight was founded in 1973. Their main office is located in Memphis, Tennessee, but they have thousands of locations across the United States.
FedEx employees nearly a half a million employees, and they offer a variety of LTL freight options.
2. YRC Worldwide: YRC main office is located in Overland Park, KS. The company was founded in 1924.
YRC has locations all around the world. They have received many awards, which include the Unishippers Award for LTL Carrier Partner of the Year in 2016, and Inbound Logistics Top 100 Trucker in 2016.
3. XPO Logistics: XPO Logistics was founded in 2011, and their main location is in Greenwich, CT.
XPO Logistics has 1,520 employees, over 100,000 employees, and over seven billion inventories hauled.
4. Old Dominion: Old Dominion is located in Thomasville, North Carolina, and the company was founded in 1934.
Old Dominion Freight Line started out in the trucking industry with just one truck. Today, they are one of the top 10 LTL freight leaders in the industry.
5. UPS Freight: UPS Freight is located in Atlanta, Georgia, and with thousands of offices around the world.
The company was founded in 1907, and currently service all of Canada, the United States, Puerto Rico, Guam, Mexico, and U.S. Virgin Islands.
6. Estes Express Line: Estes Express Line is located in Richmond, Virginia, and the company was founded in 1931.
Estes Express Line covers all of Untied States. They currently have nearly 20,000 employees, and nearly 250 terminals.
7. ABF Freight: ABF Freight is located in Fort Smith, Arkansas. The company was founded in 1923, and provide numerous LTL freight services.
Who is the Largest LTL Carrier in North America?
FedEx Freight is the largest LTL carrier in North America.
FedEx Freight has approximately six billion in sales and forty-two billion in revenues just in 2012.
The FedEx Corporation has seven operating units, which include:
1. FedEx Express
2. FedEx Ground
3. FedEx Office
4. FedEx Supply Chain
5. FedEx Custom Critical
6. FedEx Trade Networks
The Future Of LTL Trucking
LTL trucking is on the rise.
LTL shipping is an affordable option for small businesses or businesses that doesn't have enough freight to fill a regular trailer.
The shipping costs will be split up from the multiple customers, so customers will only pay for their space.
LTL shipping is usually a quick way to ship, unless you contact a company that guarantees that, which many LTL trucking companies are now offering.
Most larger LTL trucking companies will use city trucks to pick up LTL freight, then it is brought to their terminal, then loaded onto another trailer for shipping.
Anyone that is thinking about becoming an LTL truck driver will need to ask if they will be paid by the hour or by the mile, because there are a lot of stops with an LTL load.
The driver may not be driving a lot of miles, which would mean the driver isn't making a lot of money.
LTL trucking is taking a big bit out of traditional trucking shipping.