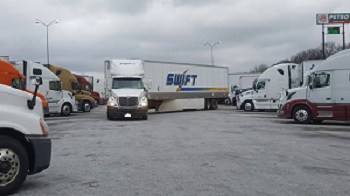 There is not doubt that you have been seeing and hearing a lot about "free"company sponsored cdl training and that its the easiest and cheapest way to get your cdl.
There are plenty of trucking companies (usually mega carriers) advertising "free" cdl school/training all over the internet and it sure does sound appealing. I can get my cdl for free? Let's do it! Wait, not so fast.
Free cdl training does exist, but is it worth it and is it right for you? This is the question that you will be able to answer by the time you finish reading this article. I can't stress it enough, make sure you know exactly what you are getting yourself into should you decide to go for free cdl training.
In this article I'm going to tell you everything you need to know about free training so that you have all the information you need on order to decide whether or not free cdl training is right for you.

Remember, not everyone is going to get their training the same way but everyone should pick the option that best meets their needs and situation. Whats good for one person might not be for another. First, let me explain what free training really is.




What Is Free CDL Training?
Free cdl training is training that is paid for and provided to you by the trucking company that hires you. This is often referred to as company sponsored cdl training. They train you and once you receive your cdl you drive/work for them for a contracted amount of time.
The question you are no doubt thinking is this: Is the free training really free?
The answer: Yes and no.
Let's take a look at typical free cdl training scenario:
While in the process of looking for ways to get earn your cdl you discover that some trucking companies are offering free training, also called company sponsored training. The company is willing to hire you to drive for them and then train you themselves at no cost to you.
Some companies are even going to pay you as you train, this means that you will earn money each week that you are training for your cdl. After you complete the training and get your cdl you have a job waiting for you driving for the company.
Makes perfect sense! This couldn't be any easier. Right? Not so fast.




Before you commit to free company sponsored cdl training you need to know what you are getting yourself into. The free training is not completely free, there are some catches that you need to know about before signing on the dotted line so that you are sure this option is for you.
After reading the pros and cons of the free training you will be able o determine if its the best option for you.
Pros Of Company Sponsored "Free" CDL Training
1. Money: Having a trucking company pay for your  training is a good option for some people. If you don't have the money up front and don't want to take out a loan to pay for schooling yourself this might be a good option for you. After all, typical private cdl school can cost between $3,000 and $8,000.
If a company wants to invest in you and your cdl training then this might be a good opportunity for you.
2. Job Security: Once you pass all the mandatory cdl tests and get your cdl you are guaranteed a job. Having a guaranteed driving job will reduce stress. You have piece of mind that you will be employed right after getting your cdl while others that chose another route will have to start looking for a driving job on their own. This means you get to avoid the hiring process and stress of not knowing whether or not you will have a job.
Basically, you get to forego the process of looking for a job. No more interviews, resumes, background checks.
3. Benefits: Since you are hired right away you will also get benefits that the company offers like health insurance. If you have a family that depends on you this can be particularly appealing knowing your family will be covered as well.




4. Gaining Experience: You will be getting valuable driving experience by starting your driving career right away. Also, it is good to put to use all that you learned during cdl school so that you don't forget any of it.
Cons of Company Sponsored "Free" CDL Training
1. Contracts: The trucking company that trains you for free will require you to sign a contract stating that you will drive for them for a specific amount of time after receiving your
cdl. If you break the contract and quit driving for them you will have to repay them for the training.
Your options will be limited during this period that is usually 6 months to 1 year. Make sure you know how long you are expected to drive for the company and don't sign any contracts until you find out.
2. Less Pay: Be prepared to drive for a lower rate once you complete your training and get your cdl. This is how the company gets back the money they invested in you by training you.
Again, make sure you know how much you will be paid after you get your cdl and start driving. Find out how much you will be paid per mile during the contracted time period.
3. Penalties: If you decide to terminate the contract by not driving for the contracted period (usually 6 months to 1 year) you will have to repay training cost. My advice is to fulfill the contract and then decide whether or not you want to move on to another company.
Some companies will also require you to pay a penalty. These are questions you need to ask the recruiter/company before signing a contract.
4. Location: Since you are not choosing a private cdl school of your choice you have to go where the company is able to or wants to send you.
This could mean you have to be away from home during your training or will have a long commute two times a day. Be prepared to spend several weeks away from home.
Actually, this is good training because being away from home for long periods of time is something you will need to get used to once you start driving.
Questions To Ask The The Trucking Company Before You Committing To Free CDL Training
There are questions that you can ask the trucking company to learn more about the free cdl training they offer. Here is a list that you should ask them so that you know exactly what you are getting yourself into:
1. How long will the cdl training last? How many weeks? Make sure you know how much of a time commitment is expected of you. Training will usually last between 4 and 8 weeks.
2. Where will I have to go for the training and how often? Depending on the company you will have to stay local (hopefully) or in some cases travel out of state.
3. If I need to be away from home for my training foe several weeks will room and meals be paid for by the company? Make sue you know whether or not they will be covering the bill for your hotel and meals.
4. Will I be trained for any endorsements as well? To find out everything you need to know about endorsements click here.
5. What kinds of trucks do you have available to me during the training? A common question is whether you will be trained with an automatic or manual transmission. It's is also a good idea to get overall idea of how old and in what condition the trucks are in.
6. Will I have a choice of learning on an automatic or manual transmission? Sometimes you won't have a choice. If the company has mostly (or all) automatic transmission trucks they won't train you to drive a manual.
7. How many other students will be in the class? How many instructors are there? It's better to have less people in the class because you will get more one to one help. This will especially become important when you start driving.
The more time you have behind the wheel the more you will learn. There is no substitute for experience when it comes to driving a truck.
8. After I receive my cdl how long do I have to drive for the company? Is there a contract I need to sign? Read the entire contract and ask questions before signing the contract.
9. What if I decide to leave the company before the contracted time? Will there be a penalty? How much? Most (every company I have heard of) will penalize you for leaving the company before your contract is fulfilled.
If you do leave they will try to get you to pay for the training you received. If you don't like the company and want to move on make sure you fulfill your contract before doing so.
10. How much money will I expect to during my first year of driving? How much per mile? Money talks. It's the reason you wanted to become a truck driver in the first place. Be aware that if you do go with a company that pays for your training you will earn less per mile for the first year than you would somewhere else.
By paying you less the company is getting back the money and time they invested in you during your training. See, your training wasn't free. Eventually they will get their money back
11. How often will I be able to go home? Ask about this but I guarantee you will not be told the truth.
12. How many hours will I be driving during my training? (you want as many hours behind the wheel as possible)
13. What kinds of benefits will I receive? Find out about insurance and anything else that you need to know about.
How To Pay For CDL School
If you decide that you don't want free training you still have some options regarding how to pay for CDL school.
The obvious one is to pay it in cash if you have the money to do so. Many schools will offer payment plans that will break up the payments so that you are not paying all at once.
Financial aid and student loans are also offered by many schools. The downside is that you will have to repay these loans with interest which is not always ideal. I strongly recommend you try to pay in cash or use a interest free payment plan the truck driving school offers.
Is Free CDL Training Right For You?
For some people the pros outweigh the cons while for others the cons outweigh the pros. Whichever route you decide to take be sure that you know what you are signing up for.
The free cdl training route is good for people that have limited money and need the job stability for the first year or two. '
Some would prefer the private cdl school because after getting their CDL they have more options for employment. There are pros and cons to both, be sure the one you pick meets your needs and trucking career.
Quality Of Free CDL Training
Truck drivers will often say that the quality of free cdl training is generally poorer than training through a community college or private cdl school.
These companies often do barely enough so that you can get your cdl. Remember, their goal is for
you to get your cdl as soon as possible so that you can start driving for them.
They often (not always) do the bare minimum in order for you to get the cdl. This is of course not true for every company, make sure you do your homework and read online reviews and talk to other drivers that drive for the company already.
Here are a few more articles that are must reads if you are contemplating getting your cdl:
1. Picking The Right CDL School
2. Getting Your CDL Permit
3. DOT Physical Exam: How To Pass It