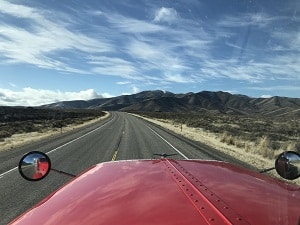 Looking for reasons to become a truck driver?  Look no further. If you are thinking about becoming a truck driver this list will help you make a decision. You will be entering a career that has a lot of benefits that other jobs just don't offer.
Truck driving is a unique, proud profession, that has a lot of camaraderie among drivers. If you are still undecided on whether or not you should become a truck driver this article will help you make a decision by highlighting 10 reasons to start driving today!
To be fair truck driving has it's dark side too. When you finish going over this list make sure you read this article of the 13 top reasons truck drivers quit.





1. You Enjoy Driving
In order to be a truck driver you have to enjoy driving. Your office is basically your truck/tractor. If the thought of being on the road for extended periods of time is something you look forward to then becoming a truck driver is the profession for you.
You are given the freedom to make your own decisions on the road and not have to worry about a boss micromanaging everything you do.
Being a truck driver requires a lot of driving which means you have to also be good at driving. The training you receive will prepare you for driving the commercial vehicle and knowing what else truck driving entails.
2. Desk Jobs Are Boring
You don't look forward to going to work everyday and sitting in an office or cubicle from 9am to 5pm.
As a matter of fact, you despise this type of job. If you don't want to sit behind a desk and computer all day trucking is a great fit for you. You are always on the go and are always going to see something new while driving. No two days are the same for truck drivers.




3. Good Income
According to the United States Department of Labor Statistics the median pay in 2016 for truck drivers was nearly $41,000 per year.
There are not many jobs that you can complete training for in a matter of weeks and be on the road making a $41,000 income.
Most jobs require longer training and more money to complete training. Along with making a good amount of money as a truck driver you will also have job security. From 2014 to 2024 employment for truck drivers is expected to grow 5% according to the US Department of Labor Statistics.
As long as you get the proper CDL training and keep a clean driving record there is no reason why you couldn't have a truck driving career that lasts a long time.
4. You Get To See The United States
How many jobs can you think of that allow you to see so many parts of the United States? Not many. Truck drivers tend to be adventurous people that like to see all parts of this country.
As a truck driver you will have a chance to see so much of the countries landscape that most people will probably never get to. The stories that you will be able to share and the videos you record are going to be priceless.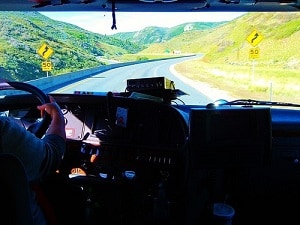 5. Independence
While driving your  truck you are the boss.
Every decision you make while on the road is your decision. By being a truck driver you won't have someone constantly looking over your shoulder checking to see what you are doing.
As a truck driver you won't have to deal with annoying customers or bosses on a daily basis. This is truly one of the highlights of becoming a truck driver. Sure, there are many responsibilities to being a truck driver but they are not as constant as working behind a desk answering emails all day.




6. Meet Interesting People
If you have ever had an opportunity to talk to a truck driver you know that they meet a lot of interesting people on the road. The camaraderie that the trucking industry has is real.
Truck drivers have a respect for one another that many fields lack. They understand one another and are always willing to help one another out. As a truck driver you will meet some interesting people and build meaningful relationships that will last a lifetime.
7. CDL Training Cost
The cost of CDL school is usually between $3,000 and $7,000. Whether you decide to get a loan, scholarship, pay it in cash, or opt for free truck driver training the cost to complete your training is not very high.
Most professions require you to spend way more money in order to get a degree or certification. Trucking is one of the few careers that allow you to complete you training without being in debt and will get you on the road making money in a matter of weeks or a few months.
How many jobs offer training that lasts several weeks and allow you to earn nearly $40,000? Not many.
8. Chances To Advance Your Career
You might start off as a truck driver but you will have opportunities to advance your career. Some options include becoming a driver manager, taking on an executive position, becoming a commercial driver instructor, or a trucking company recruiter.
Note: some of these may require additional training and certification. Also, by getting some endorsements you can be certified to drive almost any commercial vehicle you can think of from tankers to school buses.
For some there is even the option of buying your own truck/tractor at some point.
9. Good Benefits
As a trucker you will also have access to good benefits such as health insurance and retirement options. Trucking companies usually offer health, dental, life, and vision insurance for you and your family. Some of the better companies will give you the most time at home and have updated equipment for you to use while you are driving for them. If you have a family or are planning on having children in the future then health insurance should be on the top of your priority list.
10. Job Demand
The need for truck drivers is high throughout the country which means you will have a good chance of finding your first job quickly. According to the United States Department of Labor Statistics there is going to be a 5% increase in the amount of trucking jobs from 2016to 2024. The demand for goods and online ordering is increasing which means more drivers will be needed. Take advantage of this opportunity and get started as soon as possible with your CDL training.
Is Trucking Easy?
I don't want to mislead you, though there are a lot of pros for becoming a truck driver the job is still challenging. Not everyone is able to handle truck driving and its expectations. You have to do your research before entering the field so that you know what you are getting yourself into.
I am here to help make that transition and decision easier for you and encourage you to take a look around so that you can make informed decisions. Take this quiz to see if trucking is the right job for you.
Another way to determine if trucking is right for you is to talk to an experienced driver so that you can get a better idea of what it is like driving and being on the road for extended periods of time. Listen to what they have to say and put yourself in their position.
Think about if you would be able to do what they are doing and describing. I highlighted the pros of being a truck driver but as with any profession truck driving also has its cons.
Becoming a trucker is an important decision because you will be training for a new career that you will find rewarding for a long time.