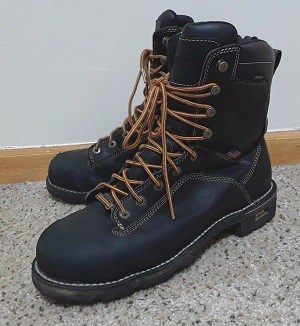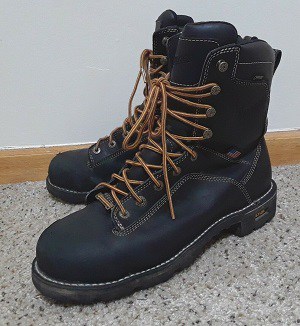 Having a quality pair of boots is priceless to truck drivers. The money spent is well worth it and your feet and back will thank you for it.
Danner boots (these Quarry boots in particular) are the best boots for truck drivers but if you don't have the money (they are expensive) to buy them you do have several other really good boots that are less
expensive.
Keep reading for some other great boots that will fit your budget but not sacrifice quality.
Why Do Truck Drivers Need To Wear Boots?
A lot of drivers think that truck drivers don't need a good set of boots because you are driving most of the time.

That is far from the truth. When you are at a shipper or receiver you should always be wearing work boots, not gym shoes that you wear for jogging or driving.
As a matter of fact a lot of shippers or receivers will require you to wear work boots.
It's not uncommon to see a sign that says "Work Boots Required."
Also, the yards you go to are almost always going to be wet, muddy, and full of puddles.
After getting a pair of any of the work boots below you won't have to worry about those things ever again.
And the final reason to get a good pair of boots is so that you have something on your feet that is slip resistant and water resistant.
It's important that the boots you get prevent you from slipping on slick surfaces while keeping your feet dry.
High quality materials that are not synthetic is what you need and what you will find in the list below.
Here are the 5 best boots for truck drivers.
Top 5 Boots For Truckers
The best boot for truckers are these by Danner.
They are the ones that I bought after a ton of research. Sure, they are a little pricey but the benefits of wearing comfortable boots everyday is well worth the money spent.
If money is an issue and you want to keep it under $200.00 or even $100.00 then some of the other boots on this list would still be really good boots.
Just stay away from work boots that you see at Walmart. Those boots are garbage and you will end up buying new boots every two years.
Another thing to consider: Work boots that are made by any one of the companies below are going to be high quality boots.

If you don't like the boot listed on this page you can still look around for another boot by the same company because you are going to be getting a high quality product.
1. Danner Quarry Boot (best boot)
These are the boots I bought and am so glad I did.
If your feet could talk they would thank you over and over for wearing these boots by Danner (link to see them today on Amazon).
Simply put, they are awesome!
Sure, they will cost you more than some cheapo boots from Walmart but the money spent is well worth it.
You are getting a pair of high quality boots that will last you many years and are made in Portland, Oregon.
Personally, I have had my pair since 2016 and have broken them in really well. Check out the picture, those are my exact boots!
They fit my feet like a glove.
I have heard stories of people sending them back to the factory to get them resoled once they wear out because they were so comfortable.
Why Are The Danner Quarry Boots The Best?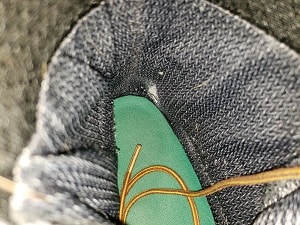 1. Comfort: These boots feel great while I am wearing them.
They are by far the most comfortable boot I have ever owned.
They support your feet and ankle really well. You can see the inside padding in the picture.
Caution: There is a break in period for these boots. Don't get frustrated or scared when you initially get them and think that they are too firm or rigid.

My suggestion is to apply some Danner boot dressing (this stuff) to them so that the leather will mold to your feet much quicker and better.

I did this and after about a week or two they started to feel like I have been wearing them for many months.
Also, the ankle support is padded so it doesn't cut into your leg some cheaper boots do. See picture.
2. Waterproof:  They really are waterproof. Walking across a yard or truck stop that is riddled with puddles is no problem at all.
I have used these in rain and snow and have piece of mind that my feet are going to be dry.
As a matter of fact I have laced them up and stood in a puddle to see if any water will leak inside and absolutely nothing got in!
3. No Sweaty Feet: The third thing that I like so much about my Danner boots is that fact that they are cool.
These boots are awesome at keeping my feet from sweating while
I am wearing them.
This is a problem with cheaper boots that can be annoying, cheap material that makes your feet sweat while you have them on. You get what you pay for.
4. No Steel Toe: I like the fact that they don't have a steel toe.
They make them more comfortable to wear and most truck drivers don't even have a need for steel toed boots.
If you do want the steel toe version you can find them here.
2. Timberland PRO Pitboss Boot (good boots, not very expensive)
Timberland are recognized as high quality boots that are not very expensive.
The Timberland boots that are best for truck drivers are called White Lodge Waterproof Ankle Boots, you can find them by clicking here to go to Amazon and see how much they are today.
If you don't want to spend the big bucks for boots (like the Danner boot) then these are one of your best options.
These Timberland boots are great quality boots, something that Timberland is known for. They are 100% leather and are also waterproof which makes them great for rain and snow.
One thing that people have complained about regarding these boots is that they are not "finished".
It's true, they are not "finished" like some of their more fashionable boots because they are work boots, not boots that you would wear to make a fashion statement.
If you are looking for boots to wear to the office then these are not the boots for you.
If you are a truck driver looking for comfortable boots to wear then these
are great.
3. Irish Setter 6 Inch Boot
Irish setters are really comfortable work boots.
These boots are worn by truckers, roofers, pavers, construction workers, road laborers, and electricians throughout the country.
Why? They are known to be incredibly durable and very comfortable.
Another reason is because of the price. See what the price is today by clicking here to go to Amazon.
They are considerably less expensive than the high-end boots (Danner) but are often said to be just as comfortable.
Just like the other boots on this list these are also waterproof
Irish Setter has several other work boots on Amazon so if you don't like these just look around a little and surely you'll find a pair that they make that suits you right.
4. Carhartt 6 Inch Composite Toe Boot
No list of work boots for truckers would be complete without Carhartt.
Carhartt boots are a good pick if you are not looking to spend a ton of money on work boots.
The work boots that truckers prefer are these 6 inch boots. They are 100% leather and are water risistant.
If you are looking to spend less than $125.00 then it's worth taking a look at these boots or any of the work boots that Carhartt has.
The one thing that I have found out while researching Carhartt work boots is that drivers have said that they are a little uncomfortable unless you buy some insoles.
Insoles make them more comfortable but you have to make sure you get these insoles which are made by Carhart and will fit their boots perfectly.
5.Golden Fox 6 Inch Boot (the budget friendly option)
Alright, you still want some decent boots that are comfortable and waterproof but don't want to spend more than $100.00 on them.
Golden Fox boots like these here are the way to go. They are known to be comfortable and will last you several years.
Can you expect them to be as comfortable and last as long as the other boots on this list? No way. The truth is you get what you pay for.
In this case you are getting some pretty good boots for less than $100.00.
Again, if you don't like these specific boots then look around on Amazon at the other boots by Golden Fox. They have many styles.
Do You Need Steel Toed Boots?
I can tell you that most shippers and receivers do not require you to have steel toed boots. A good pair of work boots (not steel-toed) is all that you need.
Will your company require you to wear steel-toed boots? I doubt it but check with them if you are unsure.
The only reason why they would require them is because they have dedicated routes that they know are going to require them.
Steel toed boots are heavy, uncomfortable, and unnecessary. Wearing them is not easy, driving and clutching in them is a nightmare.
Driving With Boots On
I want to talk a little bit about wearing boots while driving.
When I started driving in 2011 I had my driving shoes and my boots that I wore when I got out of the truck.
The driving shoes were athletic shoes that were light and comfortable to wear. The boots were cheap Wolverine boots I bought at Walmart (a mistake).
The cheap boots from Walmart lasted almost 2 years until they started to fall apart.
I did my research and came up with this list of boots to buy.
Eventually I decided to spend the money and get the Danner boots (a great decision).
A strange thing started to happen. I slowly found myself wearing my boots more and more while driving. I was wearing them instead of the athletic shoes.
Why?
1. They were comfortable and supporting my ankle really well.
2. Pedal control. I found by wearing the heavier boot I had more pedal control. My foot held down the pedal easier with the boots on and this led to less fatigue.
Since then I usually always drive with my boots on now! Try it for yourself if you don't believe me!
Can A Truck Driver Drive Barefoot?
Yes, you can. There is not law in the United States that says you cannot drive barefoot.
Try it for yourself. Google "barefoot driving laws in the united states".
As a matter of fact the FMCSA also has not law or rule that states
commercial drivers cannot be barefoot while driving.
I have talked to other truck drivers that have told me they drive barefoot and I thought it was odd. Dangerous too.
Sure, it may be legal but don't do it.
If you have an emergency of some kind you aren't going to have time to put on your shoes.
Also, in case of an accident the boots/shoes will protect your feet from injury.
Winter Boots For Truck Drivers
What about winter boots for truck drivers?
For those of you that are driving in the northern states and Canada then you might even need to think about getting some winter boots.
Winter boots are great because your feet will remain warm and dry.
Sometimes just wearing regular work boots isn't enough to keep your feet warm during the winter.
Sure, you can wear a second pair of socks but then the work boots become less comfortable.
If you need snow boots then these are the top two:
1. Kamik Greenbay Cold Weather Boot
These boots by Kamik are awesome at doing the two things that they are supposed to do in winter, keep your feet dry and warm.
They are waterproof and have a removable thermal liner inside of them.
They will keep your feet warm when the temperatures outside get as low as -40 degrees Fahrenheit.
Another feature that drivers love about these boots is that they have a drawstring top line so that no snow or cold air can enter the boot from the top.
Finally, they are easy to slip on and off of your feet so you can easily remove them when you get back into your truck and put them back on when you need to exit.
2. Kamik Men's Nationplus Boot
Another boot made by Kamik. For good reason, these boots (link to Amazon) will also keep your feet dry and warm in the winter and snow.
Keep in mind that these snow boots are usually a little bulkier than regular work boots which means you won't want to drive with them on for a long time.
The best thing to do is take them off and do you driving with athletic shoes or work boots like the ones I listed in this article.
What To Look For When Buying Boots
How are you going to pick the right boots?
Well, that can be tricky. Don't worry though, I can help.
Just like buying any pair of shoes there are certain things to consider when buying boots.
Comfort: Make sure the boots are comfortable to wear. They should breathe well and keep your feet from sweating.
Waterproof: A good pair of boots will ensure your feet stay dry from the rain and snow outside. Often, cheap boots cannot guarantee this.
Ankle Support: A padded ankle support is one thing that really makes the difference between boots that are comfortable and ones that are not.
Price: The amount of money you are able to spend on your boots is going to determine how happy you are going to be with the boots.
Am I saying you can't buy a decent pair of cheap boots for $75.00? You can, but they won't last very long and they are going to be made of synthetic garbage that's going to be uncomfortable.