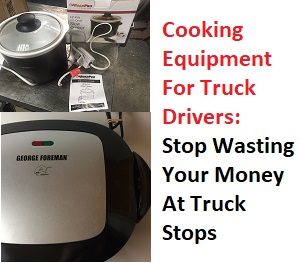 Are you tired of eating dry hamburgers and cold fries every day?
Are you fed up with spending half your paycheck on greasy truck stop food? Is your waistline gradually increasing with every mile?
Are you looking for a healthier, more convenient way to eat?
If you're willing to do a little cooking, I have several suggestions centered around everyday cooking appliances for the over the road truck drivers and regional drivers.
Even if you're a local driver and are just plain tired of peanut butter and jelly sandwiches, read on for some 12 volt cooking equipment ideas.
Cook juicy steaks, fried chicken, grilled vegetables, chicken noodle soups. Prepare yourself a fresh, steaming, hot, cup of coffee, every morning.
Kick back, put your feet up, throw a movie in the TV, while enjoying piping fresh popcorn.




Keurig Coffee Pot
I love a fresh cup of coffee in the morning. With a Keurig Coffee maker like this one, just put in a K-Cup, add enough water to fill your mug, and hit the start button.
But don't forget to put your mug in the stand. I know it's early, but you don't want a hot coffee bath to start your day.
Later on, as your hunkering down to get a good night's sleep, you get the yearning for a cup of hot chocolate and a cookie. All you have to do is grab a hot chocolate K-Cup, a cookie, and kick back and relax.
If coffee or hot chocolate is not your cup of tea, you can make a cup of tea. Different models provide an option for iced tea or coffee. This model allows you to make iced tea.
Just grab a cup of ice from the truck stop, brew a tea or coffee, add some cream, sugar, and other flavorings for a cool iced coffee.
In addition to these options, you can choose between regular or flavored coffees and teas.
One more thing, if space is an issue for you then you can go for this mini version that still makes great coffee but won't eat up your storage space.
However, you can't live on coffee alone, check out more ideas.
The George Foreman Grill
The George Foreman Grill has been around since the 1990s. The George Foreman Grill helps a trucker eat less fat, than other cooking equipment.
To see what the price of it is today on Amazon click here.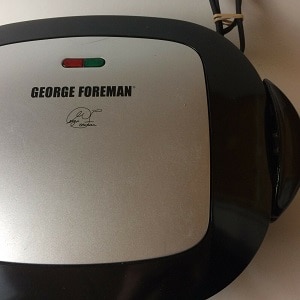 The grill has a slanted cooking surface, with ridges and an incline that allows all that unhealthy fat to drain into a small drip tray.
With dual heated surfaces that are non-stick, and an adjusting lid for different sizes of meat or other foods. You could cook an awesome steak, juicy hamburgers, bacon, all kinds of meats.
But the George Foreman Grill cooks more than just meats, you can make gooey grilled cheese sandwiches, and sauté fresh vegetables. You could even fry an egg to go with that bacon, if you leave the lid open.
Grab a loaf of bread, throw some cheese in between two slices, spread a small amount of butter on the outside, and you have gooey grilled cheese sandwich with ridges.
Do you know what's better than a gooey grilled cheese sandwich? A gooey grilled cheese sandwich with ham or bacon, and nice hot bowl of soup.




Microwave Ovens
A small microwave oven like this one can provide you with quick, fast, cooking. In just minutes you can heat up a can of soup to eat with that grilled cheese sandwich you cooked on the George Foreman Grill.
A quick dinner, when you're in a hurry to get to the shipper, but your starving.
Healthier than that coke and candy bar you were thinking about grabbing at the next truck stop.
Craving some fresh piping hot popcorn, throw a microwaveable bag of popcorn in the microwave, smell the aromas of popcorn and butter, kick back and watch a movie, while you're waiting for that slow fork lift driver to unload your truck.
If you have a refrigerator, throw a couple frozen TV dinners in there. If you have a small freezer, that's even better. Heat up a Hungry Man Dinner, a few Hot Pockets, or make a bowl of instant oatmeal.
Just think of the amount of money your saving by eating in the truck.
Best of all you don't have to listen to all those other drivers whining and complaining at the truck stop diner.
Crockpot
A Crockpot like this one with a locking lid can cook up some mouthwatering chicken and noodles.
For easy clean up, use a Crockpot liner bag. Here is what the liner bags look like.
Follow these steps to make a mouthwatering Chicken Noodle Dinner.
Step 1: When you get up in the morning, but before you get to rolling down the road, put a liner bag inside the crockpot, make sure the bag is folded over the edges of the crockpot, similar to putting a trash bag in a trash can.
Step 2: Add 3 uncooked chicken legs and thighs inside of the liner bag, leave the skin on.
Step 3: Add No Yolks Extra Broad EGG NOODLES (this is what they look like) 1-2 cups, on top of the chicken.
Step 4: Pour a jar of Heinz Homestyle Classic Chicken Gravy over the top of the chicken and noodles.
Step 5: Pour a half to a full cup of water over it all, just enough to cover the noodles. Water in a crockpot does not evaporate like a pot on the stove.
Step 6: Add salt and pepper to taste.
Step 7: Throw the lid on, set it on low*.
Make sure the crockpot lid is secure and the crockpot itself is secured and will not turn over.
One idea might be to take a bungee strap and strap the crockpot to the back of the passenger seat, but only if no one is sitting in the seat. It is very important if your truck is moving that you dinner stays in the pot, not all over the truck.
Then rock and roll on down the road.
*Depending on length of run, determine heat setting. If your run will be only a few hours set it to high, but if you run a full day, a low temperature will be the best.
Make sure your Crockpot has a locking lid, you don't want chicken and noodles all over your truck. I did that one time, IT WAS NOT FUN CLEANING IT UP.
As you ride down the road, all those pot holes, cracks, and bumps will keep those chicken legs and noodles stirred. One down side is, you can smell the aromas all day long.
It is hard to keep trucking, with such enticing smells.
Don't worry about cleaning up. That liner bag you put in makes cleaning a snap. Just take the empty bag out of the Crockpot, tie it up, throw it in the trash can, and wipe the inside of the Crockpot with a wet wipe.
Then secure it in a safe place until the next time you need it.
There are hundreds of Crockpot recipes online. Many of them are created for the working class, who don't have time or the energy to cook after a long day.
Just put in the ingredients, set on low, and head off to work.
Small Butane Stove
If you want to feel like you're at home cooking on your gas stove, grab a small butane stove like this one, a butane fuel canister (these), a frying pan, a pot, a few cooking utensils, some groceries, and get to cooking.
If you are sitting around at a truck stop or rest area on a beautiful day, have a cook out. Throw some chicken in the pan, some vegetables, and have a nice stir fry.
A few words of caution, your using an open flame, don't set your truck on fire. (Not without having marshmallows on hand or unless you happen to own an International with a MAXXFORCE engine.)
You also need some ventilation, open a window if you use a butane stove in the cab of your truck.
Or just put the butane stove on the cat walk between your truck and trailer, just make sure you keep your airlines out of the way or you will definitely be sitting there waiting on the repair truck.
Truck Engines
Years ago, truckers would take some heavy-duty aluminum foil, put a red, juicy, steak, onions, bell peppers, and seasoning inside.
Wrap it up really good. I mean several sheets of aluminum foil. Then throw that steak up on the truck's engine.
But make sure you put it in a good spot, if you hit a gator, you might just lose your supper too.
By the end of the day you will have a mouthwatering steak, cooked to perfection.
Why stop there, that truck engine will hold more food than that. Grab a potato, sprinkle some salt and pepper on it and throw it up there beside that steak.
Yeah, I know you're thinking, "Why not some corn on the cob?" For that matter, there are dozens of vegetables that would taste great grilled. Maybe a few carrots, celery, squash, or snow peas?
Many foods that can be grilled in an oven, can be slow cooked on a truck engine.
A word of caution, use more than one sheet of aluminum foil, this helps conduct heat and provides an added layer of protection against contamination.
12-Volt Cooking Appliances
These days cookware has been adapted for ease of use in a truck. Several of the above items can be purchased with a regular AC power plug (if you have an inverter) or with a 12-volt cigarette lighter plug.
Many of us are familiar with an AC power plug, it is commonly used inside the home. However, there are a few advantages to a 12-Volt plug in.
An advantage of a 12-volt adapter is that some trucks are not equipped power inverters that provide electricity for regular household appliances.
Another advantage is the truck does not have to be running all day, most trucks have four batteries.
It would take a long time for a 12-volt Crockpot or lunch box to drain four batteries.
Many of the same appliances mentioned above come with a 12-volt plug-in option too.
12-Volt Crockpot
Crockpot's are sold with 12-volt power supplies. The one that I use, and highly recommend, is this one (my full review of it) by Roadpro. It's been awesome for me and it didn't cost me much money.
Just like the regular crockpot mentioned above, plug it in, throw a liner in, some meats and vegetables, and get to rolling down the road.
The 12-volt versions are a bit smaller than the other ones but are perfect for cooking a hot meal for two or three people.
12-Volt Lunch Box Stove
A 12-volt heated lunch box is another great option. These have been used by trucker for years because they work well and make just enough food for one or two people.
The one that I have used for several years is this one by Roadpro. This bad boy is awesome!
When you stop to take a break, throw in a disposable aluminum foil pan made just for the lunch box. Similar to the Crockpot, all you have to do is throw dinner in, and start trucking.
But don't get tempted to stop early and eat. I know the smells are tempting.
12-Volt Frying Pans
I wouldn't recommend using a frying pan in a moving truck, but sitting still, fry up some eggs and bacon for breakfast.
That's right, Roadpro also makes this 12-volt frying pan for truckers. I can't tell you how many times I have make hot scrambled eggs and bacon in the morning.
Just be sure your neighbor doesn't get a whiff of that bacon. Next thing you know he or she may be knocking on your door.
12-Volt Water Kettle Heater
A 12-volt water kettle (like this one) is great for hot tea, instant coffee, or that cup of Ramon noodles.
The hot water can be used to wash dishes too.
You can even boil water that may be unsafe to drink, killing germs.
A Few Things to Keep in Mind
The cab of many trucks is not large enough to hold full size appliances.
Often times items look small in the store, but when you get back to the truck, you saying to yourself, "What was I thinking? I have nowhere to set up that large microwave or 2-quart Crockpot."
Don't worry, most truckers talk to themselves occasionally. Just make sure you don't start answering yourself.
Remember fumes from gas appliances can cause illness in a closed environment.
Keep meats, dairy and other perishable items in a refrigerator or a 12-volt cooler like this one by Igloo.
Properly dispose of uneaten food, in a closed container, in a trash can. Don't throw it out in the middle of the truck stop parking lot or the rest area.
No one wants to step in trash walking through a parking lot.
If you clean your appliances as soon as you are done eating, it is much easier than waiting until the next morning. By then it will be a dried-up mess.
If you have leftovers, store them in disposal bowls or zip lock bags.




Now What?
Now that you have all these great ideas for dinner, stop at the grocery store, grab some fresh food, and get to cooking. The benefits definitely outweigh the alternatives.
Grab a small Crockpot or heated lunch box, and give it a try for a few days. Then put the rest of your hard-earned money in the bank.
Watch your waistline get smaller and enjoy the smell of freshly cooked food as you roll down the road.
At the end of the day, you will have a nice hot, healthy dinner, without having to shell out a lot of money or deal with all those cranky truck drivers at the truck stop restaurant