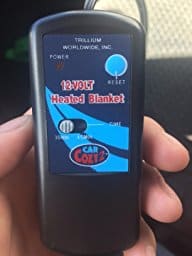 12 volt heated blankets are a simple way to keep warm, they plug into any cigarette lighter or 12 volt power outlet in your semi truck, car, or RV and use a small amount of power to heat the up. The options for 12 volt heated blankets are plentiful.
In this article I will tell you all you need to know about 12 volt heated blankets and which ones I recommend based on price, features, and customer reviews so that you are buying the best one for the lowest price.
If you want to forgo a lot of information and just want to know which is the best blanket it's the Trillium blanket.  Click here to see it on Amazon.

Why You Need A 12 Volt Heated Blanket
Having a 12 volt heated blanket will keep you warm when the unexpected breakdown happens on the road in mid winter.
Waiting for help can take a long time and it doesn't take long for the temperature to drop. Having a heated blanket will keep you warm as you wait.
A 12 volt heated blanket can also be used to preheat your bed so that when it times come to sleep you have a nice warm bed waiting for you. Nothing worse than an ice cold bed to crawl into after a long day driving your truck. Speaking of beds, if your current mattress is ruining your back try one of these three options to take care of it.
The third reason to get a heated blanket is to wrap it around your back while you are driving to loosen back muscles and make your drive much more comfortable. If you suffer from a sore back, which many truck drivers do, you owe it to yourself to get a heated blanket for your health and well being.




How A 12 Volt Heated Blanket Works
A heated blanket works because of an insulted wire that heats up when plugged into an outlet, in this case a 12 volt outlet. The insulated wires create the heat that you feel.
You can often feel the insulated wires within the blanket if you feel for them. It is important that you are careful of the insulated wires when cleaning and storing the blanket.
Best 12 Volt Heated Blankets
Now that you know what to look for in a 12 volt heated blanket I am going to show you a few that meet a lot of the criteria listed above. All these heated blankets are on Amazon and have a lot of positive Amazon customer reviews too. The Trillium blanket is the one I recommend because it has all the same features as the other tow plus automatic shut off.
Trillium Worldwide Car Cozy 2 12-Volt Heated Travel Blanket
This one is not much different from the other two except it is the only one that has automatic shut off. This could come in handy if you were to fall asleep with it on. You have piece of mind that it will eventually turn off in order to not get too hot.
Size: 42 inches by 58 inches
Design: Pick the solid blue color over the plaid. It is usually $1.00 cheaper.
Cord Length: 7 foot cord
Automatic Shut Off: Yes
Temperature Settings: No
Indicator Light: Yes
Customer Ratings: Of the 905 customer ratings on Amazon 74% gave it 4 or 5 stars.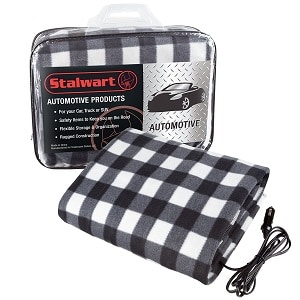 Electric Heater Car Blanket- Heated Travel Throw Electric Blanket for Car and RV, 12 volt by Stalwart
This electric blanket is pretty good, the only thing I don't like about it is that it doesn't have automatic shut off like the Trillium has.
Size: 43 inches by 59 inches
Design: Pick the solid blue color, they are usually around $8.00 cheaper than the plaid ones.
Cord Length: 8 foot cord
Automatic Shut Off: No
Temperature Settings: No
Indicator Light: Yes
Customer Ratings: Of the 313 customer ratings on Amazon 70% gave it 4 or 5 stars.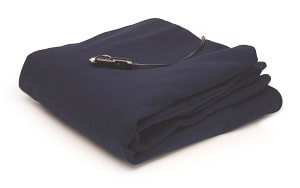 Roadpro 12-Volt Polar Fleece Heated Travel Blanket
Again, not a whole lot different than the other ones but this electric blanket also doesn't have the automatic shut off
Size: 42.5 inches by 58 inches
Design: Only available in solid colors.
Cord Length: 8 foot cord
Automatic Shut Off: No
Temperature Settings: No
Indicator Light: Yes
Customer Ratings: Of the 433 customer ratings on Amzaon 71% gave it 4 or 5 stars.
Which One Is The Best One?
The best one is the Trillium blanket. The prices are not much different among the three but the Trillium has automatic shut off. Automatic shut off usually shuts off the blanket after 30 or 45 minutes so that it is not overheating and to prevent it from continuing to heat if you fall asleep.  Other than the automatic shut off they all have the same features.
Caring For Your Heated Blanket
You should expect your 12 volt heated blanket to last 3-5 years when used as intended. Also, most heated blankets don't allow for cleaning in a washing machine or submerging in water at any time.
If you do need to wash or clean your blanket it is recommended that you spot wash only using a mixture of soap and water. Before you do this make sure that the blanket is unplugged and has had time to cool.
After you spot wash your blanket you should allow it to air dry, don't put it in a dryer. Make sure the blanket is completely dry before you plug it in and begin using it again, a wet blanket and electricity is not a good combination.
Also, if you see any frayed wires you should consider replacing the heated blanket with a new one. You should also never iron your 12 volt heated blanket as the heat from the iron will damage it.
Storing Your Electric Blanket
When storing your electric blanket you should gently fold it or roll it up. I recommend rolling it up so you don't damage the insulated wires inside the blanket. Once you have rolled up the blanket place it inside of a plastic bag and seal the bag until you need to use it again.
12 Volt Blanket Options
Like I said earlier there are a lot of options when choosing a 12 volt heated blanket. These 8 features are what you should be looking for when buying a 12 volt blanket.
Price
If you are like me you want to get the highest quality blanket and the most reasonable price. There is no reason to spent more than $50.00 on a 12 volt heated blanket, there are several on Amazon that are really good blankets that are priced between $25.00 and $40.00.
Size
There is nothing more disappointing than ordering you brand new blanket and upon opening it you realize its better suited for a baby blanket. If you plan on sleeping on/with the heated blanket you shouldn't get one that is less than 42 inches by 58 inches in size unless you are a really small person.
Design
It sounds odd but you will often have to pay more for specific colors and for patterns. I recommend you pick a solid color which will save you a few dollars. As long as the blanket keeps you warm you need not worry about any pretty patterns or unique colors.
Cord Length
The cord length to the 12 volt outlet should be at lest 6ft. Anything more than 6ft. is perfect for reaching back seats or trailer sleep cabs. If the cord is not long enough you will have to use an extension cable.
Automatic Shut Off
Another option that is important is automatic shut off when the temperature gets too high. This means you can relax and not have to think about turning it on and off to control temperature. Note: most 12 volt heated blankets don't come with an automatic shut off.
Temperature Settings
Try to find a blanket that has at least two temperature settings, high and low. The more temperature settings it has the easier it will be to control how hot the blanket gets. Finding a 12 volt heated blanket that has temperature settings is rare, if you find one let me know.
Indicator Light
Having an indicator light on the cord lets you know when it is working. When it's on the indicator light will light up. When the blanket is not heating the light will turn off. A quick glance can tell you if it's heating or not without the need to bend/reach over to touch it.
Customer Ratings
Looking at customer rantings is important and tells you a lot about what you can expect from the heated blanket. Look for Amazon ratings that have a high percentage of 4 and 5 stars on a 5 star scale.