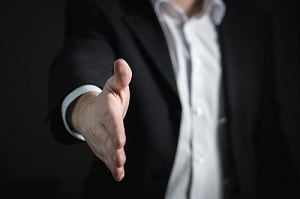 The interview is an inevitable steps of getting truck driver job.
The interview is when you sit down, or talk by phone, with a representative or recruiter from the company you are applying to and are asked several questions to which you will have to respond appropriately.
If you have yet to find yourself a truck driver job or are looking for a new one I recommend that you take a look at my free truck driver job board here to find local and national driving jobs.
The trucking company uses your answers as an opportunity to find out a lot about you and how you will react in various situations.
Though it is difficult to predict the exact questions that you will be asked during the driver interview portion of your hiring there are some general interview questions that you will be asked regardless of the company you are applying to.
In his article we will show you some of the most common truck driver interview questions you may receive and give you some ideas of how you could respond to them. This is your chance to show the company why you are the right driver for them.

The first part of this article is going to help you prepare for truck driver interview questions that you will likely be asked during the hiring process.
If you are new to the process then your first step is to find the best company to drive for. Use this free job board to get you started.
There are a lot of different questions you may be asked but most of them will be either be behavioral questions, driver responsibility questions, and general character questions.
You probably won't be asked all of these questions but you still need to be prepared for all of them. Your answers to all of the interview questions may be the difference between getting a driving job or not.
The second part of this article is going to focus on good questions you need to ask a trucking company that may be hiring you.
These questions will allow you to find out more about the trucking company and what you can expect while driving for them.
Truck Driver Interview Questions
This is a list of the most common questions potential drivers are asked during their job interview.
1. Question: What is the primary job of a truck driver?
Answer: The primary job of a truck driver is to check the overall condition of the tractor and trailer (pre-trip inspection) to ensure that the load is delivered on time and undamaged. The truck driver also has to help with loading and unloading, maintaining the necessary documentation, and communicate with management.
2. Question: How much experience do you have driving?
Answer: Your answer to this question has to be honest because the trucking company will find out where you have worked before. If you have never had a job driving you need to be honest and open about that. Not telling the truth to this question is the worse thing you could do.
3. Question: Other than money why did you choose to get your CDL?
Answer: Be prepared to answer this question. Think about what you are going to say now so that you are prepared in case you are asked it. You might get some ideas from this article.
4. Question: How would you describe your driving record?
Answer: Be honest. Hopefully you have had a clean driving record for the last 10 years, if you have you have nothing to worry about. If you have had a moving violation you need to let them know what the violation was for and when it occurred. The trucking company is looking to see how honest of an employee you are going to be.
5. Questions: What would you do if you found out someone that you were working with was stealing?
Answer: Do what is right. Tell the company that you would report that person for stealing. Again, the company is trying to figure out how honest of an employee you are going to be.

6. Question: When are you available to start this position?
Answer: You should be ready to start as soon as possible and looking forward to working with their company.
7. Question: Why do you want to work for our trucking company?
Answer: Research the company before the interview so you can highlight some of the reasons why their company would be the best fit for them.
For example, in doing your research you may find out that the company was voted as one of the best trucking companies in the area. This is something worth mentioning because it will separate you from other potential drivers that may know nothing about the company.
As much as you want to work for them they also want to have drivers that are excited to be there.
8. Question: What is your opinion on driving safety?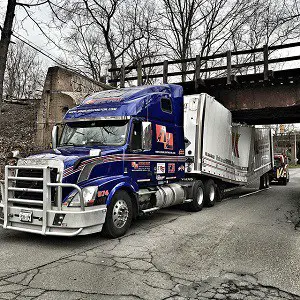 Answer: You need to let the company know that you will not be a liability to them if they were to hire you to drive for them. Make sure it is clear to them that safety is important to you. Make sure they know how much you value wearing your seat belt and following all of the driving laws and rules you were taught during your CDL training.
9. Question: What are your plans for your career path?
Answer: Your primary career path is to work for their company. The trucking company wants to see that you are a committed, professional truck driver.
10. Question: How do you stay motivated?
Answer: You should have more than just monetary motivation. Describe how you an a motivated person that always strives to be efficient and reliable. Also, you are motivated by challenges and providing for your family.

11. Question: What are your strengths?
Answer: A good answer is that you are a quick learner and learn new technology quickly. The trucking industry is changing quickly and companies want to know if you are going to be able to adapt.
12. Question: What do you do when you are not working?
Answer: Be sure to talk about what you do outside of truck driving. The interviewer wants to see who you are outside of a truck. Give specific examples of interests that you have.
13. Question: What will our company gain by hiring you?
Answer: Talk about your dedication to the profession of truck driving, your clean driving record, and your attention to detail. They are looking for someone that is not going to be a liability.
14. Question: How many tries did it take to get your CDL?
Answer:  Hopefully the answer is one. If it took you more than one you need to be honest about it and explain what you did differently after failing a specific part of the CDL testing process. They are looking for honesty and the ability to learn from mistakes.
15. Questions: Does traffic stress you out?
Answer: You already know that driving a commercial vehicle you will be stuck in traffic a lot. Make sure that the interviewer knows that you understand traffic is an inevitable part of the job and that it doesn't bother you.
16. Question: How often do you miss work?
Answer: You only miss work when it is absolutely necessary because of illness or an important personal obligation. In general you prefer not to miss work.
17. Question: What would you do if you were in an accident?
Answer: You would take the necessary steps to ensure the safety of everyone involved by calling the police and reporting it to the trucking company as soon as possible.
Questions To Ask A Trucking Company
During your interview session you should be given an opportunity to ask questions of the trucking company that you could potentially be driving for.
Earning your CDL is no easy task and you should make sure the trucking company that you decide to work for meets your needs.
These are good questions to ask a trucking company before you get hired. We don't suggest you ask all the questions below but you should pick several that are the most important to you. After all, this is your career and you should pick the best driving company for you.
1. What is your home time policy?
2. What can I expect my first year earnings to be?
3. What will I be driving? What is the condition of the equipment?
4. Is there a vacation policy? What is it?
5. What are the main hubs?
6. What medical and dental plans are offered?
7. Is there assigned trucks or slip seating if local?
8. What speed are the trucks governed at?
9. Clarify the difference between paid and unpaid miles.
10. How are miles calculated?
11. What is the average length of load?
12. How many terminals does the company have? Where are they at?
13. How many employees does the company have?
14. What is the company's turnover rate?
15. Which states do they operate in the most?
16. Which e-log do they use?
17. What is the average age of the tractors?
18. Do trucks come with power inverters?
19. Do trucks have refrigerators and/or any other accessories?
20. How does the company pay?
21. What types of benefits does the company offer?
22. Does the company offer any kind of safety bonus program?
Passing The Trucking Company Interview
Having a successful interview is only one of the several steps that you will take before you are hired by a trucking company. Though it's only one step it is an important one.
Make sure you know the types of questions you will be asked. Being prepared for all types of questions will increase your chances of having a successful interview and being offered a truck driving job.
Also, you should know which questions will help you get the information you need about the trucking company so that you can choose the company that best fits your needs. Remember, the company wants to get the highest quality drivers and you also want to work for the highest rated company that has the most to offer you.
Truck Driver Job Interview Tips
Being prepared for the trucking job interview is more than knowing what to say and how to say it. Put yourself in the position of the interviewer, what would you be looking for from an employee?
Make sure the first impression you leave is a good impression. Let's take a look at what else you can do to increase your chances of landing a trucking job.
1. Dress For Success
Don't assume that because you are applying for a truck driving job you can wear a t shirt, jeans, and baseball hat.
Presenting yourself as a professional that is serious about driving should be your number one priority.
Wear something that shows the interviewer that you are serious, try wearing nice pants, a collared button up shirt with tie, and nice shoes too.
Similar to something you would wear to a wedding or important family function. By dressing like a professional you will set yourself apart from other job candidates.
2. Be Patient
Most likely you won't be offered the truck driving job right away.
Be patient, the company has many interviews to conduct before they begin offering driving positions. After the interview you will probably be asked back to fill out some more paper work and a background check will be conducted.
This process can take several weeks.
3. Bring Documents
You will likely be asked to bring some documents with you to the interview, make sure you bring everything the company asks you to bring.
By bringing the documents you are showing the potential employer that you are responsible and are able to follow directions.
Being responsible and following directions are skills that they expect
from their drivers.
4. Be Thankful
One of the best tips for a trucking job interview is to shake hands and thank the interviewer for their time at the end of the interview.
Again, the purpose of this is to make yourself stand out from the rest of the applicants. Shaking hands and saying thanks is a sign of respect towards them and the company they work for.
Having a successful trucking job interview can be achieved with some practice and awareness.
Make sure you are prepared for the interview so that you give yourself the best possible chance of getting the truck driving job you been looking for. This is your career and your training was your investment, now you just have to show a potential employer that they should invest in you.