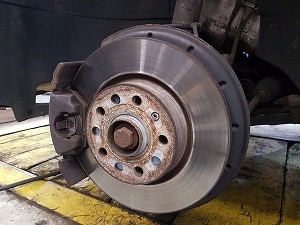 Helping you pass the CDL air brakes endorsement test is what I'm writing this article for.  I will explain who is required to pass it, what to study, general information about the test, and there is a free practice test you can complete as many times as you want to. My goal is to help you pass the air brakes endorsement test on your first try.
Free Air Brakes Endorsement Test
This is my free air brakes test that I recommend you take as many times as you need to until you
are comfortable with the material. While you are taking the practice test be sure to look at your state CDL manual so that you know what you should be studying.
[WATU 4]
Who Is Required To Pass The Air Brakes Test?
Anyone that is seeking an air brakes endorsement needs to pass the test. If you plan on driving a commercial vehicle with air brakes you will need to pass it at some point.  All states require the test. If you are going to get a Class A or Class B commercial driver's license I strongly recommend you get the air brakes endorsement. It is inevitable that at some point in your career you will have to drive a vehicle that has air brakes.




What Is A Passing Score?
A passing score on the air brakes test is if you answer 80% or more of the questions correctly. The amount of questions on the test may vary slightly from state to state but you can typically expect fifteen or more questions.
What Kind Of Test Is It?
The test is all multiple choice questions. The same as the tests you took when you were in high school.
What If I Fail?
If you fail the test you are allowed to retake it. Try not to fail it, make sure you study and try my practice test below so that you are prepared. Every time you have to retake it you will have to make another trip to your local DMV.
Cost
Thw cost to take the air brakes endorsement test in most states is usually around $15.00. If you don't pass it on your first try you will have to pay the $15.00 again. Pass it the first time! Study! This is your career.




State CDL Manuals Are Gold
Studying from your state CDL manuals is the best way to study for the test. You can access your states CDL manual here for free. Everything that you need to know for the air brakes endorsement test test is in your manual.
What To Study For The Test
This is an outline of what you need to study so that you can pass the air brakes test. Make sure you go into your state CDL manual for more in depth information. You should study Section 5 of the manual.
Section 5: Air Brakes: This section focuses on air brakes. If you intend to drive a commercial vehicle with air brakes you will need to study this section as well. Many Class A, B, and C vehicles utilize air brakes.
Topics in this section include:
– Air brake system parts
– Dual air brake systems
– Inspecting air brakes
– Using air brakes