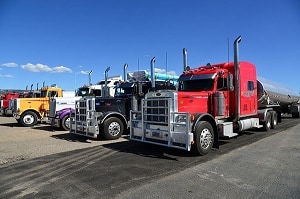 The CDL general knowledge test is a required written test that you have to pass no matter which state you are in.
Passing the general knowledge test will require some studying and practice on your part.
In this article I am going to tell you everything you need to know about the CDL general knowledge test so that you can pass it on your first attempt. I also have a free practice test for the general knowledge test that I encourage you to take.
Remember though, free CDL test are good but they are not the best. To get the best practice tests that essentially guarantee you will pass any CDL written test you have to go with something like these tests that will cost you a small one time fee. Well worth the investment.
The federal mandated CDL tests that you will have to pass are the following:
1. General Knowledge Test: This will be the first test you will have to pass so that you can get your CLP or commercial learner's permit.
The test questions below will give you an idea of the type of questions you can expect from this test.
These questions are not exact questions from the general knowledge test, they are questions testing the same material/topics though. You won't find an actual test online.
Once you complete all the questions below it will show you the results. Take it as many times as you want!
Are Free CDL Tests Any Good?
As good as these free cdl tests you are finding throughout the internet are there are some better ones out there that are worth the minor investment (usually about $30.00). Which do i recommend? I recommend this CDL test provider because of this:
You get access to more than the General Knowledge test. You will have access to test for the air brakes test, tankers, hazardous materials, and even passenger transport tests.
Following the tests makes is practically impossible to fail any of the tests.
If you don't like it you get a 60 day return period to get your money refunded to you.
[WATU 3]




2. Endorsement Tests (if necessary): The other written test that you will have to pass are endorsement tests. There are several endorsement tests but all of them may not apply to you. The most common endorsement tests are the air brakes, hazardous material, tanker, passenger, double/triple trailer, and school bus.
Note: If you are getting your Class A CDL you need to pass the air brake endorsement test as well.

Free General Knowledge Practice Test
The first written test you will have to pass in order to get your CLP (commercial driver's permit) is called the general knowledge test.
This test is all multiple choice questions, usually thirty or more of them.
Feel free to take this practice tests as many times as you want while studying from your states CDL manual.
What Is The CDL General Knowledge Test?
The CDL general knowledge written test is a multiple choice test of at least thirty questions that tests your general knowledge of commercial vehicles and driving one.
At this point you don't need any driving experience, this is not a driving test.
You remember those tests in high school that gave you a question and four possible answers? Yep, the general knowledge test is the same as those. You will have to take them at your local DMV.
What Is a Passing Score?
Most states require you to answer at least 80% of the questions correctly to be considered a passing score. Regardless of the state you are in you can expect at least thirty multiple choice questions on the general knowledge test.




What If I Fail?
Don't worry, if you fail one you are able to retake it. Some states require that you wait a specific time period before retaking it so I recommend you check with your specific state what their requirements are. Make sure you study and take my free general knowledge test below several times before retaking the general knowledge test.
Free General Knowledge Tests
Don't pay for general knowledge practice tests, keep your money for something else. All of the general knowledge practice tests that you find online are all generally the same. If you were to complete a practice test here or on a couple of other sites you would soon realize that the questions are for the most part the same. The only difference might be in the number of number of possible answers to a question or the questions might be worded differently. All of the online practice exams for the general knowledge test get their questions for one source, state CDL manuals.
State CDL Manuals
State CDL manuals is your guide to passing the general knowledge test. You can access your states CDL manual here for free. Everything that you need to study for the general knowledge test and the endorsement test are in your manual. You don't need to buy a special book or watch anything, everything you need to know is in your manual.
What To Study For The Test
I have outlined what you need to study from your state CDL manual in order to pass the general knowledge test. All state manuals have the same sections as the the ones below.
Section 1: Introduction: This section is has general information regarding the CDL. Topics include:
– Information about who must obtain a CDL
– Who is exempt from obtaining a CDL
– Endorsements
– Information about the CDL general knowledge exam and the skills/driving test
– Required documents, including the DOT Medical Exam Card
– Regulations and disqualifications
– Traffic violations in a personal vehicle
– Distracted driving
– Vehicle length, height, and weight restrictions
– Vehicle lighting
Section 2: Driving Safely: This section contains knowledge and safe driving information that every commercial vehicle driver should know. Topics include:
– Vehicle inspection
– Basic control of your vehicle
– Shifting gears
– Space management
– Winter driving
– Mountain driving
– Fires
– Driving emergencies
– Staying alert
– Accident procedures
– Braking distance
– Managing space
– Driving at night.
– What to do when you become sleepy
Section 3: Transporting Cargo Safely: In this section you will learn about the proper ways to load and secure cargo. Topics include:
– Inspecting cargo
– Cargo weight and balance
– Securing cargo
– Cargo needing special attention