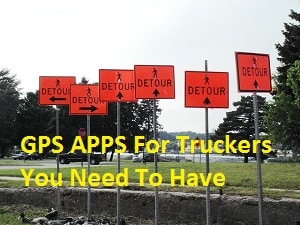 The three best GPS apps for truckers are Smart Truck Route Version 2, Copilot, and Sygic Truck Navigation. Each one of these resemble what you would expect from an actual GPS unit, turn by turn directions and automatic updates.
Smart Truck Route Version 2 is the one I have been using for several years along with Google Maps and a good old Rand McNally paper atlas for my backup. With this combination I rarely encounter any problems navigating.
When choosing a GPS just make sure that you use a GPS app that is made for truckers and not cars. There are a lot of differences between the two.
GPS apps that are made for truck driving will do things an ordinary car GPS app wont. A GPS app that is made for trucking will suggest routes based on bridge heights, weight restrictions, dangerous turns, and more. Ordinary GPS apps for cars don't do any of these things because they assume you are driving a car, not a truck.
Having a good GPS app is vital for truck drivers. If you don't have the money to spend on an actual GPS (like this one) you still have a ton of options these days with so many cell phone and tablet GPS apps that are made specifically for truck drivers.
A lot of truck drivers fresh out of training might not have several hundred dollars to spend on a Garmin or Rand GPS. If you do have the money then this Rand GPS is the way to go. If you don't have the money for a new GPS then this article is for you.
In this article I took the time (a lot of it) to put together the most comprehensive list of GPS apps for truck drivers. I have no doubts that you will be able to find one that works for you.
Also, don't make the rookie driver mistake of using Google Maps as your GPS. Another thing, do yourself a favor and get an actual physical road map like this one. Yes, drivers still use paper maps.




Why? You want to have access to the most amount of tools as possible so that you can plan the best routes and not have to worry about not having a backup plan in case your app or GPS decide to stop working.
Think about it: Does a car mechanic work on cars only using impact tools? Not a chance.
GPS Apps For Truck Drivers
1. Google Maps
One thing I want to clear up before we go any further is a quick discussion about Google Maps.
Google Maps should not be used as a primary GPS. Google Maps is not made for truck drivers. This means that while you are using Google Maps it assumes you are a car, not a truck.
Google Maps is best used to compliment the route suggested by your company and your GPS or GPS app. Use it to compare routes, check live traffic conditions, to zoom into your destination, look for entrances, and figure out parking.
Again, I strongly recommend using Goggle Maps, but not as a primary GPS. So go out and make sure you have Google Maps on your phone or tablet but keep looking at this list for a better primary GPS app.

2. Paper Atlas/Map By Rand McNally
I know, this is not a GPS app. Having a paper atlas/map (laminated of course) is priceless. When all else fails you can rely on one all the time. Just like Google Maps you shouldn't use a paper map/atlas as your primary navigation. It's a backup in case things go wrong.
The road atlas that truck drivers prefer by far is made by Rand McNally. I wrote an article all about the Rand road atlas and how to use it, you can find it here.
It's made for truck drivers, spiral bound, and has laminated pages so you don't destroy it after a few weeks. It even shows weigh station locations and you can write on it with a dry erase marker. For a ton of free tips for using the Rand road atlas you need to check out this article I wrote recently.
If you are a truck driver you now know about 2 things you need to have with you before you even consider a GPS app. Get Google Maps and the Rand McNally road map.
3. Smart Truck Route Version 2
Smart Truck Route Version 2 is used by a lot of truck drivers and it's highly recommended. Make sure you download version 2 though. It's not a free GPS app for truck drivers but it's not terribly expensive either, below is their price list.
This GPS app has a good reputation for being dependable and accurate. Honestly, a ton of drivers I talk to use this app and love it.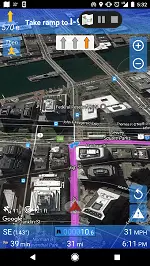 Smart Truck Route Version 2 is easy to use. All you have to do is speak or type in the destinations and within seconds you will get a truck specific route with turn by turn directions.
The routes that are given to you take into account commercial truck restrictions like bridge heights, load limits, one-way roads, and even sharp turns.




You will also get free live map updates. Smart Truck Route Version 2 says that their maps and routes are updated hourly and supported by verified truck drivers.
You get a choice between regular street map view or with satellite images for a more realistic view.Take a look at these screen shots below to give you a good idea of what to expect from this GPS app.
Price: Try 1 month for $14.95. Get it for 1 year for $59.00, or 3 years for $129.00. They often have price discounts too, you can find what the prices are today by clicking here and going to their website.
Smart Truck Route Version 2 Features:
– Gives you turn by turn instructions that are easy to follow.
– Navigate in street or satellite view.
– Use your phone's speaker to say your destination address instead of always having to type it in.
– You are able to talk on your phone while navigating, the app will continue to run in the background.
– Free updates
– Navigation won't interrupt other functions of the phone.
4. CoPilot GPS
Copilot is another great GPS app that is built specifically for truck drivers. It's also not free but you can try it out for 14 days before getting it monthly or yearly.
Details: Copilot is another highly recommended GPS app by truck drivers. Its strength is that fact that it has offline maps that don't need an internet connection so there is less risk of being stranded somewhere without maps in dead spots that you will inevitably discover.
The downside to the offline maps is that they will be stored directly on your device and do take up quite a bit of space.
Like the other GPS apps on this list you can expect safe routes so that you will always avoid things like low bridges, truck prohibited roads, and dangerous turns.
Price: 14 day free trial. Also available are monthly subscriptions and yearly subscription.
Copilot Features:
-Offline Maps
-Clear, voice guided directions.
-Good Route Planning options
-Easy to read 3D maps
5. Sygic Truck GPS Navigation
Sygic Truck GPS Navigation is the most international GPS app of all of them. It has maps of Europe (with Russia), North America, South America, South Africa, Middle East, Australia, and New Zealand.
This GPS also stores maps offline (on your phone) so you don't need an internet connection all the time. Just like the other GPS apps for truckers this one has custom routing for trucks,traffic information, fuel prices, and points of interest.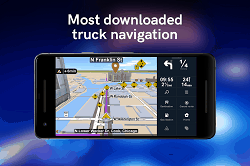 You can use the metric, imperial, or U.S. units.
Price: Free trial for 14 days. Premium upgrade after the trial period depends on your location.
Sygic Truck Navigation Features:
– Maps for North America, South America, Europe, Russia, South Africa, Australia, and New Zealand.
– Maps are stored offline on your device.
– Turn by turn navigation with voice instructions
– Lane guidance
– 2D and 3D cities and landscapes
6. Truck GPS Navigation by Aponia
This GPS app for truck drivers is also used around the world. It has maps for many countries as well as the United States (North America).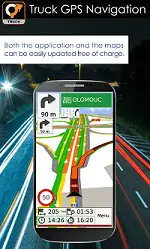 This is another GPS app that stores the maps directly on your device which means you can use it while offline. It also comes with free map updates.
Price: Free to try. After the free trial you have to pay for it monthly or yearly.
Truck GPS Navigation by Aponia Features:
– Maps can be used offline.
– Routes chosen based on vehicle information.
– Used around the world.
7. Trucker App And GPS For Truckers
Trucker App and GPS For Truckers is a true GPS app that gives you turn by turn directions. You can also view weigh stations, travel centers, rest
areas, and more.
It has a good reputation but has not been downloaded as much as some of the other ones on this list.
Price: Free to download and $8.99 per month.
Trucker App and GPS For Truckers Features:
– MPG price calculator.
– Turn by turn voice guided navigation
– Satellite or map views
– Find truck stops and rest areas
– Mileage calculator
8. Trucker Path
No list of trucking apps is complete without mentioning Trucker Path.
Trucker Path is an app that is made exclusively for professional truck drivers. Though it's not a true GPS app it is great for trip planning.
It helps you find truck stops, weigh stations, restaurants, diesel prices, and rest areas. It truly is a do it all app for truck drivers.
Trucker Path is a really popular app for truck drivers and for good reason, the price!
The price for this app is great, it's FREE! The price alone (as well as a lot of positive reviews) is a reason to try it out.
Price: Free
Trucker Path Features:
-Find popular truck stops like Petro, Pilot, Flying J, Loves, etc..
-You are not limited to the chain truck stops, you can find hundreds of smaller stops too.
– Find rest areas
– Real-time truck parking availability.
– Find Walmart locations that allow overnight parking for trucks.
– See which weigh stations are open or closed.
– Find truck weigh scales
9. Road Hunter Route Planning App
Road Hunter is a 100% free trucker app and route planner. Something that you need to know about this app is that it isn't a true GPS in the way that Copilot and Smart Truck Router Version 2 are.
Road Hunter is a good app to help you plan your trip but it doesn't offer the voice guided directions or street view.
If you are looking for a traditional GPS that will give you turn by turn directions then this app is perhaps the one to pass up.
It does work really well at finding truck stops, diesel prices, parking spaces, restaurants, and other amenities.
For a free app it does allow you to do a lot with it but if you need a traditional turn by turn instructions this isn't the one.
Price: Free
Road Hunter Features:
-Find truck stops.
-Check which weigh stations are open or closed.
-Real Time truck parking updates.
-Compare fuel prices at truck stops.
7 Trip Planning Tips For Truck Drivers
Planning a route is not as simple as typing in the address into your GPS and hitting the road. There is a considerable amount
of planning that you have to do to make sure your trip is smooth.
Of all the things new truck drivers need to learn trip planning should be at the top along with how to pre-trip, backing, and managing time.
1. The first thing to do when trip planning is to check what the true mileage is to your delivery destination. Once you get your destination address find out how far it is from your current location.
2. Calculate if you will have enough hours to legally get to the destination. You will need to check traffic conditions and weather because these are
two things that will impact your trip. For example, if you have to drive to an address in Chicago you will have to consider the heavy traffic you are going to encounter. Also, if it's raining
or snowing that is also going to slow you down.
3. Plan where you are going to stop each night and where you are going to shower and get fuel. You are going to have to manage your hours so that you don't run out of time with no place
to park for the night.
4. Plan out how many miles you have to make a day to be on time. This is your driving goal and try to stick to it while staying within HOS rules.
5. If you don't think you will make it on time let your dispatcher know why as soon as possible.
6. Use the voice commands on your GPS so that you don't have to keep taking your eyes off the wheel.
7. Never sacrifice your own safety for a load. It's not worth the risk to your health or your commercial driver's license.
How Do Truck Drivers Navigate?
Truck driver should navigate using more than one tool. Don't fall into the trap of trusting your GPS 100% of the time. Eventually your GPS will let you down, it happens to even the best of them.
Every GPS is wrong at some point and you have to be able to trust your instincts, experience, and other GPS tools.
When navigating there are some basic steps you should take to make sure you have things right.




These are the 6 steps you should take when navigating:
1. Company route suggestion: Check the route that is suggested by the company you are driving for.
2. Check the route out again using your GPS app or GPS. Confirm it's location and distance.
3. As you near the destination take a look at Google Maps to get an idea of local traffic conditions and what the general area looks like. Make sure you are entering the best (easiest) way possible.
4. Google street view: Use Google street view to see what the area around the destination looks like for backing in. Is there anything that is going to be in your way? Parked cars, garbage bins?
Make sure you look at your destination so that you figure out which is the best way to enter and back in.
5. If something doesn't seem right and you can't figure something out this is when you turn to your paper atlas. Hopefully you won't have to rely on the paper atlas much but it is good to have one just in case.
6. Call the customer for directions if you are having problems or are unsure of how to get there or where to back into.
Another tip is to use a dry erase marker on the corner of your window if you think you are going to forget something.
Benefits Of Using A GPS For Truck Driving
If you are a newer driver you probably can't even imagine what it was like to drive a truck without GPS.
There is no doubt that the implementation of GPS has had man benefits to the trucking industry. Here are some ways that GPS units have make trucking better all around.
Automatic Updates: Before GPS drivers relied on the paper atlas all the time. The yearly edition was printed and sold so there was no way of updating it in the middle of the year. Drivers would get frustrated when a route/road was obsolete.
Also, if a new road was built there was no way of adding it to the atlas. The atlas would have to be updated the following year.
Route Optimization: Without a GPS there was no way to find out about traffic, accidents, and severe weather. Truck drives would often get stuck because of this. Imagine driving with no real-time updates.
With the onset of GPS units these obstacles became avoidable.
Fuel Costs Reduced: With less time stuck in traffic you are able to save costs on fuel by getting the most efficient, safest, and fasted route to your destination.
Better Road Awareness: With a GPS you can drive without needing to stop to look at a map. Also, using turn by turn voice navigation you can listen to directions and spend minimal time looking at the GPS screen. This means that your eyes are on the road and your hands on the steering wheel.