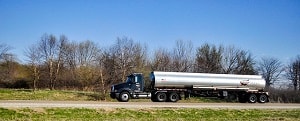 Obtaining a hazmat endorsement can be one of the most difficult CDL endorsements to attain.
It's not because the test is difficult, its because you have to complete considerably more steps to get it compared to other CDL endorsements.
One of the requirements for a hazmat endorsement that can be a bit confusing, and intimidating, to potential hazmat drivers is the background check and threat assessment.
The background check and threat assessment are not required for any of the other endorsements, they are only needed to attain the hazmat CDL endorsement.
It his article I will explain everything you need to know about the hazmat endorsement background check so that you know what to expect when you begin the process of applying for it and obtaining it.
Why should you get the Hazmat Endorsement?
There are two reasons you should get your hazmat endorsement.
The first reason is that you may have an opportunity to earn more money as a hazmat driver. Most drivers will tell you that the difference in pay isn't really substantial though, usually a few cents per mile. But over time a few cents more per mile adds up to significant money.




A second reason to get your hazmat endorsement is because it will make you more appealing to potential employers.
The more CDL endorsements you have the greater the chances are that you get a driving position, you are more qualified to drive a variety of vehicles and loads.
If a potential employer has to pick between a driver that has the hazmat endorsement and one does not they are more likely to hire the one that does. My suggestion is to get as many CDL endorsements as you can so that you can advance your truck driving career and give yourself more career options.
What are Hazardous materials?
According to the Institute of Hazardous Materials Management a hazardous material is any item or agent (biological, chemical, radiological, or physical) that has the potential to cause harm to humans, animals, or the environment, either by itself or through interaction with other factors. Hazardous materials need to be handled by professionals that are trained and properly qualified to manage them.




The U.S Occupational Safety and Health Administration (OSHA) further describes hazardous materials to include chemicals which are carcinogens, toxic agents, irritants, corrosives, sensitizers, and agents that can damage the lungs, skin, eyes, or mucous membranes.
OSHA also says that hazardous materials are combustible, explosive, flammable, oxidizers, pyrophorics, and chemicals that produce dusts, gases, fumes, vapors, mists or smoke.
Your training is important to the health of many people while you are transporting hazardous materials, this is why the hazmat background and threat assessment check is necessary.
Hazmat Endorsement Eligibility
If you have made it this far then you are probably very serious about getting the hazmat endorsement. Lets take a look at some of the eligibility requirements and some of the factors that could disqualify you from getting the endorsement.
According to the Department of Homeland Security you have to be a legal U.S. citizen, lawful permanent resident, naturalized citizen, or a non-immigrant alien, asylum, or refugee who is in lawful status and has a valid CDL issued by a U.S. state.
Hazmat Endorsement Disqualifying Factors
Now that you know what it takes to be eligible for a hazmat endorsement you need to know what are some disqualifying factors that will prevent you from getting the endorsement.
For a complete list of which criminal offenses that will disqualify you can visit the Department of Homeland Security website.
Here are some of the them: espionage, treason, terrorism, important transportation of hazardous materials, unlawful possession of explosives, murder, unlawful possession of a firearm, bribery, immigration violations, arson, kidnapping, rape, robbery, and voluntary manslaughter.




If you want to get the hazmat endorsement you better have a clean record and once you get your endorsement be sure to maintain a clean criminal record.
Hazmat Online Application
Alright, you are eligible and you don't have a criminal record. What's next? You need to apply online. To apply online you need to go to the U.S. Department of Homeland Security website, the link to the online application is here.
Note: These are the states that don't allow you to apply online which means you will have to visit your local Department of Motor Vehicles in person: Florida, Kentucky, Maryland, Mississippi, New York, Pennsylvania, Texas, Virginia, and Wisconsin.
Scheduling A Hazmat Appointment Online
Once you have submitted your online application you will need to schedule an appointment so that you can submit more documents. The link to the necessary documentation is here. You will also have to bring with you a valid driver's license, birth certificate, or U.S. passport.
Something else that you will need to bring with you to the meeting are fingerprints. The Transportation Security Administration (TSA) can help you find a location near you to be fingerprinted, you can access their enrollment centers here.  Once you are on the site you can type in your zip code and then pick TSA Pre on the drop-down. You will be given a list of locations near you that you can visit to be fingerprinted.
During your appointment you will have to pay the $86.50 applicant fee so bring cash, a credit card, or a money order.
What Happens After The Hazmat Application Is Submitted?
According to the TSA you can expect to be contacted within 30-45 days after submitting your application and completing everything that was needed at your appointment.
If you clear the background check you'll get a notification letter via first-class mail but don't confuse this with being approved for the hazmat endorsement, it's not. It is best to contact your local DMV once you get your notification so that you know what to do next in your specific state.
Most states will require you to have a tanker endorsement as well as the hazmat endorsement which means you will have to pass the tanker endorsement test. I have a lot more information about CDL endorsements here that you should access. Good luck and come back and send me a note when you get your hazmat endorsement!
How Long Is The Threat Assessment Good For?
The threat assessment is typically good for five years after the date it was completed. When the time comes to renew your hazmat endorsement you will also have to get your fingerprints taken again but you typically don't have to go through the whole threat assessment process.
To be sure I recommend you check with your specific state though. Avoid problems by keeping track of your endorsements and when they new to be renewed.
Transferring A Threat Assessment To A New State?
If you passed the security threat assessment and are moving to another state you do not need to have another threat assessment.
As long as five years have not passed since the date of the threat assessment your results will transfer to your new state. As always I do recommend you check with your specific state so that you can avoid confusion or problems in the future.
Be responsible and proactive, check what need to be done in your new state so that you can continue driving a hazmat commercial vehicle.