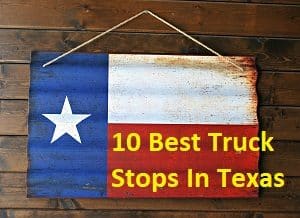 Texas is one of the biggest trucking states in the country. There is no shortage of truck stops in Texas, but what arethe best truck stops?
We're looking at the stops that pull out all the stops. Some of them are unique, some of them have history, and others are just great at being a haven for truckers to stop in.
Here are the 10 Best Truck Stops in Texas!
These places have been rated as excellent on Trucker Path, which is a trucking app that allows truckers to find and rate great stops along their routes!
Put one of their address into your GPS and you'll have no problem finding them.
If you are in need of a GPS app that won't cost you a lot of money then do yourself a favor and check out my list right here. You won't regret it.
10. Kent Kwik
Location: 11200 West, TX-158, Midland, TX 79707
Amenities: Decent amount of parking, WiFi, Showers, Scales, Tire Care, Transflo, Fax Scan
If you are looking for a quick stop, with everything, then look no further than Kent Kwik in Midland Texas!
This stop has lots of places to park and stop, take care of business needs, and handle some quick maintenance.
While you're there, the word around is that the biscuits and gravy are outstanding, and the staff in the store is friendly.
9. Maverick Travel Center
Location: 14100 US-281, Santo, TX 76472
Amenities: Lots of Parking, WiFi, Scales, Tire Care, Fax Scan.
Maverick Travel Center is a small stop outside Santo Texas.
They have plenty of spots available, often, with a decent restaurant and convenience store with lots of items to choose from.
It's a great place to park, take a load off, handle some business on the road, then get back on your way to your destination!
8. 7Star Travel Center
Location: 1600 West Shannon Road, Sulphur Springs, TX, 75482
Amenities: Decent amount of parking, WiFi, Showers, Fax Scan, DEF
This is a great little mom and pop travel center that you might miss on your travels.
It is not one to miss, however, 7Star has plenty of parking, clean showers, clean restrooms, they even offer WiFi for any business you need to take care of while you're stopped.
7. Gateway Travel Plaza – PTP Stop
Location: 912 S Shelby St, Carthage, TX 75633
Amenities: Tons of parking, Showers, Wi-Fi, Laundry facilities, Fax Scan, Bulk DEF
Gateway is a top stop just based on the amount of spots they have for truckers to use.
They've got 50 parking spots, a place for you to do any paperwork you need to finish, WiFi for anything you need to do online, and laundry, so you can get back at it fresh.
6. Kuntry Korner – Valero
Location: 103344 IH 37, Pleasonton, TX, 78064
Amenities: Parking, Showers, Fax Scan, Transflo, Tire Care, WiFi
Kuntry Korner has picked a great place to call home, Pleasonton, and it's a pleasant place to stop in.
Drop in for a nap in the many parking spots, catch up on any documents you need to send, and take a nice hot shower.
5. Traveling Tiger Center – Texas 87 Truck Stop
Location: U-10 Exit 87, Sierra Blanca TX 79851
Amenities: Tons and tons of parking spots, Showers, WiFi, Tire Care
Traveling Tiger Center is a bit of an antiquity in Sierra Blanca Texas.
The stop has been around for decades, but it has not slowed down on being a terrific stop!
They have parking, showers, and great food, 24 Hours a day!
If you are in need of a quick repair, they have covered with some parts that they keep on hand in their inventory.
4. Texas Best Smokehouse III
Location: 16243 Hwy 271 N Tyler TX, 75708
Amenities: Lots of Parking, Scales, Fax Scan
Another great stop with great food! Texas Best Smokehouse has 24 Hour Parking, amenities like Wi-Fi, and clean restrooms. Stop in to enjoy a good meal, grab some salsa, beef jerky, and even barbecue if you have the means to store it in your rig!
3. Duke's Travel Plaza
Location: 300 SE Access Road, Mt Vernon, TX
Amenities: Plentiful Parking, WiFi, Showers, Laundry Facilities
Duke's in Mount Vernon has great barbecue, and souvenirs, but on top of that, they have 53 parking spots.
It does cost a fee to park at Duke's, but you will have access to clean bathrooms, and good food for 24 hours, whenever you are stopped for rest or a break!
2. Woody's Smokehouse
Location: 947 W St. Mays St, Centerville, TX
Amenities: Parking, WiFi, Tire Care, Transflo, Fax Scan
Woody's Smokehouse touts itself as the "Jerky Capital of the World", and this may not be far off!
They have a terrific selection of not just Jerky, but downhome barbecue, fudge, and souvenirs.
Woody's also offers everything you need to handle any business on the road. They have WiFi, a Fax Scan, and Transflo availability.
There is parking near the restaurant, but unfortunately Woody's does not offer showers.
1. Big Horn Travel Center
Location: 1301 Markum Ranch Rd. E, Fort Worth, TX
Amenities: Parking Spots, WiFi, Bulk DEF
Chosen as one of the top truck stops in the country by truckers on Trucker Path, Big Horn Travel Center boasts great food, and a great staff to help with all your needs!
They have fuel, parking, food, and any souvenirs you're wanting to grab on your travels.
Big Horn has just one drawback, and that is the lack of showers on site.
Those are the top 10 Truck stops in Texas, that you shouldn't hesitate to stop in on!
Most of them have parking availability often, and have the ability to cover a lot of your needs, while you're on the road.
Many of these stops were discovered and researched using Trucker Path, an app that helps truckers find services while they're on the road.
Use it with our list to find a stop that will fit your needs!
Written by: Quinn McCoy