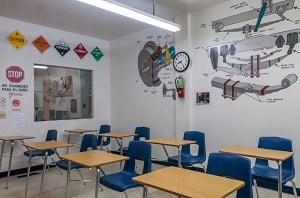 Passing CDL school isn't very difficult but for multiple reasons (which I list in this article) there are quite a few students that just can't do it.
CDL school is just like any kind of class you may have taken in high school or college. The only thing different is the content and goal (the CDL).
Speaking of goals, your one and only goal during training is to get your CDL and get out on the road so you can start making money.
Don't be an idiot and make CDL school more difficult than it has to be. In this article I'm going to tell you what you should and shouldn't do so that you make it through your CDL training the first time.





Remember, this is the start of your new career and you need to take it seriously. Don't be a fool and throw away the perfect opportunity to have a really good income stream without spending a lot of money up front.
There are not a lot of professions where you can start making nearly $35,000 to $45,000 per year after only spending a few thousand dollars on training.
If you want to watch the video version (starring me, Allen) of the video then you can do that here:

1. Get Your DOT Physical Ahead Of Time
First of all, if you don't know what the DOT physical is I wrote this article that explains everything about it. Read it and then come back to this page.
Go and get your DOT physical exam and medical card before you start school so that you don't have to worry about it later on.
Why? One of the most common reasons student get pulled from CDL school is because they don't pass the DOT physical exam. At some point you are going to have to pass the exam in order to get your CDL, if you don't pass the physical exam you just wasted a lot of time and money.
Don't get sent home because you can't pass the exam. Go for your exam ahead of training so that you know you are not going to have any problems when training starts. If you don't pass the exam at least you know and get take the necessary steps to ensure you pass it before forking over money and time for CDL school
If you are going to drive for a mega carrier you are probably going to take another physical for them where they will check for illegal substances/drugs too.
Stay clean. If you want to do drugs of any kind you don't belong behind the wheel of a truck .




2. Stay Away From The Wrong People
As in all social situations people in your class will start forming friendships.
Be careful! Hanging out with the wrong people can land you in trouble. They will bring you down with them and you won't even know it.
Stay away from negative people that think they know everything they need to know about driving a truck. You should seek out people that are there to do their best and are serious about being a good driver and getting their license.
Be smart, you aren't there to be popular or cool. This is not high school. You are an adult and you are there to learn as much as you can about driving a truck so that you can pass all the CDL tests and get your license.
3. Be Honest On Your Application
Another common reason people are kicked out of school is because they lie about medical problems, criminal background, driving record, and work history on the application.
If you lie about these things you will likely be asked to leave. However, if you are honest a lot of companies will appreciate it and work with you.
If you are tempted to lie about something on the application there is a good chance the company is going to find out anyways and you are out of a job.




4. Study A Lot
Use the time you have at your training facility to get as prepared as possible for the CDL state tests you will have to pass in order to get your CDL.
Pay attention, stay after hours, and ask questions as much as possible. Though curriculum at training sites are not all the same and follow a different order these are the things you can expect to learn about:
1. Commercial driving rules and regulations.
2. How to identify road signs and what they mean.
3. Basic driving skills: You learn how to backup, park, turn, dock, and shift a truck. You will also learn passing procedures and road driving skills. This is your time behind the wheel that is so valuable. Take advantage of it as much as you can.
4. Coupling and uncoupling trailers correctly.
5. Pre-Trip Inspection: The pre-trip and backing are the two things that usually are the most difficult for new drivers. The pre-trip does require a lot of patience to learn and a ton of memorization. Here are my tips to help you memorize it.
6. Reading maps and route planning.
7. Driving at night and in different weather conditions.
8. Air brakes
9. Money management
10. Healthy lifestyles
11. Safety awareness: accident procedures, emergency maneuvers, safe driving techniques, and cargo securing cargo.
A good place to start is to download your state's CDL manual (here) so that you can start studying for the CLP test. Try to get as much time as you can behind the wheel learning basic maneuvers like backing and docking.
Take your time when learning how to back, don't get too frustrated. With a lot of practice you will learn it. Read this list of tips  that will help you learn how to back like a pro.
One more thing, the most common test that students fail is the pre-trip inspection test. Trust me, it's not easy. It requires a lot of knowledge and memorization on your part.
As you can see you will have a lot of information coming at you in a short period of time. Make sure you are focused and study.
5. Ask For Help
If you find backing to be particularly difficult make sure you get help. A lot of the trainers have already been through the exact same class you are in and know how you feel.
Make sure you ask questions and get as much time behind the wheel as possible. Don't think that the the class is going to be easy and you will pass all the CDL tests with no problem. A lot of drivers don't pass everything their first try.
Driving a truck is going to be new to you, don't get frustrated if you don't learn something right away. It takes a lot of time, and experience, to become a good truck driver. The class will teach you enough to get your CDL but it won't teach you how to be a good driver.
To become a good driver you need experience. You will get that experience when you start your first driving job and hopefully stay out of trouble.
6. Bring All Documents
Most places are going to ask you to bring some paperwork with you to your training. If they ask you to bring please don't forget to take it with you.
Have all the necessary documents with you is going to save you a headache and make the whole process smoother.
7. Bring A Good Attitude
Don't take driving a truck lightly. Some people come into this thinking that it is going to be a breeze because they are really good at driving a car. This is not a car or an SUV.
Be prepared to find out that you don't know how to drive a truck. Be prepared to leave behind everything you thought truck driving would be. If you do this you are opening your self up to learning something completely new and exciting. It's up to you though!
Have a positive attitude so that you can learn as much as possible!
8. Don't Give Up
Don't give up on yourself when things get tough.
One thing that I see on a daily basis is that people learn at different paces. During class the driver next to you might memorize the pre-trip inspection really quickly. Naturally, you are going to wonder what is wrong with you and how come you have not memorized it yet.
It's because everyone learns at difference rates. What takes you a few days to learn someone else might be able to learn in one day. Don't let this bother you. Keep going and be confident that you too will figure things out. It may just take you a little more time.
Don't stop trying just because you didn't learn something the first or second time. Whether you are able to memorize your pre-trip inspection in one day or four days isn't important.
The important thing is that you know it in time for your state exam.
At some point you are going to be overwhelmed. Don't let this get you down. Take your time, ask questions, and study so that you make it past the bumps in the road.
9. Get Some Sleep
This is not the time to be staying out late and having some drinks with people you met in training. Don't even think about it.
After training you need to eat and relax so that you can sleep well and be prepared for another day of training.
Don't stay up late watching movies, playing video games, or talking on the phone. You are here to learn as much as possible so you can get that cdl.
Do what ever you need to to ensure you are going to sleep early and getting up on time in the morning ready to learn.
10. Have Some Money Reserves
There are often some extra things that you have to pay for that you might not know about going into your CDL training.
Make sure that you have some money (at least $1,000) to cover the cost of the following things:
Note* Check to see with your particular training facility whether or not these things are included in your training fee or not. If not, you need to save some money for them. Yes, there are a lot of loops you have to jump through in order to get your CDL.
1. DOT physical exam and medical card: you will need to pass a physical exam to drive. Read about the exam here.
2. DOT drug screening: Stay clean or don't even waste your time trying to become a trucker.
3. Textbooks:Depending or where you go for training you might need to buy some.
4. Road Atlas: Get it now, you will need it later. I don't mean a GPS. A paper road atlas like this one that you can get on Amazon. Sometimes your GPS or GPS app will not be working and you must know how to read an atlas.
5. CLP (Permit): Before you start the driving portion of the training you need to pass the general knowledge test so that you can get your CLP. Read all about the CLP here.
6. CDL: You will need to pay for the driving tests too in order to get your CDL. Read more about them here.
7. Endorsement Fees: If you are going to get any endorsements (you should) you will have to pay for each one of those tests too. Read about what they are and how to get them on your CDL here.
11. Remember Your Goal!
During training it's sometimes easy to forget why you are there in the first place. You are there to start and new and exciting career that is going to provide you will steady pay, good (decent) benefits, and a way to support yourself and family for a long time.
This is your first step and you have to pass it in order to get you first driving job and eventually your first paycheck.
After that you will be thankful that you did what it took to be successful during your training.
Safe driving!