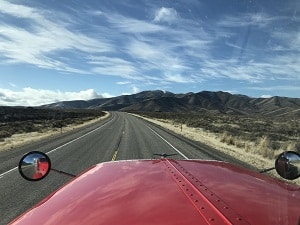 Follow this list of tips for newbie truck drivers and I can guarantee you that your first truck driving job will be much more pleasant.
Even if you are an experienced driver you could learn a thing or two from this list too.
As with any job there is also a learning curve to driving a truck and being a truck driver.
By the way, if you are looking for a new truck driver job I guarantee you will find something on my free job board. There are a lot of jobs on there that you won't find anywhere else.
CDL school trains you to get your CDL but it doesn't train you to be a truck driver. Being a newbie truck driver you will come across things that no class or trainer could train you for.
This is called learning from experience.

Often, new truck drivers are not really sure how to prepare for their first driving job. What should you bring with you? What about tools? What are some secrets of the trade? Am I going to survive my first year? You are not alone in thinking this way.
There are actually a lot of tips and tricks you should know about, and almost all of them come from experienced drivers that at one point in their careers also had no idea what to expect.




Take these truck driving tips seriously, they are golden. Learn from the drivers before you so that you can pass along these tips to future drivers.
---
1. Don't Start In Winter
Winter truck driving is difficult, if you are spending a lot of time in areas that receive a lot of snow and ice it can be outright dangerous.
If possible you should time your training completion so that it ends in any season other than winter.
This way, when you start your first truck driving job you won't have to put up with snow, slippery conditions, air lines freezing, brakes freezing, and sub freezing temperatures that make driving and sleeping uncomfortable.
It would be ideal to get started in spring or summer so that you have a season or two of driving experience under your belt before winter hits.
I put together a list of 30 winter driving tips that you will want to see, especially if you are a new driver.
2. Start In Winter
As difficult as winter driving can be there are a lot of truck drivers that would tell you to start driving in winter so that you can learn to drive in the worst possible conditions.
It is during this time that having a good trainer with you can be invaluable.
Your trainer can teach you some winter driving tricks and give you valuable advice that you wouldn't get if you were alone.
Many new drivers will tell you that in hindsight they would have rather been trained during the winter while someone else in the truck so that they are ready for the following winter on their own.
3. Keep It Clean
Take pride in your truck. The inside and the outside. Make sure you are keeping the exterior clean by washing it whenever you can. Don't neglect the interior either, this is going to be your home (for OTR drivers) and office.
Don't let your work space and living space get dirty by doing some simple cleaning daily or even weekly in some cases. Take a look at these tips for keeping your trucks interior clean and pleasant.
4. Eat Healthy (Without An Inverter)
Don't fall into the trap of eating at restaurants and truck stops. If you do this you will be fat and broke. The food at truck stops and restaurants are going to cost you a lot of money if you visit them on a regular basis.




If you don't have a power inverter in your truck you will have to rely on 12 volt outlets, cigarette lighter outlets. I suggest you save money by preparing your own foods and storing them in a 12 volt cooler like this Igloo model on Amazon.  These coolers are great because you can make some food and leave it inside until you are ready to eat it. The cooler is good for drinks too. Just don't expect to use it as a freezer because they won't be able to get temperatures that low.
If you are able to get a 12 volt portable stove (link to Amazon) it will really help you to eat healthy because now you can heat up and eat some of the healthy meals that you are storing in your cooler. You can also get some prepared food and throw it in this handy portable stove for several minutes and you are all set.
Another option is to go with a small propane burner like this one by Coleman that you would use for camping. These are great for cooking and you don't have to worry about any outlets. Now you can make some eggs and bacon in the morning and a salmon fillet for lunch or dinner.
5. Eat Healthy (With An Inverter)
If you have a power inverter in your truck then you have a little more options for healthy eating.
Make sure that you don't exceed the maximum wattage of your inverter though. A 2,000 watt inverter is usually enough for anything you will have in your truck. Most major trucking companies will give you a truck that already has an inverter in it.
With an inverter you can get yourself all kinds of appliances that will allow you to cook healthy and eat how you want to by staying away from fast food.
A small microwave like this Westinghouse is one thing that is a must if your truck has an inverter. You can use it for just about anything that you need to heat up. This microwave is great because it's small and only uses 600 watts.
6. Drive Slow On Snow, Ice, And Rain
Your number one priority is your safety. Don't let anyone push you to drive faster if you don't feel comfortable. In snow, on ice, and in rain you should always driver slower than you would when it is dry. Never forget this.
7. Get Some Tools
There are a lot of tools that you will need to have with you at all times. Having the right tools can save you time and earn you more money.
Make sure you know how to use those tools to make some basic repairs to keep you on the road and prevent you from getting violations during DOT inspections.
Take a look at this list here of the tools that no OTR driver should be without.
8. Entertainment
As exciting as you think it is going to be on the road seeing the world from your windshield I have some news for you: it will become very boring.
You need to make sure you have some things to keep you entertained. Bring your PlayStation or Xbox with you, read, listen to music, play online chess, listen to podcasts, watch television, draw, etc…
You get the idea. Just like at home you need to make sure you have something to do while you are not working. Prepare for this ahead of time to maintain your sanity.
9. Get A Hobby
Something that has nothing to do with trucking preferably. It's not healthy to have trucking completely consume your life.  Make sure that you have something to do during down time.
You can try reading, photography, online poker, exercising, writing, playing the guitar, roller blade, or just about anything else.
Just make sure it has nothing to do with trucking. Trucking will get boring. Repeating: Trucking will get boring.
10. Exercise Often
Driving a truck requires a lot of sitting. A lot of sitting along with poor eating habits means you are going to get fat. I recommend you try to have an exercise routine of some kind. Go for a walk if possible.
Do some pushups and sit ups. Bring some dumb bells with you so you can exercise your muscles. It's really easy to forget about exercising while driving a tractor trailer because you are not near a gym or a room in your home.
A lot of drivers recommend making exercise part of a post trip routine.
11. Save Your Money
Don't waste money on stupid things. If you don't need it don't buy it. Don't spend your money at rest stops or truck stops on expensive food and tools.
Plan ahead and get the food you need ahead of time and cook it yourself.
Tools that you need you should buy ahead of time when you have the time to research prices.
Those truck stops are great at overpricing just about everything.
Use your hard earned money for things that you really need and save the rest for an investment goal of some kind. See #17.
12. Get A Good GPS
A good GPS is a necessity. Don't go on the road without one. I like this Garmin GPS because it is essentially made for truck drivers and does everything you need it to.
Get yourself one of those and back it up with a good (recent) road atlas and you are good to go. Map reading skills is still a skill that you have to have because there will be times when you won't be able to rely on a GPS.
13. Get A Heated Blanket
Having a good heated blanket like this 12 volt one on Amazon can make all the difference in good sleep or bad sleep when it gets cold outside.
The temperature in your truck can get really cold depending on where you drive.
If you are in the northern states or Canada a heated blanket is a must. Another benefit to having one is that you can wrap it around your back while you are driving to eliminate back pain.
14. Get Some Cleaning Supplies
Keeping the interior of your truck is more important that cleaning the outside of it.
Make a run to Walmart and get some Windex, paper towels, rags, soap, a bucket, and air freshener. For a list of tips that will help you do this you should read this article here.
15. Get Everything Before You Go
Don't wait until you start driving. Get everything you need before you head out. Whether it is your first load ever or you 1,000th you have to be prepared.
By not preparing everything ahead of time you will have to stop while on the road.
Stopping on the road means you will lose precious time. Losing time means you lose money too.
16. Don't Drive Fast
The old saying goes like this, "If it feels like you're driving too fast, you are." If it is slick outside you want to be especially mindful of your speed.
Control your speed on inclines and declines so that you get where you need to be safely. Be respectful to other drivers too, you are not out there alone.
17. Set An Investment Goal
Set an investment goal of some kind for yourself and work to achieve it. Whether its to buy a house, car, or more financial independence make sure you are working towards that goal.
Just like you set short term goals when driving you need to make long term goals of what you are going to do with the money you earn.
Setting goals and reaching those goals will give you confidence and assurance that you make a good career decision to start driving a truck.
18. Make Sure You Can Back Up
Baking up is by far the most challenging maneuver for truck drivers. If you are having a hard time with it make sure you check out these tips for backing.
19. Be Good To Shippers
It's easier said than done. Be good to your shippers, even they they are jerks to you. If you are mean to them they will definitely be mean towards you.
Smile, say thank you, and be on your way.
20. Check Your Landing Gear
Check your landing gear three times. Never assume that its raised or lowered without knowing for sure. Get out of your truck and check to be sure.
21. Take Your Time
Take your time, especially during your first year of truck driving. When unhooking air lines, raising and lowering landing gear, and while picking up at receiver you need to take your time. Working too fast leads to mistakes that can be avoided by just slowing down a little. As you gain experience you will be able to pick up the pace.
22. Don't Give Up
Truck driving is tough. The first year of driving is not going to be easy. You have a lot to learn about the job. There will be times when you will get frustrated and want to quit.
Don't give up, it gets better. Once you have some driving experience under your belt it opens a whole new world of possibilities to you.
You can use your experience to drive for a company that you know has a good reputation and will support you.
23. Your Safety Is Your Responsibility
Your safety is your responsibility. Don't be afraid to say no if dispatch wants you to go over hours or do something that makes you uncomfortable.
24. You Won't Earn A Lot Of Money
The truth is you are going to make the least amount of money during your first few years of driving.
Just like any other profession you tend to make more money as you gain experience and time on the job.
After a solid year of driving you will figure out ways to get the most of your driving hours and to still legally follow HOS rules and regulations.
25. Prepare your family
If you have a family or plan on having a family make sure you talk to them about the realities of being a truck driver.
If you are an OTR driver you will be spending a lot of time away from home.
This means you will miss birthdays, holidays, vacations, sporting events, religious gatherings, family gatherings, and graduations.
Hopefully you already considered time away from home before making your decision to become a truck driver.
Truck driving can get lonely, a lot of people learn quickly that its just not for them. The time away from home and family is too much.
If this is you it might be good to get some experience and start looking for a local trucking job where you will be going home every night.
26. Senior Drivers Are Going To Get Better Loads and Runs
When you are new you won't get good loads.
Your dispatchers are trying to learn about you and how reliable you are as a driver.
Senior drivers are going to get better loads than you, this is the way it is until you prove yourself to them.
27. Your Piss Jug
Don't dump your piss jug out in a parking lot.
Walk it over to a garbage can and throw it in there if you use a bottle.
If you don't want to throw it away empty it into a toilet at your next stop. Flush it too.
28. Don't Park At The Pump
When you filling your truck please don't park it at the pump.
This is one of the quickest ways to have a ton of other truck drivers lined up ready to knock your teeth out.
29. Spread It Out
If a parking lot is empty please don't park right next to another truck. Everyone needs a little space to be comfortable.
Find a spot away from other trucks.
30. Help Each Other Out
If you see another truck in the left lane (you are in the right lane) going faster than your truck let them pass and get in front of you.
Especially if there is a row of cars behind him just waiting for him to get back into the right lane.
Even if you need to slow down just a little to help him out you should do it.
31. Take A Shower!
No excuses! There is no reason that you need to stink! I have heard stories of truck drivers going weeks without showering. Disgusting.